---
Return on Investment for Smart Building Technology





Let's dive into these new value concepts: Business Efficiency | Customer Experience | Worker Recruiting and Retention.




Scott Cochrane
President, CEO
Cochrane Supply & Engineering

Contributing Editor
When a building owner asks, "What is the return on investment for a new BAS system," we in the BAS industry usually defer to energy savings to calculate payback for a BAS upgrade or retrofit. We say terms like, "I'll save you 15% of your energy spend on this building per year which means the system will pay for itself in three years. What do you think???? Buy it, PLEASE!!!"

Things are a changing… As we incorporate new technology into the control systems, there is new opportunities for return on investment. We are still automating the mechanical and electrical systems for autonomous control and saving energy, but with new technology, we are also adding new features and capabilities to our control systems. Those new capabilities mean new system value to the end user that, in turn, translates into new ways for the owner to benefit financially from their technology decision(s). Let's dive into these new value concepts: Business Efficiency | Customer Experience | Worker Recruiting and Retention.

Business Efficiency through Indoor Positioning Systems (IPS)– A goal of every business is to improve productivity. IPS can be added to lighting, Wi-Fi, or a mix of systems along with an app or beacon to allow us to track people and assets in a building. This new information can be utilized not just by the maintenance group, but it can help business managers make important decisions on how to utilize the space better and/or manage their teams better.

One use case we have been working for a pilot on, a six-million-square-foot campus with 60+ buildings and hundreds of conference rooms. They are utilizing Indoor Positioning Systems installed in the buildings with an employee app that allows them to find which conference rooms are available, book it, then follow a map that appears showing the path to the conference room (Wayfinding). The system can also track whether the booked conference room is actually being utilized. If it is scheduled and no one shows up for 15 minutes, the booking automatically cancels out, and the room shows as available for someone else to use.

How does this improve business efficiency? Here are some ideas to consider:

Workers are saving time and frustrations when trying to find conference rooms.
Workers can make themselves transparent on a floor plan making them easier to find.

Employers receive floor plans with activity levels to help decide on office layouts and how to improve square-foot allocation.
Employers can see where employees are and track their location versus their task(s) to ensure proper usage of time.

Conference rooms become smarter, which in turn makes them more available and saves the need for more conference rooms.
Employers receive reports on conference room utilization that help them keep track of who is utilizing the meeting spaces and how they are doing it.

Looking at the list above may seem like a small return on investment when it comes to business efficiency, but when you multiply the small gain against 1,000 workers in six million square feet, it definitely makes sense.

Often the buildings themselves that we are installing systems in are a significant part of the Customer Experience for the business within it. Colleges, Hospitals, Retail, Apartments all use the building as a way to attract their customers. With IPS, we can deliver new services to the occupants that can increase their overall satisfaction for the services they receive within the building. Retail has taken off like a rocket ship—many large retailers have apps to improve the shopping experience. By adding IPS with Wayfinding, the shopper can find what they are looking for and along the way, when they are near something they like or have bought prior, the app can notify them, maybe throw a coupon at them, which helps the retail business sell more while making the shopping experience more efficient and fun. Each building type will have different customer experiences. We are at the tip of the mountain looking down at the endless new and exciting ways this new tech can improve those businesses.

How do you calculate Return on Investment when you are growing your customer's top line?!?!? A good problem to figure out.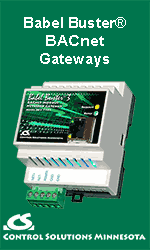 Living in the Midwest, we have a little thing called tech envy… We work with mainly big, old companies who have old building infrastructures and very little investment to improve. In recent years, however, these big companies are starting to realize the cool factor of the facilities their employees work in weighs heavily on whether they will work for that company or not. With the next generation entering the workforce completely digitized, they are looking for new building services that fit their lifestyle; an environment that is both aesthetically pleasing but also modern and cool. Big business is calling on us to improve Worker Recruiting and Retention by incorporating new technologically-advanced features and services into our systems—improving the cool factor of the buildings.

Our first swing of the bat was kiosks... oops… my kids see those and could care less. We have added some neat temperature control algorithms and apps for tenant comfort control, but you can get cooler stuff for your house. To truly make a building cool, we have to rethink how someone operates within the space adding IPS, Wayfinding, Integrated Systems and how these technologies can make utilizing the building a better experience. Everything from where to park your car, how a door opens, temperature changes, turning lights on or off, safety notifications, security authentication, how to get lunch… the list is endless, and depending on the building, the list gets longer. Tech companies are already investing in this, and there are some neat use cases already out there and many more in the making.

Oh no, this is even harder to calculate return on investment when it comes to recruiting and retaining the top talent ultimately driving that company to the top in their industry! Forget payback—maybe we can use the increase in their stock price as a measure!??!

No question there are some HUGE new opportunities both for our business and the businesses we serve.

---


[Click Banner To Learn More]
[Home Page] [The Automator] [About] [Subscribe ] [Contact Us]