---

"Global Reboot - Adopting Adaption"

Being resilient and making people count while Adopting Adaption needs to be part of our "Global Reboot "




Ken Sinclair

Founder, Owner, Publisher AutomatedBuildings.com
The COVID-19 virus stop the world and send us all home to our room to think about what are we doing wrong? We were at risk, vulnerable, confused, we have been powered off for our own protection from the virus with the question of when the will our power be turned back on pending. While we are waiting resembling turned off devices we can clear our memories before the start of our reboot. We have time to consider what the overall global reboot of us all will look like?

Should we use the same operating system that caused the reboot? How should we reconfigure our virus protection? Should we use the same boot strategy? Is this the time to install an new operating system? Or do we need to replace our prime control devices? Reconnect to new networks? What new remote working tools should we make part of us?

Lots of life changing questions. Should I work remote from now on? How will we view travel? How will we make re purposed buildings safe? Can our building be part of the solution?

We have the luxury of being able to be online while we are crafting our reboot plus the global reboot is come up slowly with different approaches and more restarts and crashes for us all to watch, this is of great value in learning how we can benefit from the lessons presented.

What we do know is change is everywhere and our very way of existence and purpose of travel and importance physical location has been questioned. We need to adapt to new evolving environments caused by this extreme evolution.

In our last chapter of our ongoing transformation we highlighted the importance of Adopting Adaption - Achieving Antifragility. The ongoing global pandemic has shown us all how fast we can adapt for survival. Ken Sinclair APR 09, 2020

Antifragility is a property of systems that increase in capability to thrive as a result of stressors, shocks, volatility, noise, mistakes, faults, attacks, or failures.

We need to make it part of all we do we need to be more flexible while increasing our ability to change very quickly.

Although everything in our lives is now on the global table for consideration in our self creation reboot I will try to stay focused on the subject of our digital transformation related to automated connected smart healing buildings but the lines around our focused interest begin to blur. What follows is several trending articles, interviews, videos, blog bits, which I have linked with a quote to allow you a quick overview of evolving thought.

Why We Need a Global Reboot by Daniel Pinchbeck
We can think of our current civilization — its technical and socio-political infrastructure, its ideology and beliefs — as an operating system, much like the software that runs our computers. Now we need to reboot and install a new system software. A new social design could, eventually, give every human being the opportunity to flourish and thrive, to live creatively, without fear for their future. Accomplishing this is a great mission that will require a truly rational, empathic application of our technical and creative powers.

"The only thing that one really knows about human nature is that it changes."


COVID-19: Emerging technologies are now critical infrastructure – what that means for governance
https://www.weforum.org/agenda/authors/kimmy-bettinger

Under COVID-19, emerging technologies are propping up our daily lives. Connected devices enable both education and remote work. Chatbots provide life-saving information and relieve overwhelmed health systems. Location data applications track and map the spread of the virus for health workers and researchers.

The COVID-19 crisis has shown us that emerging technologies like the Internet of Things and artificial intelligence are not just tools, they are essential to the functioning of our society and economy. Particularly in this time of instability, we need to think of them as critical infrastructure.

the global reboot to a next normal not as extractive, materialistic and detrimental as the previous 'normal'. Also with. a few computers instead of politicians. About Disposable Identities

Covid-19: An unexpected catalyst for digital-platform adoption in China MARCH 31, 2020

The greatest impact on daily life has been the canceling of situations that depend on close human-to-human contact, such as conferences, education in classrooms, doctor visits, and door deliveries, to name a few. These situations have led to greater adoption of human-to-machine or machine-to-human communication systems. Innovative use cases that enable social distancing have emerged to address challenges ranging from simple video conferencing to the use of autonomous mobility applications for contactless delivery. Offline businesses like gyms are resorting to online content and classes to continue engaging with their customers—even nightclubs have launched "cloud raves" on streaming platforms like Douyin, China's version of TikTok. To maintain a semblance of the social interaction that is vital to daily life, China has been fast embracing technology across a variety of settings:

How COVID-19 May Change Technology Usage in Different Markets Ron Tellas 4/9/20 Fiber, Category 6A, 5G, Wi-Fi 6

As we adjust to new ways of living and working amid this global pandemic, an interesting question arises: How will these shifts impact us long term? Will the habits we've formed and the new technology we've relied on so much over the past few weeks become our new norm? Will COVID-19 serve as a change agent, transforming the way we use technology?

In many ways, recent technology advancements are doing more than changing how we work. They're helping us adhere to social distancing and stay-at-home orders, keeping non-essential workers at home while those on the frontlines head out every day to help fight this battle. Without our progress toward faster speeds, more bandwidth and applications such as videoconferencing, many of us would be struggling much more than we are to get work done, keep in touch with family and even keep food delivered to our front door—without having to leave our homes.

This pandemic is also an indicator of how reliant we are on connectivity (or the "fourth utility").

An amazing demonstration of what de-carbonization might look like world wide just occurred.

Traffic and Pollution Plummet as U.S. Cities Shut Down for Coronavirus By Brad Plumer and Nadja Popovich March 22, 2020

Air pollution from vehicles has likewise plummeted in the Seattle area, which had one of the earliest recognized coronavirus outbreaks in the country. Traffic patterns there changed drastically before most other cities.

In early March, local officials recommended that residents over 60 years old stay in their homes and that workers telecommute if possible. Shortly after, Microsoft and Amazon, two of the region's largest employers, told their workers to stay home.

The impact was immediate: By March 8, the number of trips into downtown Seattle during morning rush hour had declined nearly 40 percent, according to a recent report by INRIX.

Will Covid-19 have a lasting impact on the environment? By Martha Henriques 27th March 2020

Pollution and greenhouse gas emissions have fallen across continents as countries try to contain the spread of the new coronavirus. Is this just a fleeting change, or could it lead to longer-lasting falls in emissions?

The Future of Smart Buildings

Why you need a Workplace Strategy now more than ever!

The idea that the Workplace can be a lever for strategic advantage is by no means new, but it's one that many senior leadership teams have failed to act upon. The Coronavirus has accelerated the need for change and we need to reset the dial and view COVID-19 as an opportunity to re-define our Workplace strategy for what will be the 'new normal' for your business and the Workplace needed to support it.

Post the pandemic and the rescinding of lockdown measures. Businesses that can open their doors again, will encounter new challenges, that had not even been considered plausible previously, even in the most extreme VUCA world.

The return to work for many will be a welcome relief from the rigours of isolation but as organisations, we need to understand that at a personal level this will be overshadowed by fears of a reoccurrence of the outbreak and impending economic hardship.

Imagining the "Pandemic-Smart" Buildings of the Future Memoori Published: April 8th, 2020

If we don't learn from this pandemic then we only have ourselves to blame. The smart building industry must now muster its innovative spirit to reduce the economic impact of the next pandemic, and maybe even help control the spread of the virus itself.

Will Mass Surveillance Become a Leading Epidemic Control Technology? Memoori Published:April 1st, 2020

The Chinese government collects an immense amount of data about its citizens and they have found innovative ways to utilize that surveillance culture to tackle the coronavirus. As lockdowns went into place across China in January, residents of large residential complexes and neighborhoods are forced to pass through facial recognition-based access control systems to exit to the outside world. Data from those systems along with data from the over 200 million video surveillance cameras around the country are fed into a central database and analyzed using machine learning. In addition to centralized payment and social apps like WeChat, the Chinese government is able to track the movement of specific people as they move around urban areas.

Why IoT and AI will be more relevant in a post-COVID-19 era Hani Khalaf
Hani Khalaf is the Lead for the Internet of Things and Digital Cities Solutions at Dell Technologies, He believes in the Internet of Things (IoT) being a key disruptive technology in driving the digital transformation of businesses and cities and is very passionate about helping customers in their digitization journey.

As the world recovers from the global crisis, we'll be seeing much more adoption of IoT and AI use cases. Businesses will be scrutinizing every item that affects the bottom line; looking to automate tasks, creating higher operational efficiencies, reducing workforce exposure to infectious environments, and making fast and efficient decisions in times of crisis. IoT and AI will be two major tools that businesses will adopt at increasing rates than previously. IoT enables remote readings of data from areas where human presence might be deemed dangerous, once remote devices are connected, control becomes as easy as clicking a button on a computer screen. AI will enable better business insight through the analysis of real-time and historical data.

As fever checks become the norm in coronavirus era, demand for thermal cameras soars Stephen Nellis
Major employers such as Tyson Foods Inc (TSN.N) and Intel Corp (INTC.O) are experimenting with thermal cameras to ensure workers do not enter factories with potential illness, a critical part of maintaining production during the pandemic that could become more widespread as economies reopen.

The Impact of IoT & VSaaS on Video Surveillance Routes To Market
Published: April 9th, 2020
The fundamental shift from analogue to IP Network cameras; Consolidation in the Distributor business and more recently aggressive pricing strategies; More integration and package solutions; And now the rapid growth of VSaaS. With the latter potentially meaning end users having a much closer relationship with the System Integrator.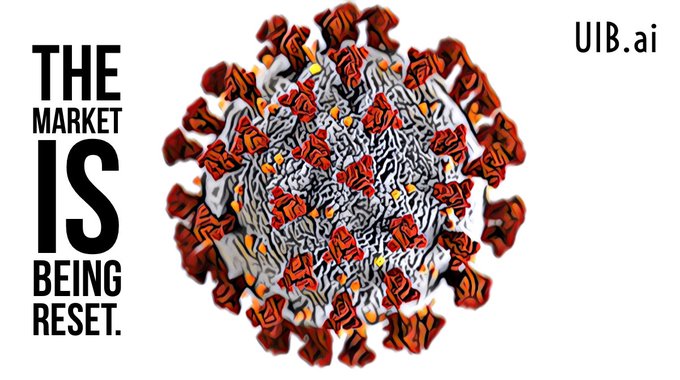 "The market is being reset. We've seen adoption in days or weeks that would previously have taken months or years. When everyone is frantically trying everything, it's easier for new voices to be heard" - https://twitter.com/uibglobal

Preparing for re-entry and reimagining the workplace
While the social distancing mandated by the COVID-19 pandemic is likely to be in effect for the foreseeable future, now's the time for organizations to think about re-entry into what will be a fundamentally different workplace model. Gaining a competitive advantage in the post-COVID-19 world means adopting a new distributed workforce ecosystem and re-imagining the workplace of tomorrow. Hear JLL consultants share their perspective on the paradigm shift that will forever change the corporate real estate landscape.

How Resilient Companies Endure Challenging Times April 9, 2020 | Brian Sutherland, Industry Principal, Commercial, Yardi
What does it mean to be resilient? Every organization, like every individual, will face adverse situations, disruptions or threats that must be successfully overcome in order to continue forward. The current global state of uncertainty caused by the COVID-19 pandemic makes being a resilient company more important than ever.

Episode 359 ControlTalk NOW's COVID-19 Discussion with Marc Petock, Lynxspring's Chief Marketing & Communication Officer
Lynxspring's Marc Petock our contributing editor provides insight to the immediate impact that the COVID-19 pandemic is having on the Building Automation Industry and leads a frank discussion about the new facet of "safe occupancy" confronting the Real Estate Industry. There are many important opportunities in the challenging times ahead.

It will take the collective expertise and efforts of all the players: ASHRAE, manufacturers, engineers, distributors, and contractors to deal rapidly with these new sets of challenges that are scaled differently across a multitude of building types and markets.

Making People Count in A Crisis – Memoori Speaks to Density published: April 16th, 2020
As the COVID-19 outbreak continues, lockdowns keep almost half the world's population at home, and people gradually accept the inevitable recession we are sliding into, many are looking to technology for answers.

Currently, building occupancy data can only show the true extent of lockdowns. However, in the future, the same data sets promise to help businesses get their employees back into the office safely and help them cut costs during the upcoming downturn. Now more than ever, buildings need visibility to understand how their spaces are being used and how they can adapt to the new environment they find themselves in.

Being resilient and making people count while Adopting Adaption needs to be part of our "Global Reboot "


---


[Click Banner To Learn More]
[Home Page] [The Automator] [About] [Subscribe ] [Contact Us]