---

EMAIL INTERVIEW Denis Du Bois & Ken Sinclair
Denis Du Bois, MIT Enterprise Forum <www.mitwa.org>
The MIT Enterprise Forum is an outreach of MIT to the business community. There are chapters of MITEF all over the world. The second-largest chapter is in Seattle serving over 3,000 members in the Pacific Northwest. Denis Du Bois, CEO of marketing consulting firm P5 Group < www.p5group.com >, is on the chapter's Board of Directors.
---
Sky High: Rising Energy Costs and the Growing Demand for High Performance Buildings
MIT Enterprise Forum event on November 8 will be about new technologies and real-world energy strategies for commercial buildings.











Sinclair: Briefly tell me about the event MIT Enterprise Forum is planning in the Seattle area next week.
Du Bois: On November 8 we'll host a panel discussion about new technologies and real-world energy strategies for commercial buildings. Businesses spend $135 billion a year on energy, and half of that is wasted. The panel will talk about how they're turning this to their advantage -- for example, how high-performance buildings create a competitive edge for owners and tenants.
Sinclair: Competitive edge in what way? Are we just talking about cost control?
Du Bois: More than that. Energy cost cuts go straight to the bottom line, yes, and that's what pays for change. But look at the current climate, if you'll excuse the term. The only remaining sceptics about global warming are those with a vested interest. Everyone else is on board, and there's a new phenomenon: Customers and investors are asking about carbon footprints.

American commercial buildings create 278 million metric tons of CO2 annually, and most of that comes from power plants. Companies are reducing their emissions by reducing the amount of electricity they purchase. That's the easiest and most cost-effective target.
Sinclair: Do you think corporate executives are paying attention to energy use?
Du Bois: The audience for this event is top-level management. The Conference Board report released last month shows that climate impact is on the agenda at the board level at most companies now. That's getting the attention of CEOs.

With so many competitors "going green," management must think about energy. It definitely is about money, but not just the power bill. It's about productivity -- employee retention and productivity rise in environmentally responsible workplaces. It's about rent revenue -- prospective tenants are asking about energy use in facilities they lease. And it's about stock price -- carbon reporting is mandatory elsewhere and it's coming to the U.S. On top of that, LEED is boosting property values, and insurance companies are giving rate credits for green building. All of this together is raising awareness in the boardroom.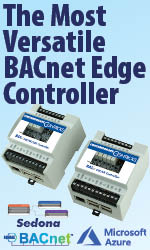 Sinclair: MIT is a technical university. Why is the MIT Enterprise Forum hosting a program about buildings?
Du Bois: MIT has launched initiatives for energy research in every department, including Architecture. Every month your magazine covers the cool technologies that are revolutionizing energy use in buildings. We have a Pacific Northwest National Lab energy researcher on the panel to talk about building technologies that might reach the market in five to ten years.

We encourage entrepreneurs as well as technology. The pace of innovation in this sector is a magnet to smart entrepreneurs. As you know, intelligent buildings are potentially the next big software and networking play. The Pacific Northwest has major strengths in those areas. Venture capitalists are making energy-related investments, which is a sign of something real.
Sinclair: Tell me about the panel.
Du Bois: The PNL scientist I just mentioned is Michael Brambley. We have three other panelists: Mark Weed is president of Egis Real Estate. His company manages the high-tech Fisher Plaza in Seattle. Ash Awad is vice president of energy services at McKinstry. Dave Williams is CEO of Shorebank Pacific, a commercial lender that specializes in financing green buildings. The moderator is Nik Blosser, president of Celilo Media. Celilo brings us the Sustainable Industries Journal and several related publications. It's going to be a great conversation.
Sinclair: How do readers register for this event?
Du Bois: They can register at www.mitwa.org. It's an evening event at the Grand Hyatt in Bellevue Washington, with a cocktail reception and a three-course dinner.
---


[Click Banner To Learn More]
[Home Page] [The Automator] [About] [Subscribe ] [Contact Us]