---

EMAIL INTERVIEW - Paul Ogle & Ken Sinclair
Paul Ogle, VP Product Marketing and Development, Activelogix, LLC
Paul Ogle is the VP of Product Marketing and Development for Activelogix, LLC of Charlotte, NC. Activelogix is a leading provider of Internet-based enterprise automation solutions, including design services, consulting, custom applications and technologies to enable management and optimization of sustainable, energy-efficient, and secure facilities in a multi-vendor, cross platform environment. Paul's background includes senior level positions in a number of high tech Fortune 100 firms serving the process and building automation industries. He is a member of the management team at Activelogix and currently manages all Product Development and Marketing functions for the firm.
---
User Centric Enterprise Dashboards for Facility Management
"a new way of data visualization to convert raw data into "Building Intelligence"
Our Periscope™ dashboard is a new web-based Rich Internet Application (RIA) designed to enable users to visually identify real-time and historical facility performance metrics, thereby optimizing efficiencies and enhancing sustainability initiatives across their enterprise.















Sinclair: I understand that you have had a lot of success with this product since its introduction at the ASHRAE Winter Conference in January, 2009. How's it going?
Ogle: Yes, we have been thrilled with the rate of adoption of Periscope by the marketplace. Since its introduction, it has been licensed for hundreds of locations throughout the US and internationally, and is now in use at schools, universities, military bases, churches and municipalities. In addition, we have licensed the product to a number of large OEMs that have incorporated the dashboard functionality into their own product lines. It was recently selected by a major metropolitan city in the east as the "front-end" visualization tool across their large number of facilities. Also, earlier this year we signed up our first international distributors, and they have been successfully installing the product in a number of locations outside the US. So we have been quite pleased with the response so far.
Sinclair: Sounds impressive. For those who are not familiar please explain.
Ogle: It is a new way of data visualization, and it is particularly effective in helping users organize the myriad of data and other metrics measured or produced by their building automation systems and connected peripherals. A user can easily create and modify his or her personal dashboard without having to contract a specialist or learn a new technical toolset. Since the dashboard runs on any web browser, users can access their data from anywhere.
Sinclair: There has been a lot of interest in dashboards over the last few months. How does your product differ from other systems?
Ogle: It is unique - in a number of ways - from any other "dashboard" we have seen in the market to date. Probably the most compelling feature is the inherent design goal to enable the end user to create, modify and evolve his personal "dashboard" to suit the needs of his role in the organization, as well as the "facility problem of the day". In developing the product, Activelogix recognized that there are many "stakeholders" participating in the design, specification, operation, refurbishment, utilization, occupancy and management of a facility. Most existing commercial tools today target the Energy or Operations department and tend to require specialized tools and programming to portray visualizations of equipment status and operational metrics. The additional costs and effort involved to maintain and modify these initial designs to keep pace with ongoing facility updates tend to thwart their evolution.

Periscope is fundamentally different in that we designed it to enable individualized dashboards that could be "created, owned and managed" by the individual. So an energy manager might focus his dashboard on energy-related items, while an owner might be more interested in ranking financial performance of similar structures. The university might want to set up "energy-wise" competitions across the housing facilities to encourage friendly kWh consumption competition between the dorms, with the students having their own dashboard access to see how the contest is faring. The consultant might want to use his dashboard to verify his projections on energy efficiency for the new project were met or exceeded. So lots of different agendas can be easily accommodated.
Sinclair: That's very compelling, but sounds complicated to set up. How long does it take to install and configure?
Ogle: I think you would be surprised how easy it is. It includes a startup discovery "wizard" that explores the facilities database to identify all the live points and historical trends that are available. It even has a way to provide an "alias", or what we call a "friendly" name, to the sometimes "geek speak" name assigned by the original contractor to variables in the control database. So for example, instead of "DP5AKWH" you can have "5th Floor Data Center Power" as the display name of the variable.

The discovery wizard, along with a number of other features, enables very quick installations. We have even had some of our first time installers report that they had their client up and running in well under an hour, which we think is a tribute to the thought that went into the design.
Sinclair: That's quite an achievement. Is there any special hardware required to install?
Ogle: It was designed to run in a NiagaraAX environment, which is a controls framework that has been widely adopted by all the leading controls suppliers. A side benefit to this is that it uses the existing logins (if available) so no new security mechanism and credentials setup is required. However, even though it runs on an AX station, it can access data across the enterprise from control systems that are not Niagara based. We have a number of installations where we have integrated data from disparate systems and are able to then provide a global visualization of facilities performance across the enterprise, thus preserving a client's earlier investments.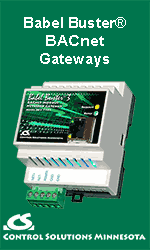 Sinclair: Speaking of investments, is your product very expensive?
Ogle: Actually, it is probably among the least expensive dashboard products on the market today, on a per-location basis. Given its fast installation and startup performance, coupled with its ability to be individually customized by its user base to meet the changing facility environments and requirements, the product has a very low cost of ownership, typically a fraction of some competitive offerings.
Sinclair: That's good to hear. So what's new?
Ogle: Well, it is constantly growing with new features and enhancements almost every month. With our large installed base, we naturally get lots of interesting ideas and suggestions from our clients. The architecture is designed to operate somewhat similarly to the App Store for Apple's iPhone, in that the core application consists of a library of viewable "applets" or what we call "Viewlets". New viewlets are being added all the time and show up in the user's Dashboard as they become available. If the user chooses to purchase the viewlet, that new viewlet is automatically provisioned to the client's library for use by all the registered users. This happens automatically without the need for a specialist's visit to the site. Similarly, we are constantly improving and evolving viewlets in the current library, and these (typically) free enhancements flow automatically to the user base as they become available, in much the same way that your browser finds newly updated web pages from a frequently visited site.
Sinclair: Sounds like you've done a good job of identifying with a client's needs. Where can interested specifying engineers, systems integrators, equipment OEMs, and end users obtain more information?
Ogle: Periscope is distributed through an expanding array of regional distributors, systems integrators and OEMs. More information can be obtained from our website: www.activelogix.com or by contacting us directly at (704) 553-8510 or sending an email to periscope@activelogix.com .
---


[Click Banner To Learn More]
[Home Page] [The Automator] [About] [Subscribe ] [Contact Us]