---
Integrating disparate Building Automation and control systems to present a single view of the facility continues to be a frustrating task. To tackle this multi-layered problem, you need more than just a gateway device or protocol converter. And a plan to standardize on one protocol (such as LonTalk or BACnet) doesn't address the legacy equipment you probably have in your building.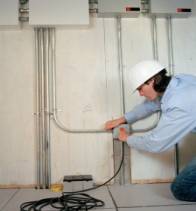 Why all the difficulty?
Facility system integration can be complicated. Masses of data are isolated in myriad places, back-office applications can't access the data, and legacy systems need to be networked. Perhaps most significantly, these systems all use their own data sets and definitions. Reformatting all the data across applications to adhere to one set of data types can require a great deal of effort.
Getting a grip on all this data is the first essential step for a quick ROI and finding what industry experts consider the facility management Holy Grail: the ability to apply a uniform format to the information produced by all systems throughout the enterprise.
Finding a solution
For facility systems to do their job well, data from all of these systems should look the same-regardless of manufacturer, device or system.
Conventional approaches to integration typically follow one of two strategies - using gateways or trying to standardize on a single protocol. The Mediator is much more than a gateway and supports integration with proprietary devices not addressed by BACnet, LonTalk or Modbus. The Mediator provides an environment to allow disparate devices to integrate with each other, solving problems of mixed vendor systems.
"We have demonstrated that this is the missing piece of the integration puzzle – real integration that enables operators to build a consistent view of their buildings. This level of integration increases the value proposition by giving operators data in a manner that let's them easily make efficiency decisions."
Mike Cruse, CTO of Envenergy
Here's how it's done:
Information from devices is easily accessible. The Mediator models building systems in software and assembles the information available from devices. These devices and their values are made available within the Mediator Configuration Tool. Building operators simply use the Mediator Configuration Tool to select the data from any device that they desire.

Operators choose the data format. Device data is available in pre-configured standard data formats such as CSV and XML. In addition, the Mediator Configuration Tool has built in interfaces to third party applications such as Silicon Energy, Enerwise, and more. Operators can choose their data format using pre-configured data exporters. No re-formatting is necessary.

Operators can select only the data that is important to them. In addition to making device data easily accessible, the Mediator allows operators to be selective of the data they receive by exporting only what is important to them.

Operators can obtain a local and a central view of the information. Operators can access the data locally (using a standard web-browser) as well as export data from each location to compile an aggregate view of all information.
The Mediator architecture is designed to take a standards-based, vendor-independent approach to the development of a complete enterprise plan to integrate various devices. The architecture allows businesses to rapidly deploy an integration project and then have the flexibility to modify the scope over time.
As the economy puts the brakes on spending, it's critical that your project can provide immediate return and results. Integration holds the key to unlocking facilities' true potential for boosting efficiency, delivering more sophisticated management, and finding ways to cut energy costs.
---


[Click Banner To Learn More]
[Home Page] [The Automator] [About] [Subscribe ] [Contact Us]