Could DALI Be Lighting's Next Breakthrough?
A Review of EUN article by Craig DiLouie

Reviewed by Ken Sinclair
---
A review of key points about the new evolving lighting control standard DALI from Craig DiLouie's article in Energy User News. Could DALI Be Lighting's Next Breakthrough?
The recent interest in DALI for which we have included a few links below includes Interviews, Articles and News Releases all which add strength to Craig's article.












Interviews
A DALI system can add valuable extra flexibility through its feedback of lighting system information to the BMS, automatically identifying failed lamps and ballasts and allowing central monitoring of ballast power and dimming levels. Stuart Berjansky, Product Manager, Dimming Advance Transformer Co. Read the interview.
The DALI interface and Motorola's reference design for DALI DALI is an industry standard for lighting control applications developed by a group of lamp, ballast, and fixture manufacturers. Mats Henriksson, Motorola AB Read the interview.
Article
DALI Enhances Building Automation DALI truly brings revolutionary improvements to lighting control - and subsequently, greatly enhances total building system control. Stuart Berjansky
News Release
DALI news release Atlanta, GA — January 29, 2001) — Comtec Techologie (Brindas, France) and Engenuity Systems, Inc. (Chandler, AZ) announced the availability of the DaliLon infrared remote control system for LonWorks-based networks. The system allows the use of standard off-the-shelf or pre-programmed handheld remote controls in conjunction with any LonWorks-based control system. DaliLon provides individuals with the ability to control applications like lighting, office HVAC, blinds, and security. The products are available from Engenuity Systems, Inc., Comtec Technologie's exclusive distributor in the United States.
---
Could DALI Be Lighting's Next Breakthrough?
A Review of EUN article by Craig DiLouie
The following has been extracted from the article my comments are in red.
Energy User News article URL
http://www.energyusernews.com/eun/cda/articleinformation/features/bnp__features__item/0,2584,76083,00.html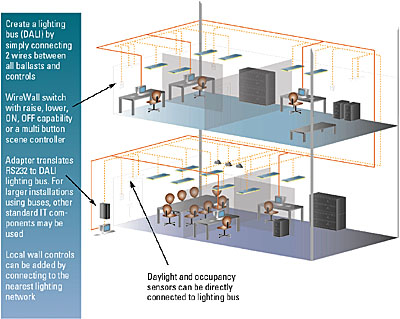 Figure 1. Application of a DALI-based system in an office building. Courtesy: Tridonic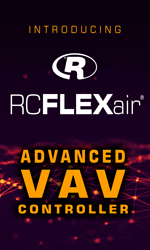 Imagine a large office building where the lighting system is set up as a dynamic network with luminaires that can be controlled separately or in multiple combinations of groups-then reprogrammed as space needs change. The luminaires can be locally and centrally dimmed or switched, and continuously provide energy information to a central computer that identifies lamp and ballast failures, generates load profiles, and verifies energy savings.
We can Imagine it very well and in fact have been waiting for products such as these.
"Digital addressable ballast capabilities are changing the way that the industry designs and controls space," says Steven Purdy, president of the Lighting Controls Association and vice president of marketing and sales for Tridonic, a manufacturer of DALI-compatible digital electronic ballasts that are now commercially available. "DALI provides a vehicle for manufacturers, building managers, and lighting management companies to have confidence that products from multiple manufacturers will be compatible and interoperable."
Large building automation industry - Are you aware of this revolution?
The key issue is the limited availability of DALI-compatible controls, which are a critical component of the system.
Come on industry buck up, it is only one more interface we have to learn and support :)
It seems certain now that when we do implement support for digital ballasts, it will be DALI."
This is good news.
---

[Click Banner To Learn More]
[Home Page] [The Automator] [About] [Subscribe ] [Contact Us]