---
The winter heating season that's just a few weeks away is forecast to be the most expensive on record. The US Energy Information Administration predicts that those heating with oil will see a 30% increase in costs over last year, and those heating with natural gas seeing a 19% jump in costs. An effective energy management system can cut energy bills, but where do you start when you have limited time and budget to implement an EMS? Just one change can make a big difference. If you're dealing with a short timeline and a small budget, but need to retrofit a building to use less heat and air conditioning, wireless thermostat controllers can be your best choice. They offer considerable control over HVAC systems, with relatively low cost and very little time required for setup.











Installed in a typical 3,500-square foot office, two wireless thermostat controllers from Spinwave Systems cut energy usage by an average of 18% a month, resulting in significant savings on utility bills. By automatically reducing heating or cooling when the office is unoccupied, the thermostats minimize energy usage without impacting occupants. Indeed, occupant comfort is increased, with improved controls eliminating hot and cold spots.
Spinwave's wireless thermostat controller is a full-function device wireless mesh node (it repeats RF signals from other devices). An advanced programmable thermostat, it can be scheduled remotely, with daily, weekly, and holiday schedules. The stat can be configured to control a variety of HVAC systems. It offers precise control for multi-stage heating and cooling; it can also adapt to manage the number of fan speeds it must control.
Centralized supervision allows for individual occupancy-based zone control. You can program the stats for any type of local override capability:
None: Occupants cannot override the temperate settings at all. Only those with a password can change the temperature.

Limited: Occupants are given a certain range of temperatures that they have control over. You can set the number of degrees that occupants can change the temperature settings, for instance: 2 degrees plus or minus.

Unlimited: In some instances, you may wish to not limit the amount of control occupants have over the temperature in their location. You can provide them with complete control in such instances.
Regardless of what override settings you choose, access to configuration parameters is password-protected.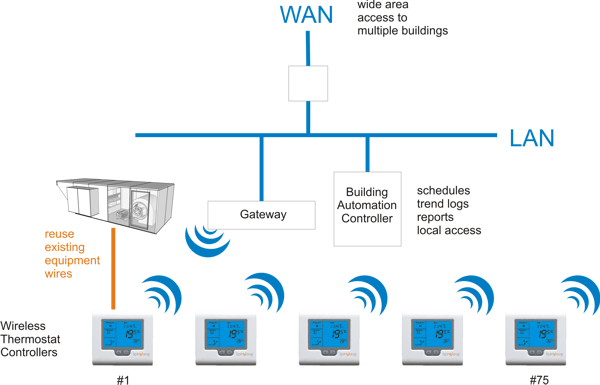 Remote Monitoring Enhances the Functionality of the Programmable Stat
Remote monitoring makes troubleshooting easier, even for networks of up to 75 individual stats. A slim profile and simple user interface make it work well in both commercial spaces and residential developments.
Adding remote monitoring capabilities to a programmable stat enhances the already-substantial benefits of a programmable device. Using the two capabilities together, facilities staff can both verify that programs are running correctly, and ensure that building conditions are good. As an example, one of the leading causes of wasted energy occurs first thing in the morning, when occupants return to a building that has gotten uncomfortably cold at night. Occupants, in an effort to get temperatures back to comfortable as soon as possible, may turn the heat on to high levels. If programmed to use adaptive recovery, the wireless thermostat controller eliminates the problem of heating being turned on too high in the morning in response to cold temperatures. Temperatures are ramped up before workers come in, and can then be remotely monitored, eliminating both waste and potential complaints about temperature. Thus, the stat can reduce waste while keeping buildings comfortable.
Indeed, remote monitoring makes the stat ideal for facilities managers who are off-site, or manage multiple buildings. The thermostat's status information is used for equipment runtime reports to monitor overall system performance. Malfunctioning equipment is detected promptly, making it possible to take action quickly to remedy a problem, sometimes before any calls come in from occupants. Continuous monitoring and data collection also make it possible to detect performance trends over time. You can detect small issues with equipment before they get out of hand.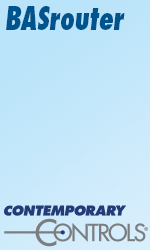 Building On to the System for Greater Control
The stat can form the backbone of a more extensive wireless energy management system. At any time, the system can be scaled up to incorporate Spinwave's wireless occupancy sensors and wireless I/O modules to switch additional loads, such as lights. Additional temperature and humidity sensors can be added for collecting more occupancy comfort data, as well. Submetering and automated utilities usage data collection can also be done via wireless pulse counters. You can thus start out with the stat, and then, as budget allows, expand the system into a full-fledged wireless EMS. The system can also accommodate extra wireless nodes at any time -- stats, sensors, and I/O modules. Thus, it can expand or change whenever building layouts are changed.
Getting Started with Wireless
If you've wanted to learn more about the capabilities of wireless building automation, Spinwave thermostat controllers offer the ideal means of experimenting with wireless. They can provide immediate cost savings benefits with one quick installation. The stat is designed to be a drop-in replacement for existing non-communicating thermostats, re-using existing equipment wires. Installation time is normally 15 minutes. The wireless thermostats communicate via an Ethernet gateway with the building controller (e.g. a Tridium JACE™). The gateway features an embedded web server for easy local and remote commissioning and maintenance. Thus, the stat is easy to install in buildings where there is no BAS in place, while also being easy to integrate with many existing systems.
With heating costs expected to be a top concern during the upcoming months, finding a way to control energy usage cost-effectively is vital. Wireless thermostat controllers from Spinwave offer one way to provide energy management right now, in time for the winter heating season.
For more information on Spinwave's Wireless Thermostat Controller, as well as the complete line of wireless EMS products, visit http://www.spinwavesystems.com or email info@spinwavesystems.com
---


[Click Banner To Learn More]
[Home Page] [The Automator] [About] [Subscribe ] [Contact Us]