---

EMAIL INTERVIEW Manny Mandrusiak & Ken Sinclair
Manny Mandrusiak, Director of MatrikonOPC. Marketing
Manny leads the marketing team of the World's Largest OPC Developer, MatrikonOPC. He is currently the Vice President of Marketing for the OPC Foundation, and has a seat on the Partner Committee of the Control System Integrators Association (CSIA).
---
Key questions every building automation integrator should ask about OPC technology
The basic requirement of the OPC architecture is to get data from Point A to Point B. Of course every user of the OPC system will place a different priority on the requirements.











Sinclair: When Implementing OPC Architectures what are the key things that Integrators must consider?
Mandrusiak: The basic requirement of the OPC architecture is to get data from Point A to Point B. Of course every user of the OPC system will place a different priority on the requirements. The operators and engineers will look at reliability, robustness and how to guarantee data delivery. The implementers will look at ease of implementation and configuration. In today's world there is an increasing demand on security, so this will be a priority for all. While considering these requirements there are some key questions that need to be asked to maximize the benefits of OPC technology:

Is redundancy required to increase the reliability of data?

Is OPC Tunnelling required to go through firewalls, or different domains?

Will data Buffering be required to ensure guaranteed data delivery?
Sinclair: There are many OPC vendors out there, when choosing an OPC Vendor what questions should I ask myself?
Mandrusiak: You're quite right Ken; there are a lot of OPC vendors on the market today. Just Google "OPC Server" and you will see for yourself just how large the market is. It is very important to ask yourself a few key questions before standardizing on a vendor:

Is the vendor a member of the OPC Foundation? By being a member of the OPC Foundation you can guarantee that the vendor's software adheres to the OPC Specifications that the OPC Foundation maintains. Consumers will also know that this software has been through interoperability testing, and is compliant with other vendor OPC software. This means that integrators and end-users can truly build the systems of their choice. They can take data directly from HVAC systems for example and bring it right into whatever HMI or OPC Client they want.

What kind of support can I expect from the vendor, will someone answer the phone no matter what time of day I call? Too often software sales are fire and forget ventures. Quality vendors (like those members of the OPC Foundation) offer technical support. MatrikonOPC for example offers full 24/7 technical support. Someone needing help can reach MatrikonOPC's technical support section via the phone, email, or through our Who's On online chat program.

Does the vendor participant and pass the OPC Foundation interoperability sessions?

What is the vendor's suite of products, will they be able to meet the various types of connectivity requirements?

Is the vendor OPC Foundation certified?

The OPC specification has required and optional interfaces, which optional interfaces do the vendors products support?
Sinclair: Security is on everyone's mind these days. In the Building Automation industry, security is something that every integrator needs to implement. When implementing OPC Architectures what types of security must be considered?
Mandrusiak: Security is becoming an important consideration in today's industrial environments. There are two key areas that must be identified. The first involves OPC data transfer; IT departments typically lock down policies and firewalls to prevent unauthorized access. However DCOM requires multiple ports to be available, and certain local security policies to be changed, in this case will OPC tunnelling be required?

The second type of security is WHO is allowed to read and write OPC Data. Traditionally when DCOM is setup there is no limitation to who can read or write data. This of course can introduce vulnerabilities in the architecture,and in this case a product like MatrikonOPC Security Gateway will be required to limit user access to OPC data.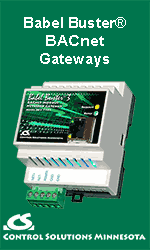 Sinclair: Is the OPC Foundation compliance enough to guarantee system interoperability?
Mandrusiak: In short No. The OPC Foundation compliance tool only verifies that the software meets the minimum requirements setout by the OPC specification. True interoperability can only be ensured if the vendor has participated in the OPC Foundation interoperability sessions. These sessions ensure that vendors can verify interoperability with other vendor's product, and the OPC Foundations standardized testing. This standard testing is not enough; a good vendor will establish independent testing with other vendors to validate true product interoperability.
Sinclair: We've talked a lot about the OPC Foundation and the importance of interoperability and standards compliance. If we look at ways for integrators to improve their bottom line, would OPC Training and certification from a vendor like MatrikonOPC be important?
Mandrusiak: Absolutely! OPC training is vital for helping individuals to improve quality and productivity while implementing OPC projects regardless of the industry vertical that they work in. OPC training provides the skills necessary to help reduce project risk and enable companies to increase profitability by reducing implementation and integration time. The "hands-on" training provides a toolkit that anyone from operators to integrators can use to ask the right questions at purchase to reduce the time spent onsite when implementing and maintaining OPC architectures. I would highly recommend anyone looking to use or implement OPC enroll in a MatrikonOPC Training Session or at the very least attend a MatrikonOPC webcast to get more information about how to effectively use the OPC training to improve their bottom line.
---

[Click Banner To Learn More]
[Home Page] [The Automator] [About] [Subscribe ] [Contact Us]