---
| | |
| --- | --- |
| Education Sessions AHR Expo 2009 Chicago | Ken Sinclair |

Updated January 9, 2009
11:00am-12 noon Room S102bc "Building to Grid": Enabling Buildings to Trade Their Energy Tuesday, January 27 **NOTE: New Time, was previously scheduled for 1:30pm - 2:30pm**
1:30-2:30pm Room S102bc B2G - Building to Grid - and the Next Frontier for BACnet Tuesday, January 27; **NOTE: New Time, was previously scheduled for 11:00am - 12 noon**
We have just finalized and coordinated our Free Education Sessions for AHR Expo 2009, Chicago
Here is a sneak preview for your eyes only.
Education Sessions AHR Expo 2009 Chicago - Confirmation Requested











Here is a tentative schedule for your BAC Sessions for the AHR Expo this January. As in the past, we have scheduled your sessions into one room, S102bc. The room will be set theater style for 150.
MONDAY January 28, 2009
9:00 – 10:00; Using Technology to Create Sustainable Green Buildings Jim Sinopoli, Smart-Buildings.com and Ken Sinclair, AutomatedBuildings.com
An overview of new trends, concepts and ideas that have emerged since the 2008 AHR Expo, New York with a Global Perspective on Cutting Edge Sustainable Developments. The global session will present some stunning examples of real estate developments that are "pushing the envelope" and truly trying to transform the way people live, work and play. The session will discuss the lessons that can be learned from these developments and the impact they will have on our response to sustainability. In addition a preview of new technologies and ideas that can be found at this year's Building Automation & Control Showcase plus the winner and honorable mentions of the 2009 Innovation Awards will be provided.
11:00 – 12:00; GridWise and the Nation's Carbon Footprint GWAC
This session will explore the topic of energy and electricity and how growth in electric demand for buildings and heating, ventilation and air conditioning is impact our environment. The speakers will address the impact of buildings on our nations demand for energy and will explore how some of the technological developments on the horizon will change approaches to design of buildings. Particularly in light of the Energy Independence and Security Act of 2008 and its' mandates for Smart Grid and Zero-Net Energy Buildings, this is a areas that should be of great concern to the AHR community
1:30 – 2:30; Energy Economics in your Buildings Dave Branson, Compliance Services Group, Inc. and Ken Sinclair, AutomatedBuildings.com
Energy suppliers cannot generate enough energy in the coming years for the anticipated demand. The new economics is changing our society and our culture by demanding sustainability. Sustainability Connected Converged Conservation is now mandatory. This fact will drive billions of dollars in revenue for integrators over the next decade. The key to the future is to combine systems knowledge with Building Automation applications. This session will be an open discussion with practical examples of sustainable design and implementation using LEED and other evolving concepts.
TUESDAY January 27, 2009
9:30 – 10:30; Green Buildings, BIM and Evolving Energy Standards Dave Branson, Compliance Services Group, Inc. and Ken Sinclair, AutomatedBuildings.com
Our new focus on reducing our impacts on energy resources and changing climate conditions is increasing our emphasis on building planning, design, and construction techniques. Sustainable design using Building Information Modeling "BIM" with ever tightening energy standards such as ANSI/ASHRAE 90.1, is moving us towards more responsible building energy usage. BAS can be found at the heart of all these efforts. Information technology, whether illustrated by BIM, smart meters, smart grids or intelligent control systems, can help us monitor and control energy use and ultimately save both energy and cost providing an immediate return-on-investment in terms of higher employee productivity and reduced operating expenses. Please join us in this discussion.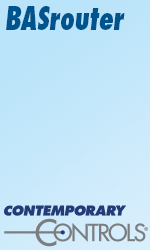 11:00 – 12:00; B2G – Building to Grid – and the Next Frontier for BACnet GWAC
This session will explore how BACnet leaders along with the Buildings industry and the National Institute of Standards and Technology are pursuing interoperability between buildings and the electric grid. A major effort is underway to evaluate how standards, like BACnet could become the enabling technology to curb the impact that buildings have on growth in electric demand, but also to provide ways for buildings to be paid to reduce energy cost. This session will include a discussion of the NewEnergy Alliance and other initiatives that are pursuing best practices for electricity and its' use by heating, ventilation and air conditioning, as well as the impact that this has on carbon footprint.
1:30 – 2:30; "Building to Grid": Enabling Buildings to Trade Their Energy Toby Considine, Systems Specialist, UNC and Ken Sinclair, AutomatedBuildings.com
B2G success is defined as enabling buildings to trade their energy. The goal of the Smart Grid standardization efforts is to design the information exchange and informational interoperability to enable healthy markets to emerge around energy use in buildings. Convergence is changing everything for everyone by leading us down the same data paths while using our data as it has never been used before. The protocol for communication to any layer of the cloud should be the same; internet ready, secured, and standards based plus ready for e-commerce. In this session come and stick your head in the newly formed computer and communication clouds.
CABA is working with the Building Intelligence Group and they will be holding their one day event at AHR
Buildings Intelligence Tour. Advanced Integrated Lighting Controls
Lighting controls are poised for dramatic growth, and the application of next generation advanced integrated lighting controls presents ever greater opportunities for improvements in human comfort, energy efficiency, and sustainability. With this in mind, CABA and Building Intelligence Group are planning a Building Intelligence Tour seminar focused on Advanced Integrated Lighting Controls to take place at the AHR Expo in Chicago on Tuesday, January 27th, 2009. This seminar is designed to focus and go in-depth on this one important aspect of intelligent buildings with coverage of planning, design and specification, startup and commissioning, and operations. Along the way, the seminar will explore the possibilities presented by integration and cross-optimization with building systems and demand response programs.
---


[Click Banner To Learn More]
[Home Page] [The Automator] [About] [Subscribe ] [Contact Us]