---
The Coming Wave of Intelligent Efficiency in Buildings

The technology is ready to make an impact.

Mike Zimmerman
Founder, CEO
BuildingIQ
There has been a lot of buzz about "intelligent efficiency" in the commercial building industry. According to a report from the American Council for an Energy-Efficient Economy (ACEEE), 22 percent of current energy consumption in the United States could be replaced by intelligent efficiency. This sounds like great news, but what exactly is intelligent efficiency? And how will it eliminate energy consumption?

Intelligent efficiency is all about looking at the big picture or using a holistic approach to saving energy. In the past, everyone's mindset was to make each part of a building as efficient as possible without taking into consideration how efficiently each part worked together. Instead of just having efficient components it is more beneficial to have efficient components within an efficient system, whether it is a building, city, transportation system or power grid.

The ACEEE report broke down intelligent efficiency into three categories: people-centered, technology-centered, and service-oriented. The first two can be applied to commercial buildings.

While people-centered efficiency can make an impact on energy savings, in the commercial building industry it can be considered out-dated to rely solely on this type of efficiency. People-centered efficiency is by nature passive. The consumer has to have been inefficient in his or her consumption of power in order to later analyse the data and adjust his or her behaviour. In the residential setting this might be more acceptable, but in the commercial building environment this can result in a large opportunity cost for the building owner. The future for energy management relies on widespread use of technology-centered efficiency.

Technology-centered efficiency consists of a more automated approach utilizing sensors, monitors and "smart" technologies. This approach is most applicable to commercial buildings. Technology-centered efficiency within an entire system requires machine to machine communications and integration. This can be accomplished through the use of cloud communications technology to make instant calculations, anticipate changes and adjust controls based on predictions. Buildings need to utilize energy management systems that are active. Through predictive energy optimization, a management system can use variables such as real-time weather, energy grid and occupant comfort information, to continuously predict conditions and make corresponding adjustments. With a technology-centered approach human interaction with the management system is minimal, with day-to-day functions being handled automatically after the initial set up of the system. This reduces the burden on a building's operations staff and reduces labor costs.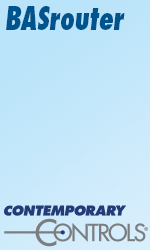 These concepts aren't new. While technologies have been evolving and expanding a building's efficiency capabilities, there are companies that have been established around these principles of creating an efficient system for years. Even though the technology is proven, many building owners are either not aware of these advancements or have reservations about implementing this technology. One of the common deterrents is the misconception that implementing an active energy management system would require a large capital investment. The use of cloud technologies has reduced the initial investment required, making implementation a much more viable option than in the past. Savings generated, are aligned with operational expenditure rather than CapEx.

The buzz that has been created around intelligent efficiency is the first step in wide-spread acceptance and use of energy management systems in commercial buildings. The technology is ready to make an impact. The more attention that this opportunity receives, the faster we move towards a future of intelligent efficiency being common practice.


---


[Click Banner To Learn More]
[Home Page] [The Automator] [About] [Subscribe ] [Contact Us]