---
Innovative Solutions for Buildings

Junction Square, Yangon, Myanmar (Burma)

Distech Controls
New Shopping Complex Has Multiple Requirements
With extensive experience in shopping center projects and facility management, Shwe Taung Group may have faced its biggest challenge with the construction of Junction Square, the ultimate shopping and entertainment destination in Myanmar.
Occupied by a wide range of retailer types, the vast shopping complex had some specific requirements for its building automation system. For one, the system needed to offer enough flexibility to support possible reconfiguration of interior spaces, the addition of shops, and changing types of tenants. Moreover, the system had to deliver energy efficiency, while still offering retail staff and clients the most comfortable indoor environment.
From a management and operations perspective, the system needed to be easy to use for the local operation and maintenance teams and would need to be able to monitor utility usage, as well as generate monthly utility bills for individual tenants.
Integrated BMS Proves Reliable During Installation
System integrator Technovator International of Singapore chose Distech Controls as the primary supplier of building management systems (BMS) primarily due to the company's range of quality products. In order to meet all requirements, Technovator installed the EC-NetAX Web-based platform, integrating HVAC and lighting control, utility monitoring, and multiple environmental sensors. The HVAC system incorporated over 1,000 hard-wired control points, using 50 LONWORKS® ECP Series programmable controllers. The programmable controllers' flexibility also allowed Technovator to cost-effectively address the need for interior lighting control. Various sensors were also integrated with the system, including temperature, humidity, smoke detectors, static pressure, and water level, helping to further optimize the system's overall efficiency.
The mechanical system included a number of chillers, integrated using the Modbus® RTU RS-485 protocol. In addition, the system incorporated over 30 AHUs and 20 FCUs. As well, several hundred power meters were integrated via Modbus TCP. The multi-protocol capabilities of EC-NetAX allowed seamless integration of the LONWORKS control products with the Modbus devices, while maintaining a unified management and graphical user interface.
The reliability of the installed products may have received its most significant trial during the testing and commissioning phase of the project. With only intermittent power available, installers were able to complete configuration of the system uninterrupted, thanks to Distech Controls' EC-NetAX wizards' ability to configure controllers both online and offline. Moreover, the controllers' rugged hardware, including a power-on reset (PoR) generator, ensure the devices start operating in their last known state following a power outage. The installed system's distributed architecture also ensures there is no single point of failure, greatly reducing the risk of any downtime.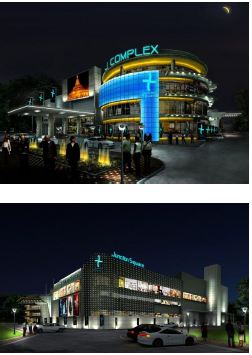 Using Distech Controls' EC-gfxProgram graphical programming interface, site engineers were able to easily program the desired sequences of operation. EC-gfxProgram's easy-to-use duplication features allowed site engineers to complete and validate device configuration in just two weeks. The system was optimized for energy efficiency using occupancy-based scheduling, as well as start/stop zone control, to prevent equipment overrun.
Through a user-friendly interface, and after only two days of training, on-site operators were able to locally or remotely monitor and control the system.
Project highlights:
4-storey shopping center in Yangon, Myanmar (Burma)
New construction project opened in March 2012
300,000 square feet of retail space, built on nine acres
Tenants include retail shops, banks, a health and wellness center, and three mini theatres
Distech Controls products: 50 LONWORKS ECP Series programmable controllers
Total number of control points: Over 1,000
System Provides Desired Flexibility & Energy Efficiency
In addition to offering significant advantages during installation and commissioning, the system continued to provide important benefits to facility managers, tenants, and visitors following the opening of the complex in March 2012.
The BMS was designed to support changes with regards to space and tenant requirements, using the concept of "room units" or individual store units. Using this approach, each Junction Square tenant is assigned a specific number of units, each optimized for HVAC, lighting, and comfort. As such, Shwe Taung Group can rest assured that the system will offer the needed flexibility to adjust to any future changes with regards to tenants, stores, or layouts.
Two levels of access are available to the maintenance and facility teams (management and operator) within the EC-NetAX Supervisor graphical user interface, ensuring the system's integrity is always maintained.
Power meters installed in each shop allow Shwe Taung Group to log and collect energy consumption data via EC-NetAX, to easily and accurately generate monthly utility bills for individual tenants.
The integrated building management system supports the modern shopping facility's goals for energy efficiency and operational cost savings, while maintaining tenant satisfaction at a high level. Finally, the user-friendly and intuitive BMS allows for increased productivity of the maintenance and facility teams.

Benefit highlights:
Flexible design for future system changes according to occupant needs and tenant changes
Seamless interoperability with different subsystems and protocols
Ability to minimize energy usage and operational costs without compromising comfort or safety of building occupants
Remote access for monitoring, controlling, and maintenance
User-friendly, intuitive monitoring capabilities
---


[Click Banner To Learn More]
[Home Page] [The Automator] [About] [Subscribe ] [Contact Us]