---
EMAIL INTERVIEW – Jim Lee and Ken Sinclair
Jim Lee, CEO Cimetrics Inc

---
Fault Detection and Diagnostics (FDD)
J
im, can you explain the difference between fault detection and diagnostic products versus dashboard data visualization products?
Sinclair: Jim, as one of the original pioneers in the field of Continuous Building Commissioning and Fault Detection and Diagnostics (FDD) technologies, what do you think of the recent emergence of offerings such as JCI's Panoptix, IBM-Tririga's Smarter Buildings, and now Honeywell's Attune Advisory Services?
Lee: Timely question Ken. At Cimetrics we are thrilled to see entry of new players large and small into this marketplace. We have been in this business for 12+ years, so these recent developments validate that FDD and analytics are the most interesting value propositions today for energy efficiency and carbon reduction in buildings. The basic parameters for doing business in this area have not changed: Residential and Commercial buildings account for almost 39 percent of total US energy consumption, and 38 percent of US carbon emissions. The market overall has finally come to understand these facts, and the resulting awareness has led to a refreshing increase in customer demand.

We recognize that applying advanced analytics to the intersection of energy supply and demand will make a meaningful difference to the entire buildings/energy efficiency marketplace. And it's exciting to see our original hypotheses being widely adopted and put to work: Continuous Building Commissioning optimizes performance of all building systems, including mechanical systems, control systems, and electrical systems. Not to mention the equally important "comfort and productivity" factor that makes a real difference for the people working in these environments, with direct and indirect financial results.

Sinclair: What do you make of the many venture-funded start-ups that have entered the space?
Lee: I think they're to be saluted Ken. In fact, after some study we have found that a few of these firms have originated some innovative approaches to financing energy efficiency services. We also believe that these enterprises may be in for a hard start and may struggle with many of the issues we have successfully dealt with in the development of our products and service offering.

As you know, there's 30 years of history behind the direct digital controls installed in today's physical world. This stuff is out there in buildings functioning in different forms and combinations. There are many variants of building automation systems, and many are mixtures of proprietary legacy systems. It may prove challenging for some of the newer firms to assemble all of the knowledge and experience essential to reliably and efficiently connect to these systems at the enterprise level while complying with Cybersecurity requirements.
In today's world of venture financing, the expectations are high for quick returns, and this constant pressure can often force young companies to make hasty decisions while trying to build a sustainable and profitable business. Cimetrics has already established a solid position in the market and we continuously fine-tune our offerings to deliver new benefits to our customers and to the service organizations that install and support building automation systems in our mutual customer's buildings.

Sinclair: Jim, can you explain the difference between fault detection and diagnostic products versus dashboard data visualization products?
Lee: Of course. Generally speaking these are two different approaches to using data. The two goals on analytics and FDD are: 1) to identify or determine faults; and 2) to determine the root cause of the problem. From our perspective, our Infometrics platform aggregates millions of data points that are run through algorithms that cleanse that data and prepare it for advanced analysis through our rules engines and performance measurement algorithms. Our platform compiles, synthesizes and diagnoses the root cause of problems. This is an automated fault detection and diagnostic process designed to manage vast data sets across entire building portfolios and then present this intelligence to our clients and analysts.

On the other hand, the goal of data visualization products is to collect data and serve it up into a dashboard. These dashboards summarize data collected from building systems and more typically, from meters to show energy use against benchmarks. While data visualization products comprise an important technology and are very useful to present information, humans simply do not have the time or ability to review thousands of points of data, and to make sense of the complicated interrelationships in building systems.
At Cimetrics we have focused on development of automatic analytic and diagnostics applications that detect, compile, analyze and synthesize diagnoses of problems in buildings. Our dashboards and reports provide actionable intelligence rather than raw information.
Sinclair: I see that there are a lot of traditional commissioning players that are offering continuous commissioning. What do you make of this development Jim?
Lee: There seem to be a number of companies who blur the line between retro commissioning and continuous building commissioning. I think that is a mistake because there is a vast difference between these. Let me take a second to explain what I mean: In traditional commissioning a commissioning agent typically does a design review with a physical inspection of the mechanical and control systems in a building. The commissioning agent will then spot-check the facility for operation of those systems and compare against the specifications. In retroactive commissioning, the agent would review the existing systems and original equipment drawings and design documents, and review available data from the BAS to "re-commission" the building. This is very much a manual process.
Ongoing commissioning, which includes the continuous commissioning you have asked about, is the persistent and interactive process of monitoring building system performance using computer automation and expert data analysts. In the Ongoing or Continuous commissioning process, telemetry from 10,000's of data points are collected from building automation systems, 24 hours a day, seven days a week. So the difference between these is very real and significant: The yield and efficiency of someone trying to look at a screen with thousands of data points in real-time, is simply no match for an enterprise platform working with rules-based algorithms.
Sinclair: Financing upgrades and ECM's in buildings can be difficult. How does Cimetrics approach this problem?
Lee: This is becoming one of the more interesting customer issues where we provide immediate value. As we all know, getting capital projects justified and approved is a lengthy and time consuming process for both vendors and facilities staff. Also present is the problem of aligning the various trades and vendors together to provide a complete and workable solution. Energy Service Companies (ESCO's) offer a stipulated savings performance contracting model to finance projects that have multiple energy conservation measures (ECM's). The short term payback ECM's help underwrite longer term ECM's and this enables the customer perform upgrades to their systems without capital expenditure. Cimetrics works very well in this model as an M&V platform and to identify ECM's with energy saving calculations that help validate the ROI.

What we are seeing, and are particularly excited about is the emergence of alternative financing models (ESCO 2.0) that are part of the emerging energy markets. Because we can identify and detail a broad array of ECM's with a high degree of definition, it alleviates much of the financial risk and allows BAS companies and the incumbent service providers to use our information to validate and justify system upgrades and enhancements. Since our information is so actionable, it helps prioritization of ECM's so that the service vendors can develop an ongoing service plan with customers with known financial benefits. This makes the sales process much faster and allows customers to quickly implement and attain the benefits of ECMs that have immediate impact on energy and operations.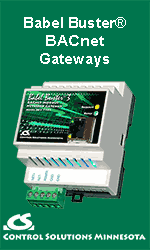 Sinclair: This sounds very exciting – what is next for you?
Lee: Ken, great question and one I'll enjoy responding to. Cimetrics has been ahead of the curve for a very long time. We have seen fads come and go, and have carefully considered our approach to building our business as we monitor the evolution of the markets and avoid getting sidetracked. As a result, we have carefully invested our time and resources in building an enterprise level platform with highly advanced features and analytic functions. We have embedded Cybersecurity elements necessary to confidently serve our government, commercial and industrial customers.

We think the entry of the major BAS and IT companies into this space bodes very well for us, given our relationships and experience with all types of building systems. Providing BACnet functionality and software technologies to most of the BAS industry certainly gives us a large advantage in understanding connectivity and data management issues.

We are bullish on our industry and how organizations are now gaining perspective on information management and analytics. As the energy markets evolve it will continue to help drive innovation and fresh ideas on solving old problems. We could all agree that the time has finally arrived for facilities to make full use of data and analytics to better manage their operations. Cimetrics is pleased to be part of this evolution with a proven technology to offer our customers.

---


[Click Banner To Learn More]
[Home Page] [The Automator] [About] [Subscribe ] [Contact Us]