---

EMAIL INTERVIEW – Ged Tyrrell and Ken Sinclair
Ged Tyrrell is the founder and Managing Director of UK-based Tyrrell Systems and Tyrrell Products.

Ged has been talking and walking programmable building automation and integration systems since the late eighties. He not only has extensive knowledge on his subject matter, he is also passionate about it. It's this passion that has led him to establish a number of companies focused on building systems integration. For the past three years, Ged has been leading his team in the development of a powerful and user-friendly mobile App to reconnect existing users, and a growing number of new users to control and monitor their built environments. This was at a time when other companies were showing very little interest.

---
App VS Web?

Apps bring convenience and access to information in an easy-to-use, intuitive interface, because the development of an app is finely tuned to the needs of the user.


With the total number of apps available approaching the million mark, is an app the best way to manage your building? Or is web still king? We asked a building management expert for his thoughts.

Sinclair: Ged, how is your business going?

Tyrrell: It's doing really well. Tyrrell Products is going from strength to strength. When we started Tyrrell Systems in 1998, our focus was to address the core needs of our customers with carefully designed, custom-made products. So it seemed like a natural progression, and a great opportunity, to offer these products to a wider market. This is what led to the creation of Tyrrell Products.

Sinclair: Just how big is the mobile revolution?

Tyrrell: As you would imagine, as an integration engineer, I have seen the industry's perception of controlling a building via a mobile change dramatically. At one point the concept was alien and hardly discussed, to the point of not being considered at all.

However, the mindset of engineers, consultants, and facility managers has now opened up and taken a leap forward. For the first time they are now listening to the end-user.

We've all noticed how the smartphone has changed our interaction with work, friends and family. But it has also given us a fantastic opportunity to drill into our building performance.

We are no longer chained to the desktop; workforces are more mobile-savvy. The adoption of smartphones and tablets across the globe has almost rendered the desktop obsolete. Almost but not quite. (Fig 1 below)

The number of sites we're called to manage at any one time is growing all the time. So we increasingly need access to information to any site from anywhere in the world. It's this demand that makes using 'apps' to control and manage our buildings so convenient.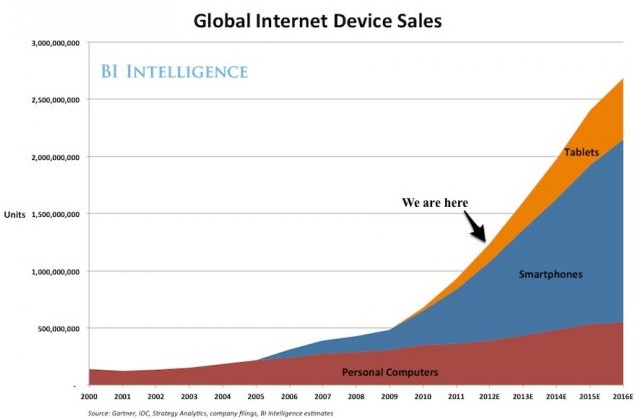 App VS Web?
The big question is, can you do as much on an app as you can on a traditional web-based interface? The answer is a resounding yes.
We know engineers are time-poor and task-heavy and so they demand instant access to any site, a snapshot of their site performance, a list of alarms, the ability to drill down to adjust points, amend schedules. With an app, they can.
It's clear that users prefer to do certain tasks such as connecting, navigating, informing and managing in an app, over a browser. And it is these characteristics that help manage a building. eBMS/Mobile fulfils this for not only the engineer but our end-users, the office managers, sales executives and receptionists who want to be empowered in their own buildings.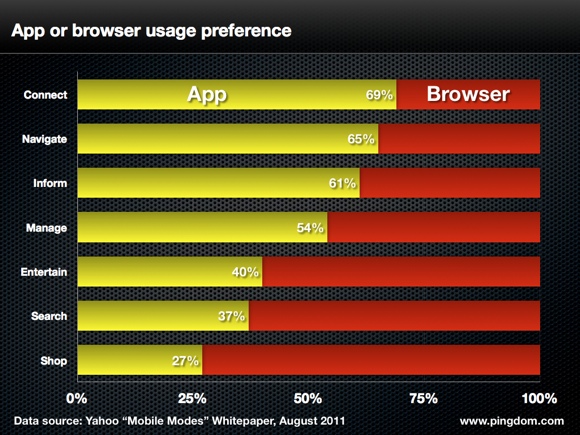 Sinclair: Your new release of User Views on eBMS/Mobile focuses on the end-user rather than the engineer, is that the right approach?

Tyrrell: The industry shifted and we moved with it. In the beginning we focused on presenting a fast feature-rich user-experience with zero engineering.

We called this Engineering Views, with the aim to provide fast and easy access to schedules, points, histories and alarms. We wanted to achieve deployment in as little as 10 minutes and to date we are proud of our achievements.

Engineering views still exists and with the touch of a button, the screen flips over to an intuitive drop-down points list of all the adjustable points, on the selected floor plan.

We then started to talk to in particular with retailers and middle to upper class homeowners and we saw a need for something new. These users said to us things like, "excuse me, what is a 'point'? what's a 'history'?" and "Oh a schedule is the time clock, like my air con at home?".

This feedback highlighted a need and we wanted to respond with the fastest way for an engineer to setup screens in logical groups. To deliver content in these groups through beautifully designed automatic widgets, which the end-user can use and understand effortlessly.

This is called User Views on eBMS/Mobile, and we believe this approach will allow and encourage all users to engage with their building systems, whether they are at home or at work, whether it is their core job or just another additional element to their ever-expanding role.

eBMS/Mobile is an App in the truest sense of the word by creating a library of widgets that represent real life elements such as temperature, blinds, lights, heating etc. We have provided a fixed, yet flexible way of looking at the things that matter most to the end user in their building.

By holding libraries of these widgets in the App, all we need to pass between the Building Automation System and the App is pure data. This all keeps the user experience as fast as possible.

Our focus has always been to listen to the users of our applications and User Views is a testament to that.

Sinclair: Where can interested parties learn more about User Views on eBMS/Mobile?

---


[Click Banner To Learn More]
[Home Page] [The Automator] [About] [Subscribe ] [Contact Us]