Stuart Berjansky,
Product Manager, Dimming
Advance Transformer Co.

DALI truly brings revolutionary improvements to lighting control - and subsequently, greatly enhances total building system control.
---
The new Digital Addressable Lighting Interface (DALI) standard introduces a significant advance in lighting and building management. While DALI is specific to lighting systems, building automation is also greatly enhanced with the incorporation of DALI into a building management system (BMS). Indeed, everyone in the chain benefits - architects, engineers, contractors, facility managers, owners and tenants. How can improvement in the lighting component of a building management system have such an impact? The answer lies in one word: flexibility.












In a sense, building automation is all about flexibility. A well-designed building automation/management system ensures that all the components - heating, ventilation, air conditioning, lighting, fire safety, security, standby power and power quality, refrigeration systems, audio/visual control, etc. - are responsive to changing conditions.
Flexibility is also critical in the area of interoperability. Closed, proprietary systems go against the philosophy of building automation and complicate the design, installation and functionality of building management systems. Simply put, proprietary systems compromise flexibility.
The evolution of lighting control technology saw several improvements in flexibility over the years, yet compared to DALI these technologies might now be viewed as incremental steps of improvement. For example, analog control systems allowed dimming of groups of ballasts in response to changing conditions and resulted in definite energy savings. However, from the perspective of design as well as installation, hardwired analog control systems would not be considered extremely flexible. Proprietary digital lighting control technology did address that. However, these systems are still somewhat complex to design and integrate into a building management system (BMS), to say nothing of the cost and potential supply problems associated with proprietary systems.
DALI truly brings revolutionary improvements to lighting control - and subsequently, greatly enhances total building system control. Like proprietary digital systems, hardwiring luminaires to controls is not necessary and lighting control is PC-programmable. However, DALI takes several leaps forward in that:
Individual ballasts are controlled, or addressable, allowing a degree of flexibility heretofore unavailable to building and system designers.

Integration with building automation/management systems is straightforward and communication is bi-directional, providing central monitoring of ballast power, dimming levels, and identification of failed lamps and ballasts.

Standard low voltage wiring is used to connect ballasts to lighting control units, reducing installation cost, simplifying layout, and providing incomparable flexibility both at the design stage and for later modification.

It is an open-architecture industry standard, not a proprietary product. DALI ballasts can operate from any manufacturer's DALI control units.
Individual control of each ballast is one of the most significant benefits provided by a DALI lighting system, giving building designers tremendous design flexibility. Multiple uses of rooms can be easily accommodated, as can the needs or preferences of individual occupants. Up to sixteen (16) different light levels, fade times and rates can be programmed and stored in the ballast memory. In addition, each ballast can belong to as many as sixteen (16) discrete groups, allowing different lighting scenes for various workspace or room applications. Of course, like the technologies that preceded DALI, dimming or switching in response to ambient light levels and occupancy are readily accomplished.
With DALI, lighting is truly accordant with the concept and application of building automation - far beyond the mere "lights on/lights off" traditional scenarios in most of today's buildings. A simple example of this is illustrated below.
A gymnasium is used for sports activities and special events such as concerts. One side of the gym has large windows. Constant light levels are desired during the day and daylight harvesting is desired for maximum energy conservation. For cleaning, sufficient light levels and energy conservation are the goals.

In this simple scenario, only five (5) lighting schemes were defined and programmed at installation (although sixteen schemes are possible):

Scheme 1: Constant light control (use of daylight) for sports activities. Groups 1, 2 & 3 are programmed for varying light levels.
Scheme 2: Evening sports activities. Groups 1, 2 & 3 are programmed @ 100% light levels.
Scheme 3: Stage lighting for concerts Group 4 only is programmed.
Scheme 4: Lighting for cleaning Groups 1, 2 & 3 are programmed @ 50% light levels.
Scheme 5: Security lighting One light from each Group 1, 2 & 3 is programmed @ 10%.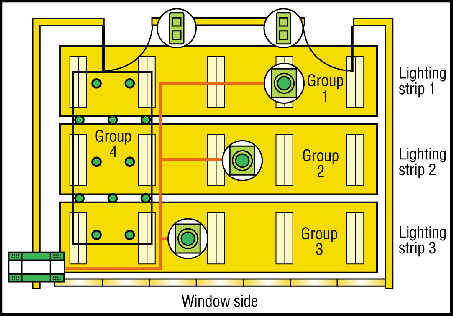 To achieve this, four groups were defined and programmed as follows:

- Groups 1, 2 and 3 are arranged in parallel to the windows in order to create ideal conditions for daylight control. - Group 4 is wired separately to highlight the stage on special occasions.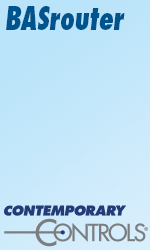 If these groupings needed to be changed, the fixtures would simple be reassigned to new groups via remote control or PC - no ladders, no pulling wires, complete flexibility!
Integration of DALI with a building management system is both simple and flexible. DALI can be deployed as a subsystem to a BMS. While the DALI control unit or gateway responds to commands from the BMS control, such as central overrides for timed on/off switching or dimming, DALI ballasts feed lighting system information back to the BMS, allowing automatic identification of failed lamps and ballasts as well as central monitoring of ballast power and dimming levels. A number of alternatives are possible, one being a pure subsystem within the BMS; another being a stand-alone system where important information (fault status, central switch functions, etc.) is exchanged with the BMS while still being operational without the BMS.
Simplicity is DALI's hallmark in terms of installation as well. Standard low voltage wiring is used to connect ballasts with lighting control units. Unlike analog systems, a DALI system does not require vertical switch wiring. All the luminaires in a room are connected to the nearest unswitched power supply and to a single two-wire control cable from the lighting controller. Each DALI interface line, or loop, can include as many as sixty-four (64) addresses (ballasts) and each one of the addresses individually communicates with the control device. All units, however, can be contacted at the same time by way of a broadcast. If the control scheme changes, reconfiguration can be done without changing the wiring. To illustrate:
An initial office layout is divided into three (3) small offices. Through the use of remote control, infrared sensors and a DALI room controller, the three offices are configured and controlled:

Following a change of office layout, the installation is simply reprogrammed by remote control into two groups: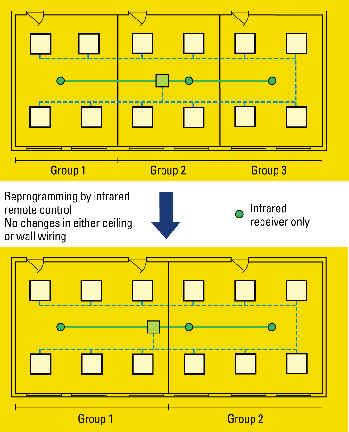 Flexibility is also brought to the design and specification process, as DALI may be controlled via software. Configuration and dimming specifications can be finalized much later in a project and buildings can be adapted more easily to meet clients' future needs. Lighting designs can be programmed and simulated on a PC for later downloading into the installation.
Simply put, using DALI not only greatly enhances lighting control, but also greatly enhances the total building management/automation system - creating a perfect example of the whole being much greater than the sum of its parts.
---
About Stuart Berjansky
Mr. Berjansky is a member of the Federal Energy Management Advisory Committee (FEMAC), the government agency charged with charting the direction for achievement of Federal energy management goals. Involved in the lighting industry for more than 14 years, Mr. Berjansky has work for and with lamp manufacturers and energy service companies to promote the use of environmentally friendly and energy-efficient lamps. He has conducted both lighting audits and full building energy audits for many government agencies, including the GSA, US Army, and US Navy. Additionally, he assisted in the development of the Energy Star Buildings Upgrade Manual lighting section and conducted full building energy audits of EPA laboratories.
Mr. Berjansky has held also lighting design positions has designed lighting for a wide range of market segments, including commercial, industrial, and retail. A Certified Energy Manager (CEM), Mr. Berjanksy is also a member of both the Illuminating Engineering Society (IES) and the Association of Energy Engineers (AEE).
---

[Click Banner To Learn More]
[Home Page] [The Automator] [About] [Subscribe ] [Contact Us]