---
Abel B Ramirez II is a Building Automation and Controls professional who has been employed by various Controls Contractors and Integrators since 1998. Because of his experience in different facilities in many different locations across the United States, he is able to speak and write on various topics regarding the duties of engineering professionals and technicians in the Building Automation Field. Currently Abel is focused on sharing his knowledge online and finding others who wish to do the same using The Controls Freak Community Website.

I was fortunate enough to get my hands on a Blu-Test Probe and use it for a few days re-commissioning some air handlers. Here's my review and a few videos on how to use it.
Not long ago I saw that BAPI was getting ready to offer up a Bluetooth Temperature and Humidity Sensor that could be used as a testing probe. Me, being pretty techie, I was all about wanting to try it out and figured it might help out if you were considering purchasing a tool like this. (The Blu-Test is now available for purchase at BAPIhvac.com)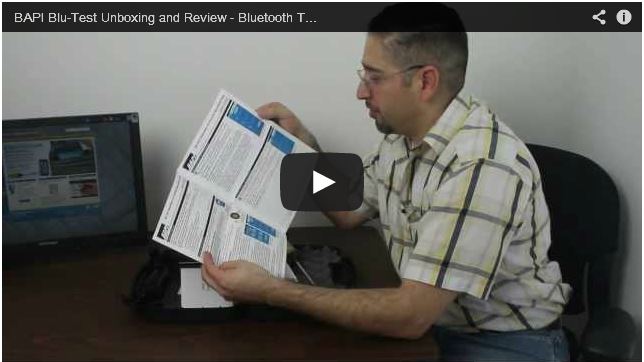 Pairing the Blu-Test probe with Your Smartphone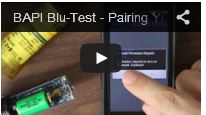 Pairing is actually pretty simple and can be done within the app itself. In my Pairing video I talked about how this version of the app (2.0) will pair just fine using only the app with Android 4.1 (Jelly Bean) and above, but if you have an older phone like mine (2 years or so) and are using Android 2.3.x (Gingerbread) you might need to use your phone settings to pair. To find out exactly how to do that, you'll have to watch the short video.

After you pair the probe to your smartphone you are ready to start taking measurements.

Taking Temperature and Humidity Measurements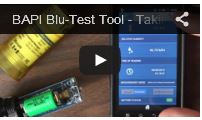 Taking single measurements is pretty easy, just tap 'Get Measurement', done. but what really differentiates the Blu-test from most other handheld test probes is that it can keep a log of all your readings and not just a list of readings. You can actually setup system and point names to keep track of which readings were from what locations or units.

All of these extras fall into the Logs feature of the Blu-Test probe and can be viewed later on your phone using the app or by using your File Directory viewer on your phone and going to the BAPI directory where the Log files are kept.

Another great plus to the Logs feature is the ability to email the readings as a CSV file that can be viewed in a text editor or used with MS Excel.

Final Takeway and PROs and CONs

I was able to use the Blu-Test Probe while doing some re-commissioning on some large built up air handlers, so I am reviewing this tool from actually using it and not just making some videos. That said…

PROs
The sensor itself gave accurate and repeatable readings and performed flawlessly.
Not to mention it is NIST certified and might be required in some cases.
Logs feature allows you to separate measurements by unit and point.
Ability to email the readings in CSV format directly from your phone.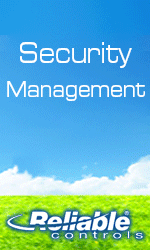 CONs
The App (version 2.0) is not up to par with the sensor (next version will eliminate this from being a problem).
Currently no support for iPhones (coming soon).
User interface with popups and logging can take some getting used to.
The final take away is that the BAPI Blu-Test Probe is a great tool that works exactly as it needs to. The extras of being Bluetooth enabled, logging and emailing measurements might not be a great fit for everyone, but I believe it really solves some problems for those with specific situations in commissioning and verification of temperatures and humidity levels.

If you decide to purchase a Blu-Test from BAPI be sure to let them know you read the review or watched the videos on The Controls Freak. Maybe they'll give it to you for a dollar… eh probably not, but it's still nice to let them know you are a fellow Controls Freak.
To read the original review as posted
Bluetooth Temperature and Humidity Test Probe from BAPI
---


[Click Banner To Learn More]
[Home Page] [The Automator] [About] [Subscribe ] [Contact Us]