---
Identifying Winners in the Smart Lighting Controls Business

The report shows that there can be no doubt about the enormous demand for retrofitting wireless controls to LED based lighting systems but that the supply structure and channels of distribution need shaking up.




Memoori's latest market research report – Smart Wireless Lighting Controls 2014 to 2018 – carefully analyzes both the demand and supply side considerations to arrive at a realistic assessment of market potential for the lighting wireless controls market from 2014 to 2018.

The report shows that there can be no doubt about the enormous demand for retrofitting wireless controls to LED based lighting systems but that the supply structure and channels of distribution need shaking up.
Currently the supply side structure of the smart lighting controls business is broken down into three groups with some overlap between them. The traditional major lighting companies including GE, Osram, Philips and Zumtobel have, since the mid 1990s, offered smart lighting controls and since LEDs was introduced their interest in this business has grown. The 2nd group are best known for wired lighting controls, including Cooper Lighting (now part of Eaton Corp), Honeywell, Lutron and Schneider; some of these companies also manufacture other control systems for technical services in buildings such as HVAC. The 3rd group including Daintree & Enlighted are best known for their expertise in wireless lighting systems.

The 1st group have not made much headway in servicing the lighting controls market but now they have established their LED products they are back to thinking about supplying total solutions again; possibly because there is not yet a dominant standard communications protocol in operation. They have acquired a number of lighting controls companies over the last 15 years but have usually merged them into their lighting business. For this reason we have not included them in our analysis of the "Winners" in the Smart Lighting Controls Business. They will no doubt make an impact on this market but possibly only at the top end of the prestige building market.

In order to identify and filter out fast growing innovative and established companies for our preliminary list we have passed companies through three screens. The 1st is that they have to manufacture wired and/or wireless controls. The 2nd is to ensure that from this list we select a significant number that supply and/or integrate with other controls in buildings particularly those associated with controlling the environment such as HVAC. The 3rd is to make sure that our sample of companies reflect the wide geographic coverage of this market.

Our final list of 20 companies includes Cooper Lighting, Daintree Networks, Delmatic, Distech Controls, Dust Networks, Echelon, Encilium, Enlighted, EnOcean, Gainspan, Harvard Engineering, Helvar, Honeywell (Lighting Controls Subsidiaries), Isotera, Legrand, Leviton, Lutron, Schneider Electric (Lighting Controls Subsidiaries), Synapse, and WEMS International. It should be noted that there are at least another 20 companies that could also be listed here.

Fig 10.2 shows where these companies are positioned on a quadrant matrix representing 4 categories of companies; Established Players, New Start / Early Stage, Challengers and Leaders. The Vertical Axis measures their Coefficient of Innovation and the horizontal axis identifies Financial Strength & Backing / Market Exposure.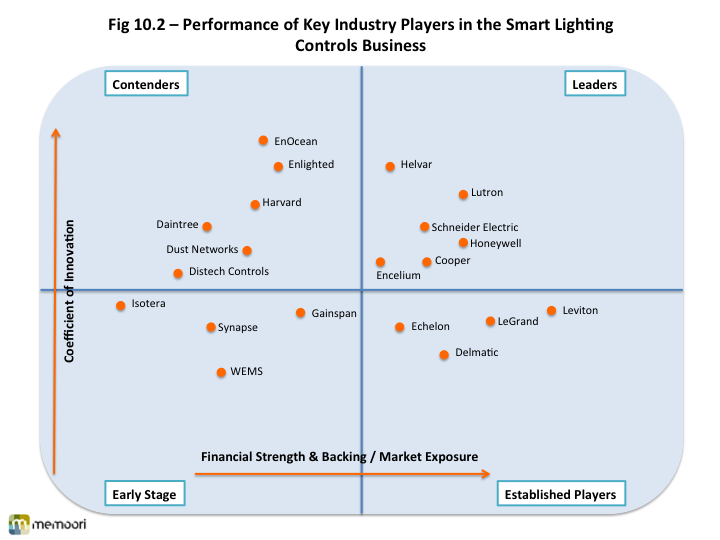 The four companies in the Established Player Quadrant have been in the business for more than 20 years. Echelon, Delmatic, Legrande and Leviton, have so far failed to become Leaders but are not restricted by insufficient financial resources; they are well known in the market but would benefit from picking up the innovation baton.

We have identified four companies in the New Start / Early Stage quadrant including WEMS, Synapse, Isotera and Gainspan. The latter two companies are well regarded for their innovative products and all have now got their products off the ground and look set to achieve rapid growth.

The Challengers quadrant includes EnOcean, Enlighted, Harvard, Daintree, Distech and Dust Networks. These six companies feature amongst the most innovative companies in the lighting controls business covering both wired and wireless with a particular strength in the latter. All are now well established and growing fast but will need to continue investing capital to feed their growth in order to join the Leader quadrant. Distech is growing fast in North America and now have established themselves in Europe.

We have included six companies in the Leader quadrant including Cooper Lighting, Encelium, Helvar, Honeywell, Lutron and Schneider. Coopers, Honeywell and Schneider have made multiple acquisitions of lighting controls companies over the last 5/10 years and this has been a major factor in their growth. Honeywell and Schneider are also world leaders in the Environmental Control Business and also hold major positions in the Security & Safety Business.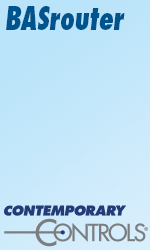 Encelium Technologies a subsidiary of Osram may be a surprise fit in this group but it is a technology development company specializing in intelligent lighting controls and energy management systems for commercial buildings comprising both hardware and software, with operations in the US, Canada and Europe.

Helvar and Lutron have figured amongst the leading lighting controls companies for many years. Lutron is a US based privately held company having operations in many countries around the world and has been operating over 50 years. Helvar is a family owned business based in Finland with sales offices and global partner networks in more than 40 countries whilst their global competence centre for lighting control systems business is based in the UK.

We believe that these companies, particularly those in the New Venture / Early Stage, Challenger and Leader quadrants will outgrow most of the 121 lighting controls companies that we have identified over the next 10 years and we will be surprised if not at least a third will be acquired in the next five years.
For more information about the Smart Wireless Lighting Controls Market, view the Memoori Report here - http://www.memoori.com/portfolio/smart-buildings-wireless-lighting-controls-2014-to-2018/


---


[Click Banner To Learn More]
[Home Page] [The Automator] [About] [Subscribe ] [Contact Us]