---
Will Mobile Devices Move Building Automation Systems into the Cloud?

It is a completely natural thing for end-users to want to have the same device functionality that they have in their personal life in their work life.


Manny Mandrusiak
Managing Creative Consultant,
4 Bravo Marketing

Contributing Editor
Walk down a street in any major city in North America and one of the first things that you will see is someone on a cell phone, and that cell phone will more than likely be a smartphone. That smartphone is a powerful computer that fits in a pocket, and can provide the user with access to an unlimited wealth of knowledge via the internet. Now this is something that everyone knows, and most of us use a smartphone every day for a multitude of tasks without even thinking about just how many of us actually use a smartphone for more than just a phone. The Pew Research Internet Project has conducted several studies regarding cell phones and mobile devices, and determined that as of January 2014:
90% of American adults have a cell phone
58% of American adults have a smartphone
32% of American adults own an e-reader
42% of American adults own a tablet computer
These numbers are extremely significant because they illustrate how our society has integrated smartphones into our everyday routines. According to the study 58% of American adults own a smartphone and that means that they have probably embraced the use of cloud-based services and apps. This is important to note because it means that 58% of American adults have changed the way that they choose to access data, services, and communicate with the world because they had the technology at their fingertips.

If you think about it smartphones, and other mobile devices, have essentially shifted the way that daily tasks are setup, accomplished, and archived. We can perform banking transactions, use GPS services, and we can even access devices in our own homes from our phones thanks to devices like the WeMo Switch by Belkin. I found this Switch in HomeDepot next to the WeMo Smart locks (locks for your home that use a key, fob, or an application on a smartphone). The WeMo Switch provides end-users with the ability to control devices such as fans, lamps and heaters directly from a smartphone using a downloadable app as a client.

Now this type of technology has been in existence for many years, and there are many devices that have embraced this type of remote access for end-users. Manufacturers probably built the functionality into these devices because the demand / desire existed to be able to control building automation systems through mobile devices. It is a completely natural thing for end-users to want to have the same device functionality that they have in their personal life in their work life. Changes in behavior lead to changes in buying habits because of a shift in needs, wants and desires. If I have the ability to control the systems that I use in my home from my phone, why can't I have the same type of access where I work?
We know that PDAs and mobile devices have been used to control specific functions in building control systems in the past. The question that I have is about the future? Will the accelerated growth of apps and cloud-based functions in our private lives fuel the adoption of these types of interfaces when it comes to not only controlling building automation systems, but getting data out of them for better business intelligence?
In my opinion not only will cloud-based building automation solutions be a trend to watch based on an increased push toward mobile device accessed cloud-based services, but so will the need for cloud-based business intelligence platforms.

It is the continued push to the cloud by the larger players (Google, Microsoft, and Amazon) to continue to make systems easily customizable, and easily affordable to even the smallest companies. Imagine a small building owner finally being able to implement a cloud-based intelligent building solution because of the decreased hardware and implementation costs. A small building owner with the ability to implement an intelligent building automation system means that they can implement the same energy and timesaving procedures as larger buildings while reducing bottom line operating costs. This would enable better energy management, better energy efficiency, and overall a reduction in the environmental footprint of that small building. All through the building owners ability to easily and effectively access the data required to make critical decisions that will effect positive change for the building.
I was recently speaking with a large system integrator and cloud-based solutions were one of the hot topics that we spoke about. The integrator was working on several development projects all in a variety of phases, and in every case hybrid building automation systems and IT systems were on the list to discuss. So were solutions that provide end-users with the ability to get PC software based functionality on mobile devices. The integrators said that this was one of their big issues with clients. They based it on a push from Microsoft to want to push the capability for an end-user to perform business intelligence tasks and analyze data more effectively right at the desktop or mobile device without a large investment in traditional BI software platforms.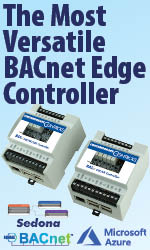 Microsoft has put the power of better data analysis in the hands of end-users in every engineer's favorite tool by releasing more BI functionality in Microsoft Excel through plug-ins such as: Power Query, Power Pivot, Power Viewer, and Power Map. Essentially it is a package with the ability to effectively analyze large amounts of data and provide 3D visual representations of that data that play as animated presentations. Completely awesome tools that live in an environment familiar to almost everyone. Of course keeping with the cloud-based theme, Microsoft offers these tools as Power BI for Office 365 which works great on my mobile devices. As a small building owner I could receive data from a cloud-based building control system, or SCADA based software package, and then perform all the BI functions and analysis that I need to on my mobile devices. Data becomes useful information at an extremely economical price, and wherever I need it to be.

Overall I see the systems moving higher and higher into the cloud and as information technology continues to rise into the cloud, manufacturers of building automation components and systems are going to have to continue to embrace the change. The smartphone / mobile cloud-based revolution is here and it is a movement that continues to revolutionize all aspects of our lives. I continue to be excited to see what new hybrid cloud-based solutions and applications will be on the market in the months and years to come.


---


[Click Banner To Learn More]
[Home Page] [The Automator] [About] [Subscribe ] [Contact Us]