AHR Expo Innovation Award Winners Selected
Ceremony To Take Place at 2003 Show In Chicago, January 27
Westport, CT., November 14, 2002 - The winners of the inaugural AHR Expo Innovation Awards, representing a broad section of HVAC&R products from leading manufacturers around the world, have been announced by the program sponsors.












Designed to encourage product innovation, the competition is jointly sponsored by the American Society of Heating, Refrigerating and Air-Conditioning Engineers (ASHRAE); the Air-Conditioning and Refrigeration Institute (ARI); and International Exposition Company (IEC), producers and organizers of the AHR Expo. The winners were selected from among the products submitted by AHR Expo exhibitors in seven categories. The 2003 winners are:
Heating:York International UPG Stealth Hot Heat Pump
Cooling: Baltimore Aircoil Company HXV-Hybrid FXV
Refrigeration: Copeland Corporation Digital Scroll
Ventilation: Control Resources, Inc. SmartFan Nimbus AC Fan Speed Control
Indoor Air Quality: PureChoice, Inc. PureTrac Air Monitoring System
Energy: TURBOCOR Inc. TT 300 Centrifugal Refrigerant Compressor
Instruments, Tools, and Software: Honeywell Intl., Burner & Boiler Controls HVAC Service Assistant
A panel of seven senior HVAC&R professionals, selected by ASHRAE for their knowledge of the industry and its products, thoroughly reviewed all submissions and selected the winners. The products were evaluated based on innovation, application, value to user, and market impact. Only one product per company could be submitted.
Although most of the products submitted were excellent, a number were singled out in each category to receive Honorable Mention:
Heating:
Armstrong International Flo-Direct Direct Fired Water Heater Central Fireplace CF-42 Direct Positive Vent Gas Stove or Fireplace Insert
Detroit Radiant Products HLV Series Two-Stage Low Intensity Radiant Vacuum System
Gasmaster Industries, Inc. High Efficiency Condensing Steam Boiler Parker Boiler Parker T-760LAR Superior Radiant Products Premier vs Demand System Thermo Technologies Thermomax Solar Collector
Cooling:
Data-Aire, Inc. Intelli-DART Environmental Technologies, Inc. Flexible Stainless Steel Braided Hose Kits
E-Pak Technology, Inc. E-Pak Evaporative Condensing Unit
Modular Framing Systems, Inc. Thermal Break Framing Systems
Super Radiator Coils Xfin
Refrigeration:
Heatcraft Refrigeration Products LLC Beacon II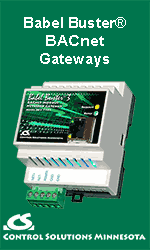 Ventilation:
Arzel Zoning Technology, Inc. The Arzel Zoning System
EBTRON, Inc. GTN-116 Transmitter
Firmac, Ltd. The Firmac "CGF" Rectangular Ductwork System
Sachins Impex One Piece Diffuser
Indoor Air Quality:
Bonded Logic, Inc. Ultratouch Natural Fiber Duct Liner
Isolate, Inc. ISO-HEPA/UVC-500R
National Environmental Products LTD, Inc. SKR Domestic Humidifier
Rotronic Instrument Corp. Roline L
Energy:
Annexair, Inc. Energy Recovery Unit
Automated Logic Corp. WebCTRL Building Automation System
Delta Controls, Inc. Application Controllers -DAC Models
Desert Aire Corp. Q-Pump
Effikal International, Inc. Milli-Damperä MVG Series Minivolt Flue Damper
Kele Companies Frontier Wireless I/O System
Lithonia Lighting Synergy Lighting Control System
Novar Controls Corp. IQ-SBS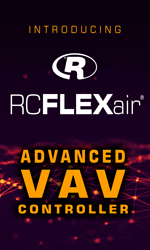 Instruments, Tools, and Software:
Advance Cutting Systems Remote Data Entry Design Master Software
Design Master HVAC
Emerson Climate Technologies Diagnostics Module (CHI)
HVAC Solution, Inc. HVAC Solution
Lindab, Inc. CADvent
The awards will be presented at a special AHR Expo Media Breakfast on Monday, January 27. Winners will receive special placards to place in their booths as well as an award to be displayed at their company headquarters. Each honoree will also be featured in a special section of the ASHRAE Journal. In addition to encouraging product innovation throughout the industry, the proceeds from the entry fee go to an HVAC&R scholarship fund at a Chicago-area vocational school.
"We were overwhelmed by the response to this first-time award," said Clay Stevens, president of IEC. "We see this as a win-win situation for everyone involved. The industry benefits from learning about new product innovation, the winning companies are recognized for their excellence, and a vocational school receives scholarships that will help perpetuate the HVAC&R industry," Stevens emphasized.
---


[Click Banner To Learn More]
[Home Page] [The Automator] [About] [Subscribe ] [Contact Us]