Andover Controls Completes First Phase of Multi-Million Dollar Contract with Puerto Rico Telephone Company
Verizon Subsidiary Selects Continuum™ System to Provide Environmental Alarming and Access Control across Puerto Rico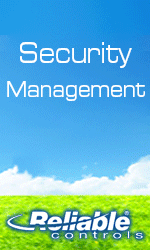 Andover, Mass. - Andover Controls Corporation, a leading high-tech manufacturer of "Intelligent Building Systems" for HVAC, security management, and digital video surveillance applications, has completed the first phase of a multi-million dollar contract with Puerto Rico Telephone Company (PRTC), a subsidiary of Verizon.
PRTC, which is the largest provider of telecommunications services in Puerto Rico, provides wireline, wireless, long distance, paging, and public telephone services to both business and residential customers throughout the island.
An Andover Controls Continuum™ system is providing environmental monitoring and card access over a wide-area network from PRTC's headquarters to more than 280 remote switching sites around Puerto Rico.
Andover Controls has partnered with Verizon for similar projects in Venezuela and Dominican Republic, as well as throughout the United States.
To find out more about Andover Controls and its Continuum™ product line, visit their web site at www.andovercontrols.com
---


[Click Banner To Learn More]
[Stay Informed - Subscribe to our Update Mailing List]
[Home Page] [Contact Us] [The Automator - Current Issue]
[News] [Resources] [Products] [eDucate] [About]

Visit Home Toys to Learn about Home Automation
Web Design by Enviromation