Online trade magazine providing News, Articles, Interviews, New Products, and Reviews.
[Click Banner To Learn More]
---
Industry advertising/sponsorship is an important part of AutomatedBuildings.com.
We welcome our newest sponsors:
Vaisala - a global leader in humidity measurement, develops and manufactures relative humidity, dewpoint, ammonia, carbon dioxide and pressure transmitters, hygrometers and hand-held meters for HVAC/EMCS, R&D and OEM applications.
PureChoice - offers a patented PureTracT Air Monitoring System --continuous, real-time IAQ monitoring, featuring unique Nose® Monitors with five parameters.
Distech Controls - Total Control Insight.
We approach only industry building automation players as sponsors and advertisers to reduce the amount of non-related information presented to you. So check out Our Sponsors










March/April 2002 our theme will be "Marketing New Concepts" and will deal with making your business in Building Automation successful.
May/June 2002 our theme will be "Trends in Intelligent Buildings" and will review where we are at and where we are going.
Industry Trends
Information Model: The Key to Integration Eric Craton and Dave Robin, Automated Logic
Standardization & IT Technology Shape BACS Industry Hans R. Kranz & Othmar Gisler, Siemens Building Technologies Ltd
Trends in Intelligent Buildings in the Asia Pacific Hari Gunasingham, Eutech Cybernetics Pte Ltd
Terrorism and Building Automation Systems - What Makes Sense? Len Damiano, Ebtron, Inc
Expanding Horizons for System Integration John J. "Jack" Mc Gowan, Energy Control Inc..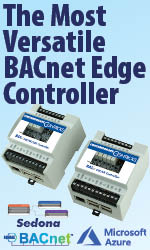 LonWorks Web Servers Gary Bark, Plexus Technology Ltd
Building Automation Globalization Ken Sinclair, AutomatedBuildings.com
Technologies
Thermistors versus RTDs Steve Allison, BAPI
Selecting HVAC Control Valves Jeff Dahnke, Siemens Building Technologies Inc
Free Show Sponsored Sessions on Building Automation AHR Expo Atlantic City January 14-16, 2002 Ken Sinclair
Marketing and Business
Successful Contracting: BAS Cost Estimating Issues Al De Wachter, Independent Control Specialists Inc
This is not just a spectator sport, please send your articles, news releases and new product information.
Click here to see article format.
---


[Click Banner To Learn More]
[Home Page] [The Automator] [About] [Subscribe ] [Contact Us]