Engenuity News










Engenuity Systems, Inc. Announces Several New LONWORKS®-based Products Available for Delivery
Engenuity Systems, Inc. (Chandler, AZ) announced new products that are now available for shipment from leading LonWorks manufacturers ranging from power supplies to high speed internet to LonWorks connectivity.
GadgetTek Products from Adept Systems
Engenuity Systems now offers two products from Adept Systems, Inc., the GadgetGateway™ and The GadgetNode™. Both devices tie everyday LONWORKS networks to the Internet allowing seamless connection, monitoring, and management of LONWORKS-based nodes.
eStructure's Interoperable LONWORKS-Based Access Control System
The ENX-200 system from eStructures, Inc. is the first LonMark compliant card access door controller designed to interact with other LonMark®/LONWORKS nodes. The product uses industry standard software while still having the necessary security for access control. Previous LONWORKS access control systems did not communicate with other LONWORKS nodes on the network and used proprietary software.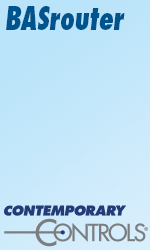 Loytec's L-Switch Makes Network Infrastructure Faster and More Reliable
Loytec electronics' L-Switch is a cost effective alternative to currently available EIA 709.1 (LonTalk®) routers. With a processing speed of up to 3500 packets/second, it supports multiple LONWORKS transceiver types and can switch packets between up to five ANSI/EIA 709.1 ports. The plug & play installation automatically detects the bit-rates of connected channels, learns the configuration of the network (domains, subnet/node addresses, group addresses) and forwards the packets between different ports of the L-Switch.
Neurologic Research Corporation Announces Five New Products
Engenuity Systems, Inc. is now offering five new modules manufactured by Neurologic Research Corporation, the Model 2000, Model 2200, Model 2300, Model 25 and Model 30. All are designed for industrial applications, but priced and suited for the buildings market.
The Model 2000 is an indoor temperature/humidity network transmitter with display.
The Model 2200 is a two channel pulse count input network node that accepts pulse inputs from a variety of sources.
The Model 2300 is a high-resolution, 8-channel current input network node supporting 19-bit, 0-25mA analog inputs.
The Model 25 is a low voltage AC (21-26 VAC) to 24 VDC switching power supply.
The Model 30 is low voltage DC (18-36 VDC) to 24 VDC isolator and power regulator.
---


[Click Banner To Learn More]
[Stay Informed - Subscribe to our Update Mailing List]
[Home Page] [Contact Us] [The Automator - Current Issue]
[News] [Resources] [Products] [eDucate] [About]

Visit Home Toys to Learn about Home Automation
Web Design by Enviromation