Teletrol News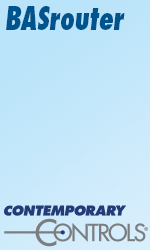 Teletrol Systems Launches Redesigned Web Site for Improved Functionality and Customer Support
Manchester, New Hampshire – Visitors to Teletrol Systems' web site at www.teletrol.com will now find an innovative new version of the web site, designed to deliver the most useful Internet experience for existing customers, as well as for new visitors interested in or involved with the growing building automation industry.
---
Teletrol's eBuilding™ Automation System Promotes BACnet® and Web-Based Facility Automation Systems at the 2002 AHR Expo
Manchester, New Hampshire – Teletrol Systems Inc. demonstrated its commitment to BACnet and open systems at this year's AHR Expo in Atlantic City, January 14-16. The International Air-Conditioning, Heating, Refrigerating Exposition has been the leading source for new HVAC&R equipment, products, components, systems and services and has long been considered the largest show in its industry. Teletrol Systems Inc. is a worldwide manufacturer of high-end building automation systems and controllers for HVAC equipment designed to reduce energy consumption, improve occupant comfort, and reduce overall operating expenses. Purchased by Dean Kamen, entrepreneur, champion for science and technology, and inventor of the Segway™ Human Transporter, Teletrol continues as a leader in building automation technologies.
---
Teletrol's eTRACTM BACnet® I/O Product Qualifies for Listing from the BACnet Testing LaboratoriesTM
Manchester, New Hampshire -Teletrol Systems Inc., an industry leader in building automation technology, announced at the AHR Expo in Atlantic City that its eTRAC BACnet I/O product has successfully passed the testing process to qualify for a listing with the BTL (BACnet Testing Laboratories). The BTL, which is part of the BACnet Manufacturer's AssociationTM (BMA), offers a product testing and listing program for products that have BACnet capability. Teletrol is a BMA Member and recently hosted a two-day interoperability "plugfest" with thirteen other BMA members in Manchester, NH.
eTRAC is Teletrol's configurable, cost effective I/O product that is part of the eBuildingTM native BACnet product line. eTRAC I/O modules are completely configurable, supporting analog inputs and outputs, binary inputs, relay and triac outputs, and signal conditioning modules. eTRAC uses BACnet MS/TP for communication at configurable data rates up to 115.2K baud. Field configuration requires no special tools since eTRAC supports an ASCII terminal interface.
---


[Click Banner To Learn More]
[Stay Informed - Subscribe to our Update Mailing List]
[Home Page] [Contact Us] [The Automator - Current Issue]
[News] [Resources] [Products] [eDucate] [About]

Visit Home Toys to Learn about Home Automation
Web Design by Enviromation