News Briefs - Updated February 16th
Precidia's Remote Access Products to be Sold by Insight
Leading IT Solution Provider representing Precidia's Remote Access product line.
Ottawa, Canada, - Precidia Technologies, a global leader in IP enabling products for a wide range of industries, announced an agreement with the Canadian division of Insight Enterprises, Inc. (Nasdaq: NSIT) ("Insight"), a leading single-source provider of IT products and services, to sell Precidia's Remote Access line of products to its well-established customer base. The Remote Access line, which includes Precidia's new compact iPocket232, consists of products, which easily and cost-effectively connect existing serial equipment to IP networks. For more information visit www.precidia.com.
---












my.Opto22.com Debuts New Addition to Opto 22 Web Site Offers Personalized Service
Temecula, CA - Opto 22, a manufacturer and developer of hardware and software for industrial automation, remote monitoring, enterprise data acquisition, and machine-to-machine applications, has launched my.Opto22.com, which allows customers, partners, and other visitors to personalize their Opto 22 Web site experience to suit their individual needs and preferences. my.Opto22.com also provides a secure portal for Opto 22 partners and distributors, who can use it to access useful partner and sales information on the Opto 22 Web site. This new "Partners" section allows qualified users to view individual pricing, download marketing materials, and review past partner and channel notifications.
---
Intamac Integrate Group 4 Response
Intamac Systems Ltd have increased the security levels for its customers, by adding an automated manned response capability to their award-winning alarm monitoring service, Home Manager. This new service is the result of a partnership deal with Group 4 Patrol & Response, the UK's leading manned response company, and provides a new sales opportunity for approved and non-approved installers alike. If an alarm activation occurs, Home Manager coupled with Group 4 Patrol & Response provides further peace of mind for homeowners. The Intamac Home Manager provides an automated alarm monitoring service, which in the event of an alarm, will send detailed 'Alert Messages' to the customers nominated contacts and keyholders, by SMS text message, email and voice call. If no response is received to the alarm, Home Manager can now be set to automatically alert the Group 4 Patrol & Response emergency control centre, who will despatch a local patrol officer to inspect the property.
---
Motion Sensor Nightlights Save on More Than Just Energy Costs at DoubleTree Hotel
SANTA CLARA, CA - The DoubleTree Hotel in Sacramento, CA, expects to save $8,000 annually in energy costs from use of the The Watt Stopper's WN-100 Motion Sensor Nightlight Switch in guest bathrooms. In addition to energy savings, the hotel realized unexpected benefits such as an initial eight percent reduction in replaced bulbs, which is expected to go as high as 25-30%. The WN-100 replaces standard wall switches and automatically switches lights off during times of vacancy. When lights are off, an LED nightlight provides convenience and security to hotel guests, many of whom leave lights on throughout the night as a comfort in an unfamiliar environment.
---
microCommander software interfaces Single Board Computers to X10 devices over existing building wiring
Intec Automation Inc. announced the release of microCommander v2, adding support for X10 to this highly interactive HMI control and automation software. This enables popular embedded microcontrollers and single board computers (SBCs) to use X10 to control devices over existing power lines. Since wiring is often the greatest cost of control and automation, savings can be considerable. For instance, through the addition of X10 devices, non-critical functions such as yard lighting can be retrofitted to an existing building control system without the cost of re-wiring. By seamlessly interfacing inexpensive, widely available X10 devices with conventional sensors and actuators, microCommander software makes it possible to optimize both costs and reliability.
A free download of microCommander is available from www.microCommander.com, so engineers can experience just how easy it is to program microcontrollers with microCommander by actually doing this on a live microcontroller connected to the Internet.
---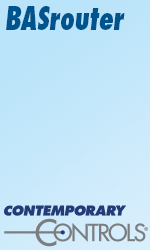 Standard 90.1 Training Module Developed for Businesses, ASHRAE Chapters
ATLANTA - You can now learn how to comply with the American Society of Heating, Refrigerating and Air-Conditioning Engineers (ASHRAE) energy conservation standard without leaving your office. A new continuing education module, based on ASHRAE's existing short course, addresses compliance with the HVAC and service water heating sections of ANSI/ASHRAE/IESNA Standard 90.1-2001, Energy Standard for Buildings Except Low-Rise Residential Buildings. The module is designed for use by businesses, educational institutions or ASHRAE chapters as seminars or "lunch and learn" programs.
The three-hour module includes student handouts, instructor's materials and a series of PowerPoint slides, all contained on a CD. Guidance on complying with 90.1 also can be found in the short course as well as a new online program. For more information on any of these ASHRAE Learning Institute offerings, email edu@ashrae.org.
---
New SixTRAK® Combination I/O Module saves time, money, and panel space
The innovative "Double Density" design of the new SixTRAK® Combination I/O Module (model ST-MIX-16880-D) provides sixteen discrete inputs, eight discrete outputs, and eight analog inputs in a single, compact unit. The ST-MIX-16880-D joins the line of 25+ SixTRAK I/O modules that provide local I/O expansion for SIXNET controllers and RTUs.
The small size and convenient combination of I/O types in the ST-MIX-16880-D are perfect for I/O deployments with a modest number of discrete and analog I/O. Use the ST-MIX-16880-D in lieu of individual modules for each I/O type in order to minimize required space, installation time, and cost. For instance, the ST-MIX-16880-D is ideally suited for small RTU or remote station applications.
---
Trane C.D.S. Software Training in Las Vegas
· Model complex building geometries & systems to fine-tune the design of critical building features · Examine the program's time saving templates of construction types, weather data and more · Build schedules to control occupancy, lighting & misc. building load · Learn how to show the benefits of advanced HVAC technology on high efficiency equipment by comparing it's energy & economic benefits with those of a base system · Be smarter when choosing equipment that will provide the best comfort at the lowest cost to the building owner · Find out how to customize utility rate information & turn it into actual dollar figures when choosing a system · Earn 3.2 CEU's for completing all four classes/8 hours a day.
Email Sue Ganschow for more information. sganschow@trane.com
---
Standard 90.1 Online Course Offered by ASHRAE
ATLANTA - With ASHRAE's energy conservation standard serving as the national benchmark for state energy codes, design professionals, code officials and building owners need guidance on how to comply with its requirements. To meet this demand, the American Society of Heating, Refrigerating and Air-Conditioning Engineers (ASHRAE) will offer its four-hour short course on compliance with the HVAC and service water heating requirements of ANSI/ASHRAE/IESNA Standard 90.1, Energy Standard for Buildings Except Low-Rise Residential Buildings in a new online format. The course will be held in two sessions from noon-2 p.m. (Eastern) March 25 and 26, 2004. Under the Federal Energy Policy Act, states must certify that their building codes meet the requirements of ASHRAE Standard 90.1-1999. States have until July 2004 to notify the Department of Energy that their building codes meet the requirements in the standard.
The standard also is used in the Leadership in Energy and Environmental Design (LEED) standard's energy and atmosphere credits. Registration for this pilot program is limited to the first 40 registrants. Those interested should email the ASHRAE Learning Institute at edu@ashrae.org
---
Long-awaited Green Building Book Answers 365 Important Questions
The information many architects, designers, building owners, and facility managers have been waiting for on how to design, build and operate a green building – packaged in one handy, three-ring binder - has been released. Called 365 Important Questions To Ask About Green Buildings, it's the perfect complement for those seeking LEED certification for their projects, according to the authors. Why? Because it addresses the key question: "How do I design and build a sustainable building?" say co-authors, Jerry Yudelson and Alan Whitson.
It can be ordered on CRDMI's website, www.squarefootage.net
---
Precidia adds Funcionatech to Roster of Resellers
Spanish VAR now representing Precidia's Remote Access product line.
Ottawa, Canada - Precidia Technologies, a global leader in IP enabling products for a wide range of industries, announced the addition of Funcionatech to its roster of value-added resellers representing Precidia's Remote Access product line throughout the world. The relationship teams Precidia's unique, feature rich Remote Access product line with Funcionatech's entrenched leadership position as a reseller to the Industrial Electronics, Information Systems & Security industries.
For more information visit www.precidia.com.
---


[Click Banner To Learn More]
[Home Page] [The Automator] [About] [Subscribe ] [Contact Us]