EnFlex Adding Lonworks Protocol to Future-Proof Legacy Systems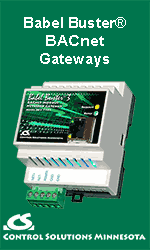 PRESCOTT, AZ - EnFlex announced the introduction of an additional connectivity and Web enabling solution for its gateway products. The EnFlex® Lonworksä device driver and host application provides low cost connectivity for Lonworks systems and devices to TCP/IP networks and enterprise information systems. The Lonworks driver provides for full two-way communications between Lontalk™ network devices along with the ability to network those devices to other systems currently supported by EnFlex, the Internet, and corporate intranets. This capability provides remote users with a single, robust, low cost, networked access point to legacy EMS, Lonworks systems, and other installed building systems.
The EnFlex library of third party device drivers provides for the remote control, monitoring, alarming, and supervisory management of energy and building management systems from any location having a network connection. Today EnFlex can facilitate connections to over 150,000 existing legacy EMS installations and will extend these capabilities to over 80% of existing systems in the next few months.
EnFlex Corp. has been providing connectivity solutions to EMS, generators, and meters for over 8 years. For more information, contact EnFlex Corp. www.enflex.net.
Lonworks and Lontalk are trademarks of Echelon Corporation.
---


[Click Banner To Learn More]
[Stay Informed - Subscribe to our Update Mailing List]
[Home Page] [Contact Us] [The Automator - Current Issue]
[News] [Resources] [Products] [eDucate] [About]

Visit Home Toys to Learn about Home Automation
Web Design by Enviromation