NEWS BRIEFS - Updated January 10th
EarthToys - New Website












EarthToys (www.earthtoys.com) - Alternative and renewable energy information library and news source.
Solar energy, wind energy, hybrid vehicles and more. The automatedbuildings.com of the Alternative Energy Industry.
Our goal is to provide news, articles and a library of resources gathered and archived over time. By remaining open, unbiased and interactive we provide the means and format for the Alternative Energy Industry to report on itself.
Yes, we are a new website, but with us we bring 7 years of experience (www.hometoys.com) in building unbiased and focused internet news resources and information libraries to bring consumers and companies together for the benefit of both. Give us a chance to build one for the Alternative Energy Industry!
---
EMG Releases Remote Lan Access Software for Johnson Controls' Metasys®
HALIFAX, NS - January 03, 2003 - Software developer EMG Energy Management Group Inc. today released its latest product for use with Johnson Controls' Metasys®. Nexus Vista permits multiple users to view Johnson Controls' Metasys® data across a local area network. Vista works with Nexus PE to extract Metasys data, store it on the LAN and present it to LAN users in charts, tables or reports.
---
SIXNET Releases the SixTRAK® I/O Controller
The SixTRAK® I/O Controller (model ST-GT-1210) is designed as an affordable "entry level" Controller/Remote Terminal Unit (RTU) or upgrade for legacy SixTRAK I/O Gateways. This compact unit rounds out SIXNET's line of industrial open control products, which include the LINUX open-source SixTRAK IPm DCS Controller and VersaTRAK IPm Remote Terminal Unit (RTU).
---
Cogency Semiconductor and ViXS Demonstrate First Full-Motion Rate-Adaptive Video over HomePlug Home Network
Cogency Semiconductor and ViXS Systems are pleased to announce the demonstration of a full-motion, rate-adaptive Video over Homeplug powerline at CES, taking place in Las Vegas. These chipsets and reference designs are ideal for developers looking to provide up to eight or more simultaneous streams of real-time broadcast quality video through a set-top box, personal video recorder (PVR), or central gateway to any device in the home.
---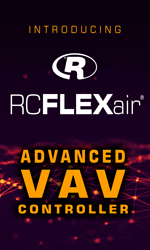 Smart Card Alliance Mid-Winter Conference
|February 12-13, 2003 Hilton Salt Lake City Center
"Identity: Technology and Policy Issues of Trust" How do we protect our identities and minimize the risks to our privacy? Expert panels will examine the specific roles in which individuals use their identities - as public citizens (such as crossing borders, at airports, in voting booths); as corporate citizens (accessing buildings, networks, private databases); and as private citizens (in retail stores, on the internet, and using wireless devices).
Pre-Conference Educational Institute Courses Tuesday, February 11 EI 101: Introduction to Smart Cards and EI 201: Advanced Business of Smart Cards.
Click here www.smartcardalliance.org for more details about the Conference and Educational Institute agendas and registration
---
Realcomm 2003 Call For Speakers
One time each year, all the leaders in the industry come to one place to discover, discuss, analyze and debate the latest innovations which will impact how we design, develop, transact, manage and use Commercial Real Estate -- that place is Realcomm! Realcomm 2003 is shaping up to be the best conference ever. With dot.bomb and telecommunications carnage behind us, the smart Commercial Real Estate firms are spending more time and energy on automation than ever before. The theme of this year's conference is Real Estate in Real Time: Best Practices for Changing Times! As it suggests, best practices are being redefined and those companies not rethinking their business models will have difficulty competing in the future.
Proposals for the educational program for Realcomm 2003 are now being accepted. We are seeking Commercial Real Estate professionals and Automation leaders to speak on topics that focus on technology and business solutions. If you are an experienced speaker with a topic that is both leading-edge and relevant to Commercial Real Estate, we would like to receive your proposal.
---
Saftronics Continues Aggressive Growth in the Industrial Drives Market with Major Acquisition of Fincor Electronics
Ft. Myers, Florida - Saftronics Inc announces the acquisition of Fincor Electronics in order to further its continuing efforts to provide a complete range of world class AC and DC industrial drive products and custom engineering services to their combined customer base throughout North and South America. Through a number of strategic alliances and acquisitions, Saftronics has positioned itself to be highly responsive to ever-changing technological advancements and industry requirements in order to successfully support global customers.
---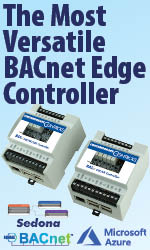 Clasma, Inc. Announces creation of the BuilConn Advisory Board
DALLAS - Clasma, Inc., a specialized event and marketing firm for the building systems industry, announced today the creation of an elite advisory board to ensure the delivery of timely and pertinent information at the BuilConn Forum in Dallas, TX, April 23-25, 2003.
The BuilConn Advisory Board is made up of 13 individuals from various industry sectors including security solution providers, IT companies and leading systems integrator operations throughout the nation. Each member has at least 20 years experience in their respective industry, and each brings to the table different specialties within the realm of networked buildings.
For additional information, please visit www.BuilConn.com.
---
Philadelphia Office Opened
Mr. Tom Zaban, Vice President of Marketing and Sales for Reliable Controls®, announced the opening of a regional sales office in Philadelphia, PA. The office will be run by Regional Sales Manager Christopher (Chris) J. Gleason. Reliable Controls® manufactures DDC controls for use in the building automation industry. This is the first Reliable Controls® office opened outside Canada, and will primarily service the northeast corridor from Baltimore, PA. to Boston, MA. www.reliable-controls.com
---
Precidia Technologies and Emergin Partner to Provide a Serial-to-IP Solution Cost effective connectivity solution to IP-enable text messaging
Ottawa, Canada - Precidia Technologies Inc. and Emergin announced a strategic alliance to provide a simple, cost-effective IP enable solution to Emergin WirelessOffice software package and SpectraLink's Open Application Interface (OAI) program to provide centralized broadcast text messaging capability direct to wireless telephones.
Using Precidia's Ether232 access device, wireless telephones can now have access to the remote servers over a WAN/LAN network. Text messages can be sent and received in real-time from a networked server for such applications as Nurse Call Notifications, Price Checks and Inventory Lookup. Using a networked PC as the server, it eliminates the need for a dedicated machine and cumbersome cabling.
---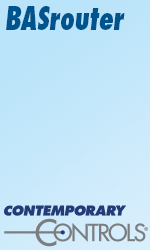 Teletrol President/CEO Addresses NH Energy Conference
Manchester, New Hampshire – Andy McMillan, President and CEO of Teletrol Systems Inc., an industry leader in building automation technology was an invited speaker at the Energy Efficiency, Technology, & Management Conference held on December 9th at the Grappone Center in Concord, NH. Mr. McMillan's presentation, titled "Waste Not, Want Not … Building Automation for Energy Conservation," covered a wide range of energy reduction applications a variety of building use scenarios.
---
Silent Witness Selected as a Strategic Partner of Diebold
Surrey, BC - Silent Witness Enterprises Ltd. announces that it has been selected as a strategic partner of Diebold, a leading, global provider of integrated self-service delivery systems and security solutions. Silent Witness' CCTV camera and video storage solutions, including the DVMS Duplex series of Digital Video Management Systems (DVMS), will now be offered through Diebold's Electronic Security and Currency Systems Group.
---
RealComm 2003
RealComm The Commercial Real Estate Automation and Business Solutions Conference - June 4-5, 2003, Chicago.
---

[Click Banner To Learn More]
[Home Page] [The Automator] [About] [Subscribe ] [Contact Us]