At Belimo We Believe in Know How
At Belimo we believe that knowledge is the key factor of success for individuals as well as organizations. We are consistently committed to customer training which may be held at a customer location or a Belimo training facility.












We are focusing on training for the Controls Specialists. This includes the electronic and mechanical implementation of valves and actuator products in a complete HVAC system as in a DDC system. Our goal is to provide customized training throughout the country. We will provide meals and refreshments. Hotel accommodations will be provided for guests out of town.
To register for training at a Belimo facility, please contact Karen Whelan at karen.whelan@ca.belimo.com or fax 905-712-3124, Attn: Karen. If you have any questions or would like to schedule training at your location please contact us at 866-805-7089.
We are looking forward to seeing you in one of our seminars.
Training for Controls Specialists
The training covers different damper and valve applications and products; how they are implemented in the mechanical HVAC system as in the electronic DDC system.
* Two Day Intensive Training (No Charge) - First Day 8:30am to 5:00pm, - Second Day 8:30am to 3:30pm
Topics * Standard Damper Actuation Application * Actuator Functions * Programmable Multifunctional Actuators * LONWorks Actuator * Actuators - Wiring and Troubleshooting * Standard Valve Application and its Function * Valve Sizing and Selection * Valve Types and Comparison * Pressure Independent Valve
Scheduled Dates for 2004 Training for Controls Specialists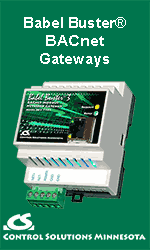 Training Dates Location
January 13-14, 2004 Vancouver
January 15-16, 2004 Victoria
January 20-21, 2004 Kelowna
February 9, 2004 Montreal
February 18-19, 2004 Prince George
March 1, 2004 Oshawa
March 10-11, 2004 Winnipeg
March 16-17, 2004 Toronto
March 25-26, 2004 Edmonton
March 30-31, 2004 Calgary
April 13-14, 2004 Toronto
April 19, 2004 Montreal
May 11-12, 2004 Toronto
May 18, 2004 Saskatoon
June 22-23, 2004 Toronto
September 14-15, 2004 Vancouver
September 16-17, 2004 Victoria
September 28-29, 2004 Kelowna
October 21-22, 2004 Prince George
October 27-28, 2004 Toronto
November 16-17, 2004 Toronto
For more information on Belimo visit www.belimo.com
---


[Click Banner To Learn More]
[Home Page] [The Automator] [About] [Subscribe ] [Contact Us]