---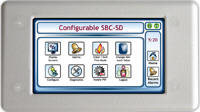 New Full Color Touch Screen Live Local User Interface from American Auto-Matrix
Export, PA April 23, 2007- American Auto-Matrix is pleased to announce the newest addition to our HVAC product line, and the first addition to the API line of color touch-screen displays: the SBC-SD or "Small Display." The SBC-SD is a compact, addressable network display device capable of interfacing with SBC and SOLO-Series products that communicate using the American Auto-Matrix PUP network protocol. Easily adaptable to most standard applications, the SBC-SD provides a configurable data interface environment with an icon driven design and can have up to 50 configurable display screens and reference a maximum of 150 points from one or multiple controllers networked on the same PUP data bus.
For more information visit www.aamatrix.com
---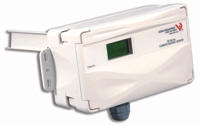 Veris boasts another industry first – The addition of humidity and temperature sensor options to its already successful duct co2 sensor (CDL)
PORTLAND, Ore – April 30, 2007 – Veris is proud to announce the release of optional humidity and temperature features to its award winning CDL Carbon Dioxide Sensor line of products. With three sensors in one compact unit customers receive significantly reduced installation time and costs. The CDL line is already a widely recognized leader in its product category, utilizing a unique transducer and duct probe configuration housed in a single NEMA-IV enclosure. With the new humidity and temperature options, the CDL further expands its application uses and functional capability. For more information visit www.veris.com
---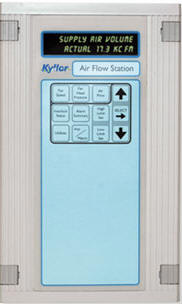 Accurate Air Flow Measurement Solutions for your HVAC Systems
The new Kyllor airflow measurement station provides both improved accuracy and substantially lower installation cost, when compared to other competitive technologies. Kyllor technology is dedicated to meeting the needs of building owners, BAS providers and mechanical contractors, as they endeavour to provide Greener HVAC Systems. Kyllor airflow measurement system applies to supply & return fans, compartment fans, and building exhaust and ventilation fans.
Kyllor technology offers accurate airflow measurement for:
- Indoor air quality
- Demand-based ventilation control
- Other process control applications.
HVAC system Commissioning time,… cost… is significantly reduced. Application engineering of the Kyllor system is quick and easy.
For more information visit the North American distributor Automation Engineering Associates Ltd. (AEA), at www.aea.on.ca
---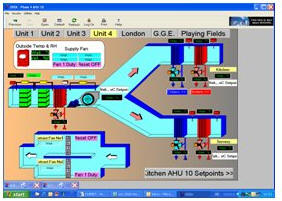 Image Putting You in Control
Creating Control
Image Control provides the ultimate in cutting edge building management control. Throughout the world Image Control serves and controls some of the most famous buildings using oss2000 software. Combined with eoss2000 hardware they offer a complete solution - creating the control you need at the touch of a button. Image Control gives you the opportunity to control every aspect of your building from a centric (or de-centric) source, and allows large scale buildings to comply with the latest emissions regulations. In a 21st century world with an increasing focus on emissions, Image Control can help create an energy efficient building, saving on emissions and reducing building management costs. For more information visit http://www.imagecontrol.co.uk/
---

Bosch unveils AutoDome Easy for discrete surveillance
Fairport, NY – Bosch Security Systems, Inc., a full-line manufacturer of high-quality security solutions, announces the release of the AutoDome Easy, an affordable, compact PTZ camera designed for discreet video surveillance in mid-sized indoor applications. The newest addition to Bosch's popular AutoDome family, the AutoDome Easy combines a high performance pan/tilt unit and an autofocus zoom camera in a compact, vandal proof housing to offer a new, cost-effective alternative that bridges the gap between fixed minidome and traditional High Speed PTZ dome cameras. The AutoDome Easy is particularly well suited for discrete surveillance applications, such as small retail, education and corporate settings, because of its compact size and vandal-resistant housing. At less than half the size of traditional PTZ dome cameras and 20% smaller than most other minidomes, the AutoDome Easy measures less than four inches in diameter. For more information visit www.boschsecurity.us
---

ELK-M1XRF2G Crystal Wireless Receiver for M1Gold and M1EZ8 Controls
The ELK-M1XRF2G is a Wireless (RF) Receiver and Input Expander for use with the ELK-M1 and ELK-M1EZ8 Controls. The receiver connects to the four (4) wire data (keypad) bus of the control and integrates in much the same way as a M1XIN hardware zone expander except that a single M1XRF can handle up to 144 wireless zones (e.g. transmitter sensors or points). The M1XRF2G receiver uses Crystal frequency technology and is a dual (2) antenna, phase diversity design, capable of long range wireless coverage. The M1XRF2G is ONLY compatible with the 319.5MHz Crystal based transmitters available from GE. For more information visit www.elkproducts.com
---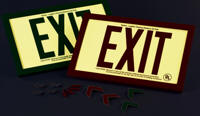 Non-electrical EXIT signs glow in the dark
PERMALIGHT® Photoluminescent Exit Signs are non-electrical and non-radioactive. Charged by 5 foot candles (54 Lux) of ambient fluorescent lighting, they release their NFPA 101-/ IBC-Code compliant luminance, should building lighting fail (power outages, natural disaster, building fire with smoke). PERMALIGHT® exit signs have no light bulbs that could break and no electrical wiring. They are UL-and ETL-listed for the US and Canada, EnergyStar compliant and have a life expectancy of 25+ years. For further information visit www.americanpermalight.com
---
Video Surveillance Services
Two companies that provide video surveillance services to the telephone industry offered it to the security industry at the NBFAA's Emerging Technology Forum March 29 at ISC West in Las Vegas, Nev. Robert Diamond, CEO of Xanboo, New York, which provides Internet-enabled video to cell phones, and Jordan Serlin, president of Cenuco, Boca Raton, Fla., offered the same video transmission services to the security industry so they could offer it to their customers. For more information visit http://www.xanboo.com/ and http://www.cenuco.com/
---

Security Robots Expand Capabilities
Amherst, NH, US – MobileRobots Inc releases its third generation Security PatrolBot robot in Las Vegas today, opening day of ISC West, at booth 38001 of the largest security show in the US. Security PatrolBot helps security managers extend and improve coverage in remote, hazardous and sensitive buildings. Security staff in large medical, government and corporate facilities are often distracted by small requests like alarm verification, visitor guidance, physical rounds to take readings and other tasks that can be handled automatically. Particularly at night, command centers tend to be sort-staffed and such tasks may even leave the command center unstaffed at times. PatrolBots, which provide mobile surveillance and sensing, are also useful in leased spaces, where companies do not want to invest heavily in pervasive fixed security systems. Visit www.MobileRobots.com for more information.
---
ICG's Digital Advertising Solution
ICG's Digital Advertising Solution relies on state-of-the-art content management, distribution and display technologies that allow for high levels of targeting and creative control. Our solution offers the flexibility to move and manage both content and location for maximum impact.
• Advanced scheduling mechanisms for departing, "weekparting" or any time-based targeting of advertising messages
• IP-based computer network for national, regional or local targeting—down to a single area or a single
group of screens within a specific area.
• Broadband distribution for minimum lead time to change content and update messages.
For more information visit www.internetconnectivitygroup.com
---
---

[Click Banner To Learn More]
[Home Page] [The Automator] [About] [Subscribe ] [Contact Us]