New products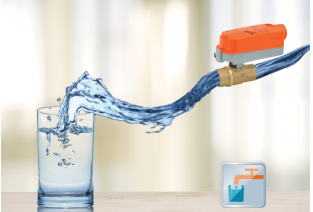 Danbury, CT, April 20, 2021, Belimo is excited to release a new range of potable water ball and butterfly valves to control flow for drinking water and food/beverage applications. These NSF-certified valves offer lead-free brass bodies (ball valves), ductile iron ASTM A536 (butterfly valves) for on/off or floating point control with operating ranges up to 230psi, depending on the series.
Belimo's new potable valve assemblies are certified by the National Sanitation Foundation NSF/ANSI-61-G via the methods and values defined in NFS 372 to ensure customer safety. This comprehensive range is engineered and manufactured for dependable, trouble-free performance providing superior flow control and long-lasting reliability. Valve offering includes 1/2" to 6" approved for use in the Food & Beverage industry.
Innovelec's "Dingo LoRaWAN BACnet" gateway runs a Linux-based
Dingo stack on an RPi CM3+ and can control up to 2,000 LoRaWAN end nodes as virtual BACnet building control devices.
UK-based Innovelec has announced a Dingo LoRaWAN BACnet Advanced Gateway/Server that combines a LoRaWAN gateway with local I/O features compatible with the BACnet building automation standard. The 2-station gateway runs Innovelec's BACnet-compatible Dingo Stack along with its Dingo Stack LoRaWAN Server software on a Raspberry Pi Compute Module 3+. The gateway can integrate LoRaWAN equipped edge nodes into a BACnet network as virtual BACnet devices and supports applications ranging from building and campus management systems to smart agriculture to environmental monitoring.
Jinan Rainbow Technology Co., Ltd. is a global supplier of smart sensors and IoT monitoring solutions
. The company's products include memory sensors, sensor modules, IoT transmitters (air quality transmitters and agriculture and animal husbandry transmitters). Rainbow Technology integrates R&D, production and sales, and has established a complete Internet of Things industry chain, closely combining sensors, smart terminals and communication technologies, and constantly emerging new values in production and life.
A
rchidata is proud to announce its partnership with Microsoft
Azure Maps Creator! About Microsoft Azure Maps Creator
Azure Maps Creator is a platform of geospatial APIs for application developers that is now entering the world of indoor mapping with Creator.
DATA INSIGHTS MADE EASY Simple & Secure Sensing System
We have created an end-to-end encrypted sensing solution to bring insights from the real world to where they are needed. Our tiny & powerful sensors are at the heart of our solution. https://www.disruptive-technologies.com/
The Kloudspot Platform uses data collected from Bluetooth, Wi-Fi
, environmental sensors and connected cameras, married with artificial intelligence (AI), to convert physical actions and movements of people and devices into digitally treatable data and extract meaningful insights. With these insights, you can develop rules that trigger engagements in the physical world. And our platform continuously learns and optimizes those engagements on its own through advanced AI.