---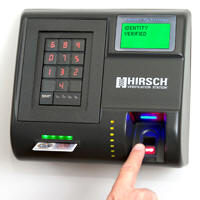 Hirsch Verification Station, Model RUU-201
The multipurpose Verification Station from Hirsch Electronics delivers identity verification (FIPS-201 and private sector), physical access control system (PACS) enrollment, and door access. It is IP-addressable and includes a privacy-sensitive ScramblePad (for secure PIN entry), contact and contactless smart card readers, and biometric fingerprint reader.
Visit www.HirschElectronics.com for more information.
---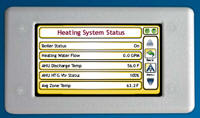 American Auto-Matrix - NB-SD BACnet Networkable Small Display
Get front-end information with touch-screen capabilities at a fraction of the cost of traditional Building Automation Graphical User Interfaces. The NB-SD is scheduled for release January, 2008. OEM and general distribution inquires welcome.
For more information visit www.aamatrix.com/nb-sd.html
---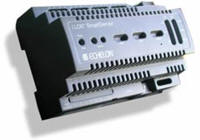 i.LON SmartServer
No matter what industry you're in, saving energy is smart business.
The i.LON SmartServer is key to your business's energy conservation strategy. Use this server—the latest addition to our i.LON family of Internet servers—to control, monitor, and manage virtually any electronic device in your control network. It's perfect for developing and deploying energy management solutions for retail stores, quick-service restaurants, and other businesses, as well as for monitored street lighting systems. Whether you're upgrading your network or starting from scratch, the i.LON SmartServer can help you reduce your energy use. And it's easy to deploy and manage, and works both locally and remotely.
For more information visit http://www.echelon.com/products/cis/smartserver.htm
---
Sensocon products
Our Digital Differential Pressure Gauges, Controls, and Indicating Transmitters are now being used in numerous applications including HVAC, Pharmaceutical, Semiconductor, and Dust Collection with pressure ranges from +/- 0.25 up to 50 inches of water column.
For more information on the Series A and other Sensocon products, visit our website at www.sensocon.com.
---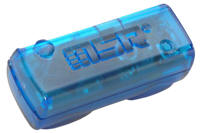 Saelig Introduces Groundbreaking Tiny Data Logger Samples Multiple Parameters
Pittsford, NY: MSR145S is a series of new, miniaturized universal dataloggers for measuring and recording several different physical parameters simultaneously. For instance, MSR145S- B51111 contains a built-in temperature sensor, a humidity sensor, a pressure sensor and a 3-axis accelerometer (X, Y and Z axes). Other versions can have fewer sensors, or even two additional 12-bit analog inputs (0 to 2.4 V), enabling other sensors to be attached too (MSRS145-B51112). Housed in a transparent polycarbonate shell, tiny MSR145S is one of the smallest, lightest available data loggers available (52 mm x 20 mm x 16 mm; weight 16gm). Included MSR Software enables users to customize measurement and recording requirements, with resultant data transferred to a PC after data logging is completed or even during the data logging process. A unique feature allows as many units as needed to be deployed, with resulting data synchronized and merged into a single data record.
Visit www.saelig.com for more information.
---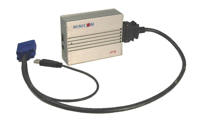 Minicom's Latest KVM IP Gateway Sets New Industry Benchmark
Jerusalem, Israel– Minicom Advanced Systems, a leading manufacturer of KVM solutions for remote server management, announces the launch of the PX – the first KVM IP Gateway designed to answer the needs of both data center managers, business administrators and remote support providers. The smart and compact single-port device is the latest cutting-edge IP solution from Minicom, providing secure BIOS level access to computers or servers over a standard Web browser.
For more about the PX and other Minicom KVM solutions go to http://www.minicom.com/kvm.htm
---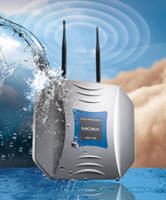 MOXA unveils IP67/68-rated wireless Access Point/Bridge and AP Client for outdoors
MOXA is pleased to announce the release of two new industrial wireless products for outdoor use. The AWK-1200 series includes an Access Point/Bridge, and an AP Client, both of which have a rugged IP67/68 certified weatherproof casing to withstand extreme environmental conditions. The robust features and deployment flexibility make the AWK-1200 series products ideally suited for outdoor industrial applications.
More information is available at www.moxa.com
---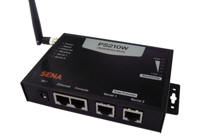 Sena launches Advanced Wireless Device Server product line for Wireless Device Networking
The PSx10W Series is a Wireless Device Server product line with competitive edge features such as 802.11b/g type wireless network interface, WPA2 and 802.11i compliant wireless security , flexible operation mode, TCP/UDP multicasting, telnet COM port control protocol support (RFC2217 compliant), and port event handling for wireless device networking.
For more information visit http://www.sena.com/
---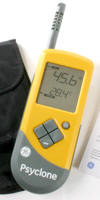 GE Sensing Announces Psyclone Handheld Hygrometer
Operators can improve inspection times up to 80 percent using GE's Psyclone

Billerica, Mass. – October 1, 2007. — GE Sensing announces the release of the Psyclone hygrometer, a handheld temperature and humidity measurement system. The Psyclone is the only handheld hygrometer to offer a wide range of psychometric calculations, with additional facilities for surface temperature measurement. The Psyclone is designed for use in the indoor air quality, HVAC and environmental health industries. Using the Psyclone, operators can improve inspection times up to 80 percent due and more precisely tune their process to maximize output, via Psyclone's highly accurate readings and industry leading fast response times.
For more information, visit: www.ge.com/sensing
---

Integration - IEEE 802.15.4/ZigBee™ USB Dongle
The IEEE 802.15.4/ZigBee USB Dongle from Integration provides a compliant 802.15.4 interface that can be quickly and easily connected to a host computer. The dongle also provides fully compliant wireless ZigBee connectivity (home controls stack profile) for routers, coordinators, and end devices by means of the supplied ZigBee compliant platform drivers.
For more information visit http://www.integration.com/prd_iaoemdaub12400.php
---
Integral Technologies, Inc - DS ControlPoint puts you in control of your security system – when and where you need it.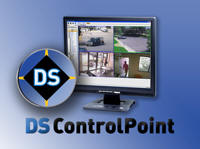 The most versatile video software in the industry, DigitalSENTRY allows you to monitor and manage any combination of analog or IP devices through a single digital video surveillance application. No matter where your security system falls along the technology curve - analog, IP or anywhere in between - DigitalSENTRY is your solution.
Highlighted Features for DS ControlPoint:
Tabbed work environment to quickly switch between multiple work spaces, accessing both live video and recorded tabs with a single click
Each tab has tear-off functionality to support multiple monitors
System Management features allow users to sort and search for security devices by name, IP address, or custom-defined categories to easily manage multiple systems
Quick search of recorded audio and video, while an export wizard enables download of digital recordings
Supports third party applications, video analytics and data transaction information to manage data
For more information visit www.integraltech.com
---
---

[Click Banner To Learn More]
[Home Page] [The Automator] [About] [Subscribe ] [Contact Us]