Andover News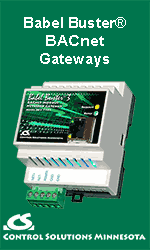 Manage Your Facility Management System - from Anywhere!
Andover, Mass. - Andover Controls Corporation, a leading manufacturer of smart building solutions for HVAC, security management, and digital video surveillance applications, introduces web.Clientä . The Company's new web-based interface provides 24/7 access to Andover's ContinuumÒ Facility Management System.












With web.Client, authorized personnel can access their Continuum system in real-time across their facility's local or wide area network using a standard web browser. No need to purchase dedicated workstations - the front receptionist, a department head, a security guard, or the Human Resource Manager can access web.Client via the corporate network and the PC right on their desk.
Users can adjust comfort levels, edit personnel records and change employee access privileges, view graphics, and receive alarms - all in a web environment.
web.Client saves time be delegating the day-to-day HVAC, access control, and lighting to the individuals within the organization who have a vested interest in managing their own areas. The result? Tighter control on the departmental level and less administration for the central facilities staff. And web.Client is password-protected, so individual departments have only limited access to the central database.
web.Client is available in two versions: web.Client Personnel Manager provides a focused set to tools for managing personnel records and viewing access reports. web.Client Pro is an expanded package that allows users to integrate all building systems - HVAC, lighting, card access, digital CCTV, etc. - into a single browser application.
---
Andover Controls Announces First Access Control and Security Solution for FDA-Regulated Industries
CFR Compliance Pack Addresses Security and Environmental Needs of Customers in the Pharmaceutical, Food & Beverage, and Biotech Markets
Andover, Mass. - Andover Controls Corporation announces the release of their CFR Compliance Pack. This new software feature set addresses the need for accountability and traceability of both security and environmental conditions in the plant manufacturing process, facilitating compliance with the Food and Drug Administration's 21 CFR Part 11 regulations. This document was developed by the FDA to promote and regulate the use of electronic signature, record keeping, and reporting practices for all business disciplines under its control.
Andover Controls has taken a leadership role in an effort to help FDA-regulated businesses comply with this code. Through the use of detailed audit trails and enforced operator responses, Andover's CFR Compliance Pack ensures that not only are process-related environmental conditions monitored on the manufacturing floor, but also that all card access events and security alarms are recorded within a common 21 CFR Part 11 architecture.
"We are seeing a marked increase in awareness of not only the obligation to comply but also the real, tangible business benefits of compliance," says Clive Smith, Industry Marketing Manager, Andover Controls. "Andover is the first in the industry to offer a common 21 CFR Part 11 compliance-ready platform able to fulfill both security management and environmental control requirements. This approach increases customer efficiency through improved user familiarity and the development of consistent Standard Operating Procedures (SOP's), design methodologies, and operator training programs."
The CFR Compliance Pack is an enhancement to Andover's existing ContinuumÒ Security Management System, which provides access control, security alarm monitoring, badging, video surveillance, and environmental control to facilities world-wide.
To find out more about Andover Controls visit their web site at www.andovercontrols.com
---


[Click Banner To Learn More]
[Home Page] [The Automator] [About] [Subscribe ] [Contact Us]