---
As we approach the 40th anniversary of Earth Day on April 22, 2010, the goal to "go green" will be top of mind for many in the building industry. Building owners and operators are well aware that the simplest way to be green is to reduce what is currently being used. The difficulty arises when attempting to use conventional methods of energy reduction and expecting to meet ever-higher standards of what it means to be "green."















HVAC is a prime example, as it typically accounts for 40 percent of a building's energy use. Conventionally, HVAC systems have been designed to constantly operate components at full speed, even when the building was operating at less than full loads. For instance, in San Diego the highest-ever recorded temperature was 112 F. Therefore, HVAC systems in San Diego are designed to meet cooling needs on the hottest day of the year - 112 F - plus a margin of safety. In reality, however, buildings in San Diego only need to run at full capacity less than 4 percent of the year. That means that for the 96 percent of the year when temperatures fall below the highest range, the HVAC system is still operating at full speed, wasting valuable energy.

In response, solutions such as variable frequency drives (VFDs) that make it possible to run all the components within an HVAC plant (e.g., chillers, pumps, fans, etc.) at variable speeds, are now integral in the design of new or upgraded HVAC systems. VFDs can't do it alone, however; achieving the highest level of energy reductions possible in all-variable speed plants also requires effective execution of advanced control strategies.

Conventional methods of HVAC design and operation rely on engineered solutions, wherein a controls engineer specifies control sequences unique to a particular facility that are then programmed directly into a facility's building automation system (BAS). Custom engineered solutions by nature carry risk, as they are unproven, can take weeks or months to develop, and require hands-on functional testing to verify the system is working as designed.

By taking advantage of information technology advances, it's possible to overcome the limitations of custom-designed and custom-programmed building control. Standardized software solutions are available today that can apply sophisticated control methodologies to the efficient operation of HVAC systems. As open-protocol solutions, they work with virtually any make and model of BAS and equipment, and are fast to integrate. In addition, standardized solutions are tested and proven in the field to work, so building owners and operators can be confident that they'll realize the energy reductions they expect. In addition, the use of standardized software makes it possible to track real-time and historical data about a system's performance. That information can be accessed via the Web in an easy-to-use format, helping to ensure predictable and reliable energy reductions that last year-after-year.

Software Saves Mineta San José International Airport 1 Million kWh a Year
The use of Optimum Energy's OptimumHVAC software at the Mineta San José International Airport (SJC) provides a real-world example of how a standardized software solution has been able to significantly reduce HVAC energy and carbon output each year.

Located in California's third-largest city, SJC is the forty-first busiest airport in the U.S., handling an average of more than 9 million passengers a year. As part of its comprehensive terminal modernization program, SJC committed to implementing energy efficiency technologies that would help reduce operating costs and its carbon footprint for years to come. The improvement program, on schedule to be completed in 2010, includes construction of a new Terminal B and its 380,000 square foot North Concourse, as well as upgrades to Terminal A.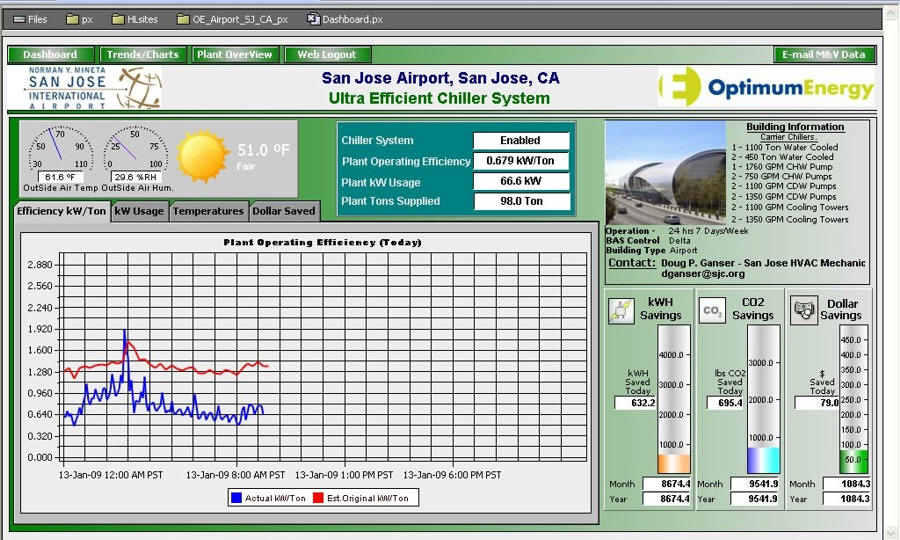 Working with engineering services firm WSP Flack + Kurtz, SJC determined that energy efficiency improvements to its HVAC system's central chiller plant would lead to significant savings. A new, 1,100-ton chiller unit was added to the airport's central plant. Additionally, upgrades were made to two existing 450-ton chillers, including installation of VFDs and a new cooling tower, and adjustment of the existing VAV air handling units. On top of the physical upgrades, OptimumHVAC was also implemented via the airport's BAS. The software's patented control algorithms automatically and continuously adjust the speed of each component within the airport's HVAC system so that it provides the required output, based on real-time load conditions, using the least amount of energy. In many cases, this involves operating multiple chillers at slower speeds instead of running one chiller at full speed.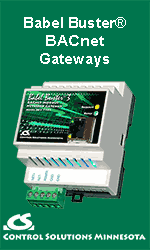 With OptimumHVAC, airport building operators also have access to a Web-based measurement, verification and management service that provides the real-time and historical operating data they need to maintain the plant and ensure energy reductions persist over time. In the first year of operation, SJC realized a savings of 1,256,000 kWh of energy, which equates to a reduction in operating expenses of $188,000, and a carbon footprint reduction of more than 1,353,000 lbs of CO2. The chiller plant's average kW/ton was reduced to 0.6 kW/ton from 1.25 kW/ton, a reduction of 51%.

The energy and carbon reductions qualified SJC for utility rebates, and the airport plans to pursue green building certification. And with the incremental cost that comes with software solutions, SJC saw a full project payback within 18 months.
---
About the Author
Nathan Rothman, B.E.P., CSDP, is the founder and CEO of Optimum Energy, LLC. Rothman's focus on environmental issues, and in particular the positive impacts of energy efficiency technologies, led him to found Optimum Energy in 2005. Under Rothman's leadership, Optimum Energy has developed a reliable and scalable software solution that is setting a new standard for heating, ventilating and air conditioning (HVAC) energy efficiency in the commercial building industry. Today, Rothman's vision to do good, do well and prove it is coming true with installations of Optimum Energy's patented, Ultra High Performance OptimumHVAC software in commercial buildings across the U.S.

Rothman's interest in sustainable building was born out of 20 years as president of a privately held company that built and managed manufacturing plants for clients around the world, including locations in Asia Pacific, Europe and the Middle East. His early commitment to sustainability was evident even then in that he built those plants to U.S. environmental standards. He is an avid sailor and founder of the award winning Valiant Yachts company. Rothman is an alumnus of Northwestern University and Illinois Institute of Technology, and he is a Certified Business Energy Professional.
---

[Click Banner To Learn More]
[Home Page] [The Automator] [About] [Subscribe ] [Contact Us]