---

Wireless can deliver – and generally does deliver
a much lower overall installation cost.


Alan Braybrook,
Sales and Marketing Director
Sontay
Alan Braybrook, sales and marketing director at field controls and peripherals expert Sontay, looks at a crucial advance in temperature controls – how the advent of wireless technology can significantly reduce installation costs, making lower energy BMS a viable option for refurbishment projects as well as new builds.

Over the last decade, there has been widespread change in the building controls industry. The general function of building systems, their execution methods, the type of information provided and those people that need to view the information have all altered for a variety of reasons. Naturally, driving down operational costs has been important but reducing a commercial building's carbon footprint is now viewed as the primary motivator – which can only be a positive step.















Initiatives such as the ECA (Enhanced Capital Allowance) and those measures put in place by the Carbon Trust ensure that correct energy management decisions become part of the initial design process and throughout the specification of a refurbishment project; however, whilst the importance of a reduction in energy usage remains vital – both in terms of expenditure and carbon output – the latest wireless sensor and control technology has proven to drastically reduce whole life costs, most notably through a much lower total install cost at the outset.

Cost premium myth
Still, there does exist an underlying belief that there are cost premiums associated with green compliance – in this case caused simply by not looking further than the sensor purchase cost. After all, there have been a multitude of new devices and technologies alleged to have a profound impact on total installed BMS cost.

With wireless, whilst first capital layout is generally higher than traditional wired sensing equipment, the savings related to installation labour, wiring and its associated commissioning and termination costs mean that wireless can deliver – and generally does deliver – a much lower overall installation cost.

On the surface, specifiers need look no further than the most obvious advantage – the reduction in labour costs over a wired system. By its nature, a wireless system removes the need for time consuming structural wiring installation and, for this reason alone, represents the single biggest opportunity to deliver the greatest total installed cost savings.

Of course, as well as wiring installation, there are several other hidden costs in applying traditional wired sensing technologies which are reduced or even eliminated with today's wireless sensing systems.

For example, how many times are contractors recalled to rectify parts of an installation after office equipment has been installed? A common occurrence with traditional temperature sensor systems that required careful planning in terms of location. Proximity to exterior walls, air ventilation and diffusion or heat generating office equipment, such as vending machines or copiers, which are often not planned for during the first fit design phase, was all-important.

This generally resulted in the all too frequent need for costly rewiring for sensing peripheral equipment or, indeed, end users having to put up with a second rate system, as recommissioning was simply not feasible.

Where the latest wireless technologies excel is that they remove this complication from the entire planning and execution phase of the project. At final fit stage, should commissioning of the building control system reveal undesirable sensor locations, these can be easily relocated without the additional financial and time burdens associated with traditional wired equipment.

Universal advantages
In addition to the benefits afforded to the standard office complex, wireless sensors allow energy savings to be achieved in buildings where modernisation had previously not been feasible. In particular, allowing heritage buildings or those needing control-only efficiency upgrades to change systems and reduce energy consumption, whereas previously practical constraints or the sheer cost of installation prevented the investment been made.

Example costing
Consider the following partial project example: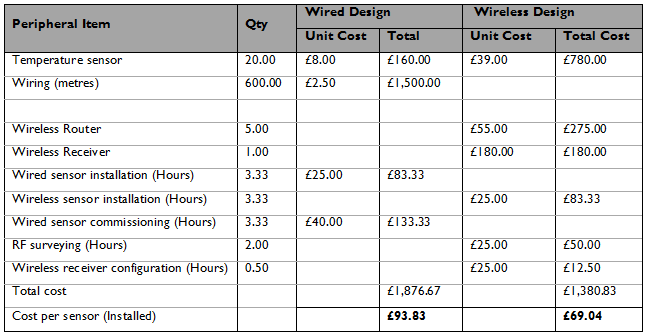 Considering the above example of a new building, assuming an appropriate construction environment for wired sensing product (Gyproc wallboard interior construction, suspended ceilings), it suggests that wireless may even have a first total cost advantage of nearly 30% when considering labour and material, this does not consider the during or post construction phase commissioning benefits.

Early technology led to wireless systems gaining a reputation for being complex, cumbersome and often un-reliable in many types of building construction. System set-up, survey, network reliability and battery life have all contributed to this negative perception.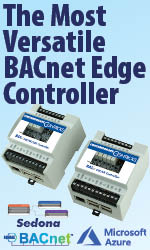 The technology in today's systems, paired with embedded commissioning toolsets, are changing this – improving the first install experience and, once-again, lowering total installed cost.

Where things have advanced – and something that Sontay has pioneered with its latest range of 2.4GHz licence free radio technology based SonNet family of sensors – is that simplicity is now seen as key in delivering the total installed cost savings and the component parts of today's wireless products revolve around straightforward systems. Gone are the days of spectrum analysers, complex PC-based tools, and costly software components. Today's systems feature simple, low cost hand-held survey modules encompassing virtually all things necessary to indicate network strength, reliability and assist in the initial project layout.

Network topologies have also changed from point-to-point star type configurations to that of mesh or similar systems and feature self healing attributes and intelligent dynamic features which automatically adjust to signal interference and re-create more robust communication paths. Network nodes – sensors in the case of SonNet – can be arranged with a mix of routers, either node which can re-transmit to the network receivers or infants which are transmit only devices.

What has enabled this advance, contributing hugely to this energy and cost reduction success story is a new breed of ultra-low-power micro-control devices. Companies such as Jennic and Texas instruments have introduced embedded, pre-approved modules which provide devices that can live without the need for a battery change for years – often outliving the shelf-life of a battery. The new controllers may also be paired with power harvesting technologies, and soon to be released technologies that could eliminate the need for periodical battery changes completely.

Combining the above technological advances and development will have undoubtedly an impact on the success this and the next generation of wireless devices and provide seamless, worry-free connectivity of sensing elements throughout the building which can be adapted (physically) or re-adapt (virtually) to conditions within the occupants space, thus reducing the total cost of deployment of energy management systems in today's existing facilities and the energy-conscious buildings of the future.
---


[Click Banner To Learn More]
[Home Page] [The Automator] [About] [Subscribe ] [Contact Us]