---
| | |
| --- | --- |
| Across My Desk | Founder, Owner, Publisher AutomatedBuildings.com |
Every month there is a blizzard of information contained in the emails and newsletters that cross my desk on their way to AutomatedBuildings.com. Some of this information is not in the form of any type of content we can publish but I feel I should share with you these snippets, blog bits, and url links that are about to fall off my desktop.
Unreasonable Optimism? This video epitomizes the intent of a self-learning culture at the Chicago Collaboratory as Andy McMillan, the president of BACnet international, gives some priceless advice to a young bright mind trying to make sense of our industry.

Just share a beer/coffee with a friend or fellow collaborator focused around the IoT http://iotday.org
Taking place on May 14 at the Moscone Center, this insightful workshop will be extremely valuable for business planning to introduce the Internet of Things within their business.
The Self-Learning Power in Your Company Wiki How internal company Wikipedia allows Creating Self-Learning Cultures while the company statement of culture and belief attracts self-learning assets.

Local History of Building our DDC Industry Several British Columbia start-ups that are now highly successfully international companies owe their start to a team of visionaries, who were focused and were resolved to get high performance controls in BC.

Direct Digital Control Tech Training Be sure to follow this open online discussion on our LinkedIn Group.

You want standards we got them, lots of them Smart Systems and Internet of Things Standards and Alliances
WEMS wireless sensors and I/O modules now work with Tridium JACE, Centraline Hawk, Distech Controls EC-BOS hardware platforms and many more platforms that run NiagaraAX software. The driver connects to a special version of the WEMS RS232/RS485 serial interface module to wirelessly enable the hardware platform.
Project Haystack Announces Keynote Speakers for Haystack Connect 2015 Conference Project Haystack, a collaborative community of leading technology suppliers and systems integrators developing common standards to streamline the interchange of data among today's smart devices, systems and equipment, is pleased to announce Dennis Lottero (Vodafone), Jack McGowan (The McGowan Group) and Peter Kelly Detwiler (NorthBridge Energy Partners) as keynote speakers for the second bi-annual Haystack Connect Conference 2015 beginning May 18, 2015 at the Cheyenne Mountain Resort in Colorado Springs.

This demo was part of the AllSeen Alliance Partner Program at MWC in which the EnOcean Alliance participated. AllSeen Alliance Demo Showcase: Muzzley youtube.com AllSeen Alliance Partner Programme at Mobile World Congress 2015. Ines Raimundo, Marketing & Partnerships Manager, Muzzley demos the Muzzley app, a single entry point for all connected devices in the smart home. The demo includes AllJoyn-enabled...
South Korea's LG Innotek announced that it's breaking this pattern, with the launch of an LED driver that comes embedded with standard ZigBee wireless. Its partner, Silicon Valley startup Daintree Networks, has been working with LG on ZigBee-embedded LED light bulbs since last year. But this week marks the partners' first foray into a wireless-embedded product for the troffers and retrofit kits that can replace standard overhead fluorescent lights with far more efficient and controllable LED equivalents.
21 Facilities Management and Building Automation Experts You Should Follow on LinkedIn
the unique advantage of receiving continuous input from over 90 partner companies around the world that have deployed SkySpark® across over 8500 facilities. This input is in addition to the end customers that contribute directly via our forum and in discussions with our team.
Contemporary Controls has published Network Communications for Buildings from a collection of prior articles from our Extension and Essentials that were supplements to our print newsletters beginning in 1999. All the articles have been updated to the latest practice so now the best material on network communications can be found in one concise book available as a free PDF.
LonMark® International announces the annual "Best of Year" awards. The annual awards honor products, companies, projects and individuals that have demonstrated innovation, vision and leadership.
Maintenance Computer Based Training (CBT) CDs and DownloadsDistant Learning Courses (CBT) and Maintenance Seminars for maintenance and management ranging from lubrication CBT to the electrical training seminar. Also download a training seminar presentation from facility planning to leadership skill. (Business Industrial Network is a member of the Educational Software Cooperative.)
enVerid Systems offers a proven, game-changing technology that significantly lowers HVAC energy consumption, delivering double-digit cost savings while maintaining air quality. enVerid's HVAC Load Reduction (HLR™) modules are "intelligent scrubbers" that remove all molecular contaminants from indoor air including CO2 and VOCs, thereby reducing the amount of outside air required to maintain indoor air quality. HLR modules can be easily retrofitted to any existing commercial building or incorporated in new construction.
commercial building automation systems (BAS) are complex, embedded with computing and digital communications tools that have transformed their capabilities to improve energy efficiency and optimization and enhance occupant comfort and health, according to Navigant Research, and the opportunities presented by analyzing the vast amounts of data that BAS can collect are accelerating their adoption across the commercial building sector
There are five main IoT alliances/consortiums/groups focused on the Internet of Things and I interview them all. The Internet Protocol for Smart Object (IPSO) Alliance has been around for a while but the Open Interconnect Consortium (OIC), the Thread group, the Industrial Internet Consortium (IIC) and the Allseen Alliance have sprung up recently. Depending on your focus, one or more of these organizations and are worth looking into when starting your IoT journey. In this episode of the IoT Inc Business Show, I discuss the second organization, the Open Interconnect Consortium, with Guy Martin
We want to hear from you! KNXtoday covers all things related to the KNX home and building control standard worldwide, so wherever you are, send us your news about KNX products, projects, tools, experiences, events, training courses, research etc. And if you have any KNX presentations, videos, whitepapers, apps etc., that you would like to share, then we can add these to our resources section.
Carlo Gavazzi's SB2WEB24 BACnet gateway has received the European BTL Certification as "BACnet application specific controller". The controller has gone through rigorous testing relating to its BACnet functionality and has now been approved and listed by BACnet Testing Laboratories (BTL) ensuring that the device meets the BACnet standard.
Rotting in Place? The article features Professor Stephen M Golant, whose simplistic and sweeping view of seniors has a "you punks git off my lawn" feel to it. He even compares the notion of aging in place to "rotting in your own home".

OpenOpcUa, jointly with its sponsors, invites you to attend a hands-on workshop on OPC UA and OpenOpcUa. This exceptional event will allow you to discover the benefits of the new OPC Foundation Unified Architecture: OPC UA and how to develop UA components using OpenOpcUa.
Collecting, managing and monitoring the large and complex networks in today's data centers demands flexibility, customizable and predictive systems, and robust and scalable monitoring. In this case study, you'll see why Niagara delivered all that and more. With more than 22,000 managed points in 28 locations worldwide, BCD Travel relied on Tridium's industry-leading framework to integrate multiple protocols such as SNMP®, MODBUS®, and LONworks®.
One of the most important lessons I've learned in the last few years is that if you create an environment where people have the opportunity to do it right, we will. We will also be sticklers for detail, insist on creating the very best product available (rather than the minimum viable one)

CABA INTELLIGENT BUILDINGS & DIGITAL HOME FORUM Renaissance Austin Hotel, Austin, TX April 14-16, 2015
It seems I hear about a new security breach every day.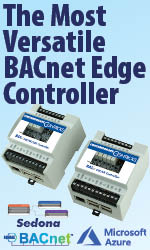 Hackers stealing credit cards, breaking into building automation systems, compromising data centers, phone records – the list is endless. I also find myself in an elevator nearly every day. What if hackers chose to go after the company that creates or support those elevators? What if they maliciously attacked an elevator I was riding in?
"With trees, landscaping, cafes, and bike paths weaving through these structures, we aim to blur the distinction between our buildings and nature," writes David Radcliffe, Google's Vice President of Real Estate. The plans have been designed by Thomas Heatherwick (of 2012 London Olympics fame) and rising architecture star Bjarke Ingels.
Google is planning an ambitious new expansion of its Silicon Valley headquarters, including movable buildings and structures that trade windows and roofs for translucent canopies. The tech giant today detailed its plans to drastically "rethink" its main campus in Mountain View, Calif., where it's been based for 15 years. It's the first time the company will design and build its offices from scratch. The master plan is a collaboration between Bjarke Ingels, a Danish architect with a reputation for wild designs, and Thomas Heatherwick, a London designer known for even wilder bridges.

NFC is a simple, easy to use technology, many new smartphones on the market today are NFC enabled. By simply tapping an NFC tag or device with your smartphone NFC enables a whole new world of content.
Bluetooth Smart is the latest generation in Bluetooth technology, with massive improvements on Bluetooth Classic. Including a low energy mode, allowing devices to be used for years rather than months!
Peek Inside Cisco Canada's New Office Space in "The Smartest Building in North America"
Ultimate Guide to Building Automation, and AutomatedBuildings.com in particular was a valuable source in creating that.
"Intelligent Buildings and Big Data". The new study provides an in-depth analysis new tools and resources that can help companies filter, analyze, and use Big Data collected from intelligent and integrated buildings. While the Full Report and Full PowerPoint presentation are embargoed for four (4) months, all CABA members benefit by these great research projects
---


[Click Banner To Learn More]
[Home Page] [The Automator] [About] [Subscribe ] [Contact Us]