---
Across My Desk

snippets, blog bits, and url links that are about to fall off my desktop



Founder, Owner, Publisher AutomatedBuildings.com
Every month there is a blizzard of information contained in the emails and newsletters that cross my desk on their way to AutomatedBuildings.com. Some of this information is not in the form of any type of content we can publish but I feel I should share with you these snippets, blog bits, and URL links that are about to fall off my desktop.
Giving the Internet of Things a Voice Something needs to change if the IoT is going to take hold this time round and Hunn believes it may come from voice recognition. Which, according to Hunn, has come out of the blue, from a surprising player, as far as most of the industry is concerned.
The Potential of Voice – The New Age Interface by Dina Abdelrazik | Mar. 15, 2017 Voice-enabled technologies have experienced massive growth in the consumer market since the introduction of Siri in 2011. The momentum in voice technologies is similar to the Internet boom in the 1990s. Companies who did not get on board and create a web presence, especially in commerce, fell behind to their competitors. The voice-first movement may elicit the same effect. For companies to capitalize on the current market opportunity, they must consider enabling a voice experience with their product and service offerings.
The Stoddart Review is the first study that has been conducted into the role working environments play
in organisational and UK productivity. Inclusivity has been key to this process and, true to the spirit of action-orientated research, it will hopefully provide a catalyst to keep this tremendously important
conversation going. The Stoddart Review offers strategic opinion and evidence-based conclusions
Claim your piece of the productivity puzzle Now is the time for us as an industry to start staking our claims for pieces of puzzle that is the new gold rush of the built environment As an industry, we need to focus on the people (occupants) piece and document our claims AutomatedBuildings.com strives to be the industries' keeper of your thoughts.
Create a Mindful Business, Gain the Skills to Succeed Creating the space for mindful reflection at work fosters the skills that are considered highly critical in the business world in order to be successful.
Koach, the 1st wearable device that chats with you the chatbot connected to a lumbar sensor to avoid back pain and unlock your true potential

Top 8 Smart Buildings from Around the World Posted by The Comfy Team on Feb. 21, 2017 Net Zero Energy Buildings, also referred to as Zero Energy Buildings, have garnered particular acclaim in recent years and set exciting new precedents for building performance. By definition, these buildings are designed to produce at least as much energy—if not not more—than they consume. As impossible a feat as that may seem, building owners, tenants, and developers everywhere have taken on the challenge to build and retrofit commercial buildings with sustainable systems and smart, green technology in an effort to attain Net Zero Energy Building (NZEB) status and comparable international certifications. Many are extending the definition even further by using other resources—like water, warm air, daylight, construction materials—more intelligently. Let's take a look at 8 smart buildings from around the world that have gone net zero and beyond, finding the nexus between ecological integrity and human well-being.

IoT integration helps future-proof building investments The long-term benefits of IoT-enabled buildings shift the focus of operations maintenance from preventative to predictive. From reducing operational costs and other expenditures, to decreasing the need for systems maintenance, to extending equipment life, IoT technologies ultimately provide a higher return on building investments. IoT systems will eventually overcome all of our present deficiencies in BAS and BIM and, over time, will be less expensive to install and operate.
What's the number one work motivator for Millennials: Making an Impact What comes out on top in more than two-thirds of Millennials results is the idea of Impact. In short: Am I making a difference in the world, does my work matter?
Digital Transformation for the Small and Medium Enterprise Digitization may challenge established processes, jobs, and companies. But for every job that may fall victim of innovation and digitization, new jobs will be created instead. Supply systems evolve. New systems need to be designed. New infrastructure needs to be build. New technologies will need to be created. New companies will be formed. This shows that while our business leaders are preparing themselves for the transformation of their business, skills need to be upgraded and continuous learning becomes essential.
Implementing Deterministic OPC UA Communication - In recent years, OPC UA has proven to be the leading manufacturer-independent standard for data exchange between different devices, one which supports various operating systems and integrates different automation levels. However, when looking into the requirements for implementing the Industrial Internet of Things and "Industrie 4.0" in detail, we find that the OPC UA standard based on a client/server architecture is not the ideal model. As a consequence, the OPC Foundation is in the process of standardizing OPC UA Publisher/Subscriber as an additional communication model.
[REPORT] IN SEARCH OF THE GREATEST UTILITY APPS The percent of US customers using mobile apps to monitor their energy use more than doubled between 2013 and 2016. This increase represents a great opportunity for utilities to engage with and learn more about their customers. But, are utilities taking advantage of the opportunity? And how are they responding to challenges that new technologies and customer demands present?
A One-stop, 360-degree BACnet Experience The BACnet Institute was developed by BACnet International, with the support of its members and industry leaders. It is an online center for BACnet educational resources and provides an easy path to BACnet information and learning for everyone involved with BACnet systems, as well as forums to share knowledge. Designed around BACnet community needs revealed in an extensive 2014 member survey, The BACnet Institute is designed to encompasses on-demand, self-paced courses alongside an organized repository of white papers, presentations and recorded webinars, as well as a Developer Forum. It operates under the administration of BACnet International in collaboration with other BACnet industry groups. Courses: The first course, BACnet Basics, has been released. More courses are under development and will be released throughout the year.

It has been a labour of love providing you a new way to explore AutomatedBuildings.com while I wallowed in the memories of the last 19 years. It reminded me that this is not my story but the story of industry giants helping me create an online collaboratory of their powerful thoughts.
USING DATA TO AUTOMATE PROACTIVE MAINTENANCE The data being generated from the BAS can also help point you in the right direction for where to prioritize duct inspection. Look for VAV's that are not making the CFM Setpoint; this is a check that can be done year round, but will be most prominent during the Summer months when VAVs are operating at their maximum CFM setpoints. If there is a leak in the medium pressure duct, the issue should be distributed amongst multiple VAV's tied to the duct. If a leak exists at the collar or flex duct from the medium duct to an individual VAV, only that one VAV should be effected.
VEmesh Wireless Extension to DALI (D2D) VEmesh Wireless Extension to DALI (or D2D, for DALI to DALI) enables DALI users to benefit from all DALI capabilities without the added cost and complications of DALI wiring. In such deployments, D2D outshines in replacing any part of the wiring by wireless, the only restrictions being of DALI, such as the maximum of 64 devices per DALI loop. Other DALI constraints are eliminated or alleviated by the use of wireless, which in D2D can extend the deployment range and enable mobility, such as for standing lamps. These capabilities are important both in new deployments, as well as in retrofit. In Building Management Systems (BMS) retrofit, VEmesh DALI enables a faster and more cost effective LED lighting upgrading, due to its capability to connect directly to the DALI part of BMS Gateways, such as to KNX™, BACnet™ or LonWorks™.

IOT LEADS TO BUILDING EFFICIENCIES: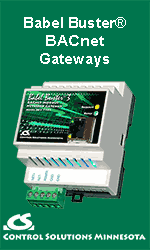 AHR-ebook-2017-IoT-Leads-to-Building-Efficiencies.pdf what this means for consulting engineers and mechanical contractors
Will these developments lead to convergence, divergence, and/or chaos in 2017 and beyond? I've been involved in this industry for years, as both a designer and applier of automation and controls in the field, and I still don't know what the future will hold. Still, after a busy 2016 talking to a wide range of users, suppliers and industry consultants, while attending over 20 industry conferences and related events, I have many educated insights on the trends that will shape automation in 2017. This article will discuss ten of the most influential trends I see playing a prominent role in the industry this year. I invite everyone share their own thoughts, criticisms and perspectives on this exciting time for automation.
Digitization may challenge established processes, jobs, and companies. But for every job that may fall victim of innovation and digitization, new jobs will be created instead. Supply systems evolve. New systems need to be designed. New infrastructure needs to be build. New technologies will need to be created. New companies will be formed. This shows that while our business leaders are preparing themselves for the transformation of their business, skills need to be upgraded and continuous learning becomes essential.
Electrical Engineering Degrees & Programs Electrical engineering is a field that deals with designing, developing and working with electrical systems. With the increased use of electronics and electrical systems in our lives today, this field allows the engineer the opportunity to keep up with the latest technology. Learn about electrical engineering degrees, educational options, and what electrical engineering all entails.
Electrical & Electronics Engineering Degree There are many types of electronics degrees available at universities around the world. We have listed summaries of the most popular degrees in electronics below. Some of the programs are extremely specific - with electronics sometimes being the foundation of a company, it is important to have extremely specialized positions to retain expertise in every electronics area. Electronics engineering is a field that is used in many industries throughout the world. As technology continues to bring us more and more types of electronics, the demand for electronics engineering will continue to grow. Learn what it takes to become an electronics engineer, what's required for education and what this career entails.
The Robot Minimum Wage Plan (RMWP) The scenario I am trying to work out is one where people displaced by robots in the workplace are eligible to receive a minimum wage paid for by the robot that replaces him. Here is a short story to explain the concept. Makes you think.


---


[Click Banner To Learn More]
[Home Page] [The Automator] [About] [Subscribe ] [Contact Us]