---
Wake up to Wireless Ways

Are our existing wired networked solutions at risk in the near future? Can wireless ways greatly enhance wired networks? The answer is "Yes".


Ken Sinclair

Founder, Owner, Publisher AutomatedBuildings.com
Are our existing wired networked solutions at risk in the near future? Can wireless ways greatly enhance wired networks? The answer is "Yes".

Wireless network ways provide a future-proofed AI-Driven self-discovery schema with off-site ease of update of operating systems, collection devices, and sensors.

Think of the ease of updating your phone and how it floats effortlessly through a jungle of wireless networks and ever-evolving operating systems while presenting your personally focused applications that you can easily control and change.

This all builds on our chapter about Building Wireless Inside Out - You will see in all these articles a shift from carrier-owned obsolete wired backbones in buildings to new, in-building owned fiber backbones to the street; all necessary to feed the fourth utility, wireless, which is mandatory for today's space.

Cleaning up our networking mess with mesh

What is a mesh? https://en.wikipedia.org/wiki/Mesh_networking

A mesh network (or simply meshnet) is a local network topology in which the infrastructure nodes (i.e. bridges, switches, and other infrastructure devices) connect directly, dynamically and non-hierarchically to as many other nodes as possible and cooperate with one another to efficiently route data from/to clients. This lack of dependency on one node allows for every node to participate in the relay of information. Mesh networks dynamically self-organize and self-configure, which can reduce installation overhead. The ability to self-configure enables dynamic distribution of workloads, particularly in the event a few nodes should fail. This in turn contributes to fault-tolerance and reduced maintenance costs

Our contributing editor, Nicolas presents a convincing case for a wireless future with AI at the heart of solving our complex wired network configuration problems.

Your own Digital World with Wireless Mesh - "The only thing that I see can cut it in the realm of building automation, and what will pass the test of time is Next Generation Wireless Mesh. It's like building up your own private digital world with powered routers the size of a mobile dongle, allowing you to deploy battery-powered sensors at will adding, or subtracting sensors that will auto-configure themselves.

These together build up a future proof tent, where sensors can be deployed in the thousands, auto-configurable, no packet loss, one API, one up-front cost, extremely low Total Cost of Ownership, super reliable and an architecture that allows real-time data over battery-powered sensors. Data will be generated at the edge, and this allows companies the power to choose."

Wireless-First Strategy What to think about? - Nicolas Waern, "The Building Whisperer"

My advice is using Wireless Mesh.

I am advising clients all over the world on what their Connectivity-Strategy should look like in order to get the most bang for the buck. It could be Digital-twin companies needing data from buildings and existing systems. It's General Contractors that want to be the next APPLE of the building automation industry. New entrants to the smart building industry wanting the know-how what the perfect edge gateway should look like. It's Real Estate owners, wanting to see more of a return from buildings and to challenge the status quo.

It's all about trying to offer the pros and cons with any strategy, choosing the technology based on what the customer wants to do right now, but also in the future.

How important is the total cost of ownership, flexibility, security, ease of install, recurring costs, how often to send the data, to where, how much data, battery-powered, location, firmware updates, usability, scalability and a lot of other factors?

Looking at the future projections, it seems that the volumes in the long-run (2025 the earliest) between licensed and unlicensed solutions are 50/50 but in totally different use cases, thus more complementary.

This LinkedIn post adds industry commentary
We need to move towards an open industry, leveraging advanced technology in an interoperable way. The World Depends on it. Fitting tools:
Place and play Wireless mesh sensors, robust and scalable, creating a private digital space in the property with very low Total Cost of Ownership.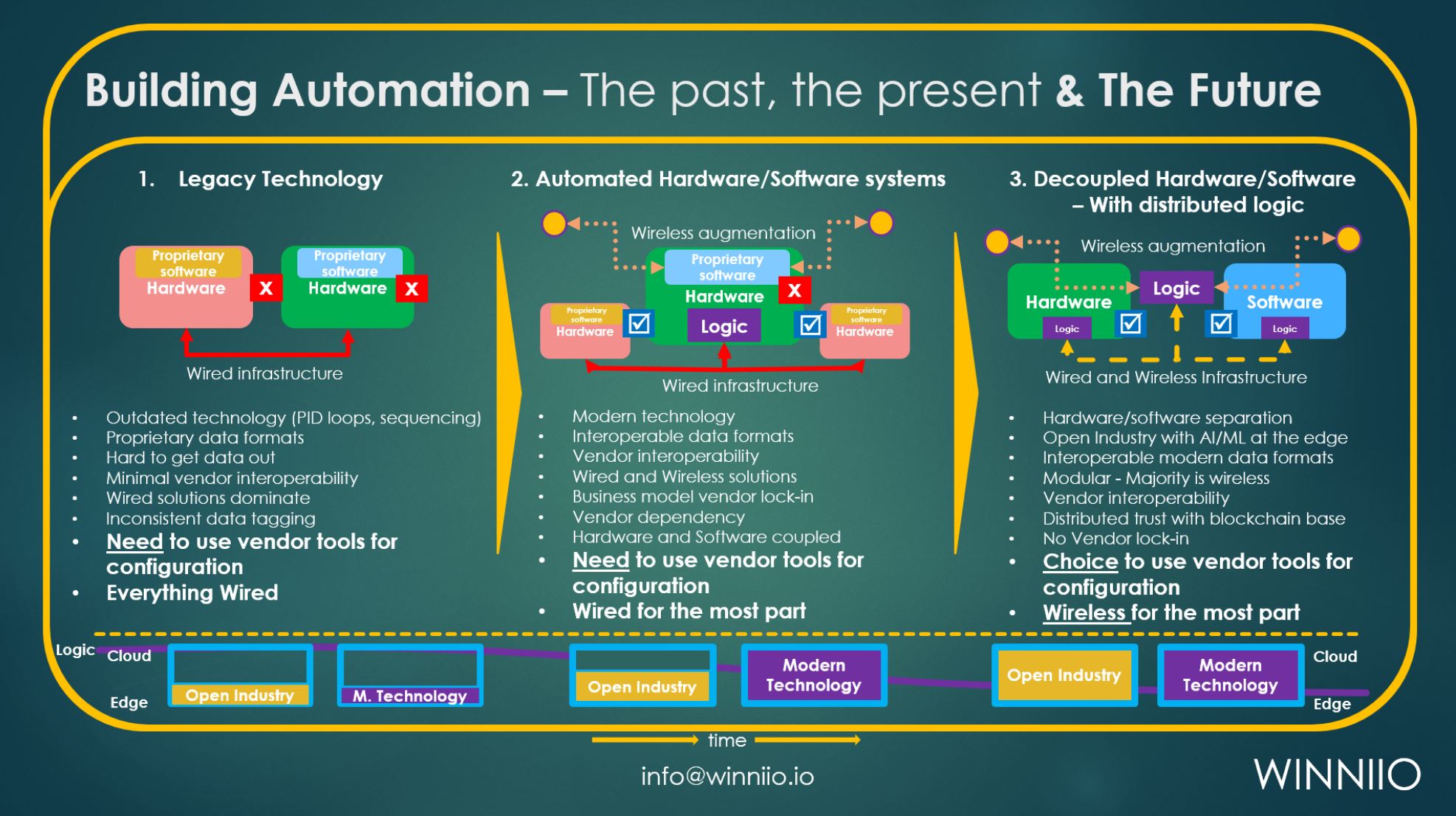 Which connectivity-horse to bet on? Published on January 26, 2020 Nicolas Waern "The IoT - Building Whisperer" - Making Buildings talk to people
A brief discussion about 5G, IoT, and the exciting times we live in

Open Source Wireless Radio Access Networks "RAN" Edge Devices will combine embedded intelligence to deliver more agile services and advanced capabilities.

These edge devices would not need a separate gateway, because technically, the "gateway" is built into their on board software. They have the horsepower to run a small Node.js server or MQTT server, or REST server next to their existing firmware and do it all. It has a ton more system resources so you could run that, plus a RESTful server, Haystack server, JSON data server plus XML if needed, etc.

What we are talking about here is mostly software-defined, because once you have a powerful hardware platform you can run more things on it.

The next next-generation wireless infrastructure will work this way as part of powerful new breed truly open edge devices,
" The O-RAN Alliance was created to accelerate the delivery of products that support a common, open architecture and standardized interfaces that we, as operators, view as the foundation of our next-generation wireless infrastructure, while ensuring a broad community of suppliers driven by innovation and open market competition. "— Alex Jinsung Choi, SVP Research and Technology Innovation, Deutsche Telekom

" Our industry is approaching an inflection point, where increasing infrastructure virtualization will combine with embedded intelligence to deliver more agile services and advanced capabilities to our customers. The O-RAN Alliance is at the forefront of defining the next generation RAN architecture for this transformation. "
— Andre Fuetsch, CTO and President AT&T Labs

This presentation and video looks at the concept of #OpenRAN, White Box RAN and Virtualized RAN (vRAN). It looks at the motivation to move away from traditional architectures where the vendor supplies their own proprietary hardware and software to the new Open RAN architecture movement. Business case from an MNO / SP point of view is discussed and the results from joint Open RAN RFI by Telefonica and Vodafone is discussed.

The O-RAN Software Community (SC) is a collaboration between the O-RAN Alliance and Linux Foundation with the mission to support the creation of software for the Radio Access Network (RAN). The RAN is the next challenge for the open source community. The O-RAN SC plans to leverage other LF network projects, while addressing the challenges in performance, scale, and 3GPP alignment.

Private 5G Networks and the Future of Industry 4.0 Stuart Forbes February 18, 2020 Modernizing an industrial operation to support Industry 4.0 applications can be a remarkably complex challenge. This is especially true where a facility uses legacy fixed Ethernet to connect machines to a central office location. Transition may be easier where a facility has already transitioned to wireless, but evolving to next-generation capabilities can expose the limits of commercially-supplied Wi-Fi and LTE cellular networks. That's because Industry 4.0 makes use of highly automated, intelligent, and collaborative cyber-physical systems which require highly stable, low-latency wireless connections. As a result, a growing number of enterprises in manufacturing, energy, mining, power distribution, logistics, and other sectors are going private. They're moving away from established network operators, and bringing their wireless networks in-house.
Our contributing editor Marc Petock speaks to using wireless to get information to and from our legacy system and very important piece of the puzzle moving forward.

The Expanding Role of Wireless Sensors in the Built Environment Wireless sensors offer clear value and are leading us to evolve new practices for using them to enhance building performance and efficiency, occupant wellness and satisfaction, meet compliance requirements and manage risk. - Marc Petock, Lynxspring, Inc.

Sensors for smart buildings will grow from $313.2 million in 2013 to $3.7 billion by 2020, according to a recent study by NAVIGANT RESEARCH. As information and operational technologies converge, sensors play a crucial role in facilitating intelligent building solutions. They can provide actionable insight through data-driven tools.

Wireless sensors serve a great purpose. They may be small, sometimes almost invisible, but are becoming essential ingredients within the built environment.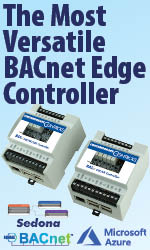 They are creating new efficiencies that positively impact how buildings and facilities are managed and operated. Wireless sensors offer clear value and are leading us to evolve new practices for using them to enhance building performance and efficiency, occupant wellness and satisfaction, meet compliance requirements and manage risk.

Some wireless ways resources
An example of a wireless mesh solution From the Conectric website these words. Our ultra-scalable wireless networking infrastructure allows self-installation and no maintenance real-time wireless sensor networks. We are fueling the worlds best software, analytics and artificial intelligence platforms for SMB's and Enterprise companies to embrace the Digital Journey. Bring your own gateway or use one of ours. Wireless mesh networks scale up to 500 nodes and 50,000 sensors using our Plug-and-Play Routers. Cloud or SaaS We offer data hosting and sensor management on the world's most secure, scalable and reliable Google Cloud Platform. If you'd like to pay for your sensors as a monthly let's talk.

From unboxing to a functional mesh network with wireless sensors deployed in a matter of minutes. Our introductory video provides a high level overview of how easy this is to use:

The DINGO software is a complete software stack capable of dealing with low level sensors and actuators, through to our high level BACnet/IoT implementation. A DINGO BACKBONE is ready to communicate with any other BACnet device on the network. Communicating with DINGO BACKBONEs over the Internet is done with open and secure standards like BACnet/WS or MQTT

Wireless communication is one of the most important part of IoT. Devices, sensors and actuator communication with each other is a requirement in the world of IoT. However there are many wireless technologies out there. IoT projects are very different, when it comes to inter-device communication. Sometimes only short range communication is needed. Other times range of many kilometers is required. Bandwidth and security requirements are also very different from project to project.

Convenient Wireless Network Setup Using the BAScontrol22 for Training and Education
The BAScontrol22 is a 22-point BACnet/IP compliant, Function Block Diagram (FBD) programmable Sedona unitary controller with a built-in 2-port Ethernet switch – one port for direct connection to an IP network, and one port to attach a secondary IP device, continue the Ethernet network in a multi-drop manner, or use it for direct PC/laptop connection for programming, configuration or diagnostics on the controller. The controller is fully web-page configurable using a common web browser and freely programmable using Contemporary Controls' free BAScontrol Toolset. BACnet compliance ensures connectivity to any BACnet/IP network with supervision. With the help of any standard Wi-Fi router, BAScontrol22 units can be conveniently accessed over the Wi-Fi network, giving students and teachers the convenience and flexibility of wireless networking

Wireless product are evolving to play well with existing wired network standards using EnOcean Wireless Protocol To enhance the scalability of our wireless products, MES provides critical infrastructure products that either translate data from protocol to protocol, or intelligent "brains" that collect, analyze and control products based upon software driven parameters. While any MES product combination can work stand alone, software or the integration to a BAS, helps to extend and expand the capabilities and utilization of the key building data we provide.

Welcome to EnOcean Alliance - Building Smarter Connectivity As an international association of leading companies in the building and IT industries, the EnOcean Alliance has been committed since 2008 to enabling and promoting interoperable, maintenance-free and proven eco-systems based on the wireless EnOcean radio standard (ISO/IEC 14543-3-10/11). With their decades of experience, EnOcean Alliance members strive to co-create a healthy, safe and sustainable environment in smart homes, intelligent buildings and smart spaces for the benefit of all.

The LoRa Alliance™ is an open, nonprofit association that has become one of the largest and fastest-growing alliances in the technology sector since its inception in 2015. The LoRa AllianceŽ is the fastest growing technology alliance. A non-profit association of more than 500 member companies, committed to enabling large scale deployment of Low Power Wide Area Networks (LPWAN) IoT through the development and promotion of the LoRaWANŽ open standard. Members benefit from a vibrant ecosystem of active contributors offering solutions, products & services, which create new and sustainable business opportunities.

The Backbone to Smart Building Solutions LoRa devices and wireless radio frequency technology (LoRaŽ Technology) confronts this challenge through a long-range, low-power wireless radio frequency platform. - Byron BeMiller, Vertical Lead for Smart Buildings at Semtech

G5-6 WiFi6 & CBRS This alphabet soup is destined to shape your future - Learning about WiFi 6 (802.11ax)–a new wireless standard for indoor networks; a WPA3 Standard–added security for WiFi networks; the new 6 GHz WiFi spectrum coming in 2020 was very interesting see phone pictures of Alan's presentation

IoT can change the experience we have interacting with our workspaces, people and even machines. By leveraging data – like temperature, speed, location, or applications in use – Aruba's IoT solutions help deliver meaningful experiences using context-aware network generated content.

UIB @uibglobal #5G will accelerate the use of #IoT and #ConversationalIoT, but how will that impact #landlords? "Companies that implement non-5G compatible systems will risk seeing #tenants break their leases" https://twitter.com/Ken_Sinclair/status/1234771358027902981?s=20

Lynxspring's technology portfolio of hardware and software solutions, services and expert support enables system integrators to provide their clients an efficient means of controlling and managing all aspects of the built environment and create cost-effective controls solutions for managing all aspects of buildings' environmental systems.
Wow lots of information on how complex thoughts will make things simpler while allowing meshed AI helps us sort out and simplify complex networks automatically.

Wireless ways will dominate and we need to take control of our building wireless infrastructure while together build up a future proof open tent with software upgradeable open devices and or even replaceable wireless devices all connected to our building owned fiber backbones. We need to carefully justify our hardwire and hard network investments because in the near future they will be jumped over with wireless. If you do not believe this go to most condo built in the last 10 years installed with a $10,000 structured cable box per unit that all have had a wireless WiFi router placed on top of box replacing all of intended functionality and more of this lost investment.
Wires will get shorter wireless reach will get longer.

We need to Wake up to Wireless Ways.

---


[Click Banner To Learn More]
[Home Page] [The Automator] [About] [Subscribe ] [Contact Us]