---
New Technologies are emerging that will change the way we bid, implement, and service control systems in buildings. Wireless devices, once matured will surely offer the most impact, allowing control devices to instantly create their own communicating infrastructure without the extensive wiring costs typically involved with a controls only retrofit.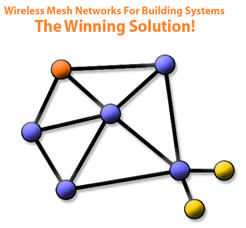 New wireless devices will prove to reduce return on investment (ROI) on control only, energy-based retrofits by offering the industry and building owners a non-intrusive alternative to the costly propositions to which they have become accustom to. With wireless devices, the ROI calculation will fall from multiple years to within a year payback when compared to current systems.
Acceptance rates of new wireless building systems are also a very different proposition than years past, considering how robust and popular 802.11x products have become. Virtually every laptop computer today is shipped with wireless adapters that consumers have become accepting of this technology.
Typically, first generation wireless systems consisted of a central or field receiver units and multiple transmitter equipped field devices such as temperature sensors and other monitoring equipment. This posed the problem of not only proximity from transmission base to receiver, but also when compare to traditional wiring was very similar in cost due to their single point transmission capabilities.
Next generation wireless devices will prove to be more field friendly, and could be offered with the upfront cost of equipment very similar to that of current wired controllers. Wireless 802.15.4(IEEE standard) and ZigBee based designs offer flexible multi-hop mesh type network topology, which virtually eliminates past complaints with regard to proximity, and offers virtually limitless application. Along with the above-mentioned, moving today's wireless systems forward will not only offer reduced costs but they are poised to provide performance as well as reliability of current wired systems without the cost burden involved with extensive renovations.
Where will this new equipment offer the biggest impact?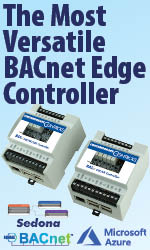 With today's growing concern over the cost of energy, a market for these types of controls is growing almost as quickly as the price of oil. Numerous property management companies are now prioritizing energy costs higher and higher on the list of monthly operating expenses. New products, embracing wireless communications will change the playing field, and offer pain free energy-based controls retrofits like never before on virtually any size facility.
New buildings stand to benefit from a similar cost reduction. Today, wiring rough-ins are expensive, complex and require careful planning for execution to maintain trouble free product implementation. The application of wireless devices for new construction could virtually eliminate this variable, somewhat unpredictable cost. By fixing this cost, the risk to the controls contractor or integrator is dramatically reduced. Pricing quickly follows along with delivery schedules and project implementation and commissioning.
Wireless technology for building automation systems is sure to be beneficial to all involved. For the building owner, it is an alternate to expensive, disruptive and costly renovations associated with today's wired systems. The controls contractor will enjoy the benefits of cost reduction and inherently become more efficient.
Wireless devices truly provide a winning solution for all involved!
---


[Click Banner To Learn More]
[Home Page] [The Automator] [About] [Subscribe ] [Contact Us]