---

EMAIL INTERVIEW – Danny Yu and Ken Sinclair
Danny Yu, CEO of Daintree Networks
Danny Yu brings over 20 years of leadership and growth company experience in lighting, enterprise solutions, communications, and semiconductors to his role as CEO. Danny holds a BS in Mechanical Engineering from Stanford University and an MBA from the UCLA Anderson School.
Contact Yu at dyu@daintree.net

---
Open Standards-Driven Solution

True use of open standards provides interoperability between devices from different manufacturers and disparate systems, creating headroom for technology evolution, as well as well price competition among vendors.

Sinclair: Why does Daintree Networks strongly support an open standards model for networked building energy management systems?

Yu: At Daintree, we believe the right way to deliver the greatest energy efficiency is through the use of wireless, open standards-driven systems, which allow lighting and building automation products to work together seamlessly. This approach eliminates building managers and owners being held captive to proprietary, closed technologies.

True use of open standards provides interoperability between devices from different manufacturers and disparate systems, creating headroom for technology evolution, as well as well price competition among vendors. This is a huge benefit for end users, as it allows facility or sustainability managers to buy different products from different manufacturers and choose the solutions that best fit their specific needs. Technology based on open standards offers support for a wide range of applications and the scalability to easily add future service and product upgrades. Building managers can continue to work with the products and vendors they trust, while gaining all the benefits of networked wireless control.

Sinclair: Beyond lighting control, what other types of device or sensor functionality can your wireless networked system provide?

Yu: The open standards-driven solution on which our ControlScope™ is built provides control of lighting, thermostats, plug-loads, fans and many more energy-related functions, along with data analytics. This is even more critical now since building codes and standards such as California Title 24 and ASHRAE 90.1 require control and management of multiple measures in a building. In addition, our solution can support monitoring of other environmental conditions, such as air quality, humidity and food safety, to name a few. Using fault detection alerts for retail signs, lights and food refrigeration units, we can reduce the risk to businesses that lead to loss of revenue or result in other operational losses. For example, retail and food service companies depend on outdoor signage and lighting to let customers know they are open for business. When signs unexpectedly go out, potential customers may assume the establishment is closed, leading to loss of revenue. Or in the case of restaurants that must maintain a specific temperature for refrigerating food, an unknown failure can lead to spoilage and costly food losses. With the ControlScope product, we have the flexibility to work with our customers and provide the systems that they want regardless of how focused or broad their networking requirements. All of this supports our Enterprise Internet of Things™, or E-IoT™, approach. We see implementing open, networked lighting, HVAC, and other energy control functions as establishing the core automation backbone network in buildings. This forms the foundation for connecting and managing broader capabilities throughout a company's networked enterprise.

Sinclair: What is behind the growth in LEDs and energy management controls?

Yu: There are a number of factors driving the growth in LED and building energy management controls, including significant energy savings, improved operational efficiencies, increased occupant comfort and the need to comply with standards mentioned above centering on energy management and usage reduction. A new, more stringent implementation of California Title 24 just went into effect July 1, requiring businesses to implement technologies that enable highly efficient and zero-net-energy buildings, such as intelligent networked systems for lighting control and management. The need for compliance has greatly increased interest in implementing cost-effective energy control solutions.

The cost of wiring alone is incentive for many building owners to make the move to wireless systems, which are typically organized using a "mesh" architecture. This means that each device in the network can communicate with a controller through multiple pathways, and can relay messages for its neighbors. Data is passed through the wireless network from device to device, using the most reliable communication links and most efficient path, until the destination is reached. A key benefit of the mesh approach is that if one device fails (which is rare due to the system's monitoring capabilities), the signal is re-routed so that other linked devices are unaffected.

Open standards greatly simplify integrating devices from different vendors into a building's overall energy scheme. Eliminating wiring and using open standards such as ZigBee allows broader and more granular control, reduces costs, simplifies commissioning, and extends the benefits of control to retrofits and other new markets.

Sinclair: How is Daintree different from others in the marketplace today?

Yu: We are focused on helping commercial facilities achieve their energy usage goals by offering a simple solution that serves as the foundation for creating a smart building that can achieve dramatic savings in energy consumption, enhance operational efficiencies, improve comfort and productivity for employees, and comply with codes. Moreover, building energy management is the most critical piece of the Enterprise Internet of Things (E-IoT). In addition to saving energy, with the right open standards-driven technology, such as that provided by Daintree, corporations can get a jump start on their E-IoT initiatives to manage all machine-to-machine (M2M) communications.
Another differentiator is that Daintree has successfully embedded wireless communication capability directly into LED drivers used in LED lighting fixtures such as those from LG Electronics, enabling seamless interaction with ControlScope. The ControlScope platform can control the LG fixtures out-of-the-box, provide actionable information through data analytics, and integrate the system to building-management systems. Implementing this solution can help facilities realize energy efficiency improvements of up to 90 percent.
Our solution also integrates with the OpenADR (Automated Demand Response) Communications standard, which allows utilities to manage supply during peak times. Companies also benefit from significant utility rebates. In the process, less energy is wasted and less new energy production is required. Daintree's OpenADR certified solution allows creation of lighting, HVAC, and plug load control strategies for automated response to an OpenADR event, facilitating Title 24 compliance.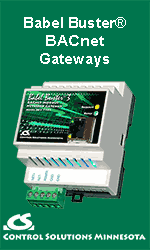 Sinclair: As an attendee of IBCon in Las Vegas, what stood out and what did you find most compelling about the event?

Yu: This year, we saw the strongest signs of operation technology and information technology convergence for smart buildings. Historically, companies promulgating smart building operations have been traditional HVAC controls companies and specialized software analytics companies. Fast forward to 2014, and we see mainstream IT giants – including Cisco, Google, Microsoft, and Intel – at IBCon as major adopters of technology and/or providers of horizontal technology platforms to support Enterprise IoT products and services from best-in-class application companies. Given the size and breadth of potential customer value creation, the IoT is seen by many as no less than the second major wave of the Internet. As Daintree is a Silicon Valley company with deep IT roots and an IT approach toward solving customer needs, we're excited to see this development. Large companies aggressively investing in our space will increase customer awareness of benefits and speed adoption of high-value smart building solutions.

---


[Click Banner To Learn More]
[Home Page] [The Automator] [About] [Subscribe ] [Contact Us]