---
IBMS Reduces Operational Costs

How "IBMS" intelligent building management solutions are reducing operational costs


Sean Goldstein

Vice President Marketing

Crestron
Today's commercial buildings contain more technology than ever before. Organizations must now be able to intelligently manage anything with a network connection, including AV, voice and data, lighting, security, and HVAC. To accomplish this, all of these disparate systems must be networked, managed and controlled in a fundamentally new way.

THE INTEGRATED NETWORK

Crestron products are Integrated by Design™ to deliver complete building technology solutions. Crestron unifies all technology in the building on an "integrated network" where AV, lighting, energy, voice and data, security, room scheduling, HVAC systems, and more are all on the same platform so they work together seamlessly. Everything across the enterprise can be monitored, managed and controlled from a centralized dashboard, thereby increasing operational efficiencies, productivity and energy savings, while decreasing tech support cases and equipment downtime. The integrated network brings reliability to all technology in the building, and when all technology is reliable and intelligently connected, employees are more productive and efficient.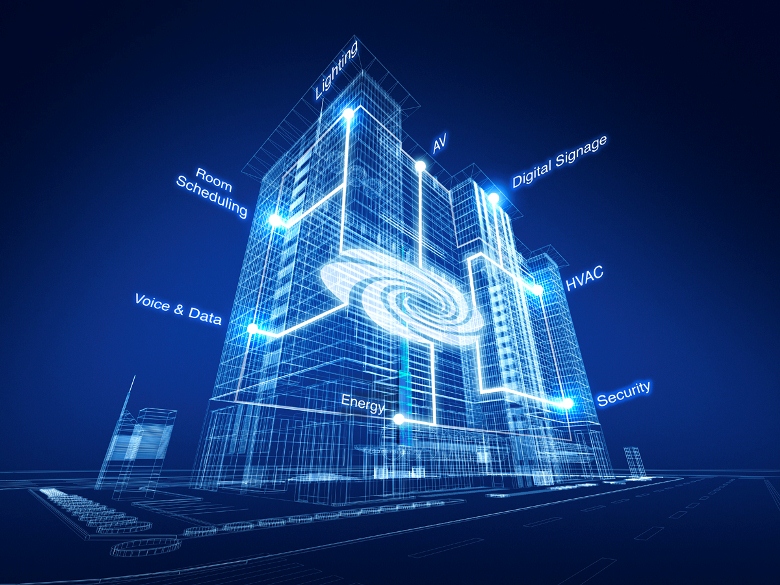 ONE PLATFORM, COMPLETE CONTROL

The Crestron 3-Series Control System™ with BACnet/IP support provides an open architecture, scalable, IP-based platform for implementing fully integrated building management and automation. Integrated control of lighting, shades, HVAC, AV, BMS, security, IT, and other connected systems is now faster, simpler and more efficient than ever. Built-in BACnet/IP support enables seamless integration with existing building management systems. All systems run independently and communicate with each other on the same platform, creating a truly smart building. The result is an easier, greener, more productive, and more enjoyable work environment.

The 3-Series presents a giant leap forward in control system design and forms the core of the intelligent building, unleashing more power than ever to integrate all technologies in the modern building. It embodies a distinctively robust, dynamic and secure platform to elevate system designs to higher levels of performance and reliability. Compared to other control systems, it provides a pronounced increase in processing power and speed with more memory, rock-solid networking and IP control, and a unique modular programming architecture.

MODULAR PROGRAMMING ARCHITECTURE
Designed for enhanced scalability, the 3-Series affords high-speed, real-time multi-tasking to seamlessly run multiple programs simultaneously. This exclusive programming architecture lets programmers independently develop and run device-specific programs for AV, lighting, HVAC, security, etc., allowing for the optimization of each program, and allowing changes to be made to one program without affecting the whole. Even as your system grows, processing resources can easily be shifted from one 3-Series processor to another without rewriting any code. The end benefit is dramatically simplified upgradability with minimal downtime, whether implementing changes on site or remotely via the network.

ROBUST ETHERNET & IP CONTROL

High-speed Ethernet connectivity enables integration with IP-controllable devices and allows the 3-Series to be part of a larger managed control network. Whether residing on a sensitive corporate LAN, a home network, or accessing the Internet through a cable modem, the 3-Series provides secure, reliable interconnectivity with IP-enabled touch screens, computers, mobile devices, video displays, Blu-ray Disc® players, media servers, security systems, lighting, HVAC, and other equipment — whether on premises or across the globe.

ONE WORLD VIEW

The Fusion™ Enterprise Management platform, in tandem with the 3-Series Control System, revolutionizes the way organizations control every aspect of their day-to-day operations. Fusion enables organizations to monitor and manage AV equipment, BMS, room scheduling, lighting, shades, climate, and energy consumption from a single dashboard.

You can deploy Fusion RV™ (RoomView), Fusion EM™ (Energy Management) or both, based on organizational needs.

FUSION RV
Fusion RV (RoomView) enables facility and building managers to centrally monitor and manage room scheduling, as well as AV presentation and video conferencing resources, including CaptureLiveHD™ (Crestron's full-motion HD video capture and streaming system) from the Help Desk. It can track device and room usage to schedule routine maintenance, provide real-time remote technical support and receive instant alert notifications. Robust reporting features provide data to make more effective purchasing and scheduling decisions.

Enhanced reporting features in Fusion RV simplify planning and forecasting. Managers can view detailed reports with room usage statistics, lamp replacement schedules, AV equipment usage, and more. Quick reports can be created using simple built-in report templates. Custom reports can also be easily created. Automatic email scheduling can be used to send reports to a group of recipients on a recurring basis. Additionally, email alerts can be sent to support staff when projector lamps are nearing end-of-life, increasing the efficiency of routine maintenance tasks and preventing equipment failure during usage.

Fully integrated with Microsoft® Exchange Server, IBM® Lotus Notes®, and CollegeNet™ R25® for scheduling, Fusion RV enables occupants to conveniently book conference rooms from the browser interface, a touch screen mounted inside or outside the room, or from Microsoft Outlook®.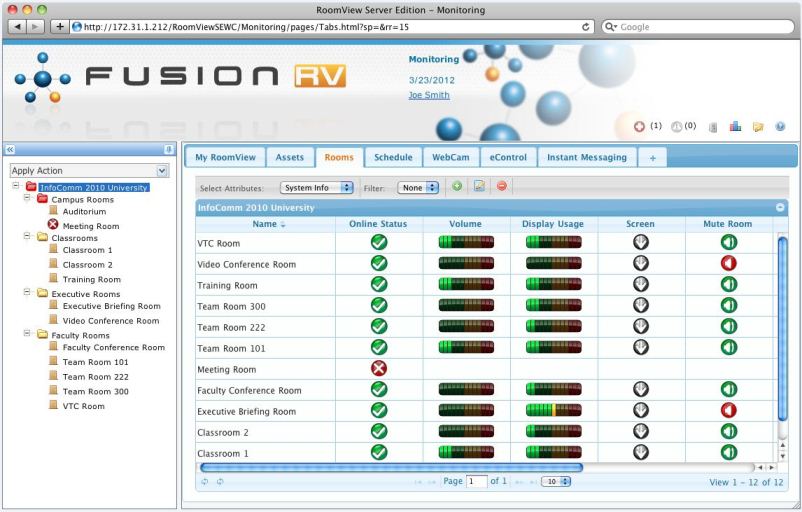 FUSION EM

The goal of the integrated network is to eliminate waste and streamline operations by consolidating control of key systems and leveraging occupancy and scheduling information so that critical systems are not left running in empty rooms. Everyone wants to conserve energy, but not at the expense of a comfortable, fully-functional working environment. For example, no one wants to enter a dark and cold meeting room.

Fusion EM (Energy Management) manages and monitors renewable and sustainable energy sources in real-time, and displays historical usage data for day, week, month or year. It also provides environmental control, including lighting, shades and climate, intelligently integrating with room scheduling and occupancy for greater energy savings. Fusion EM is able to track the building's carbon footprint while enabling building and facility managers to easily analyze energy consumption.

Fusion EM offers a simple interface that allows a building or facility manager to easily set up room behavior based on occupancy and schedule. The manager can set "warm up" or "cool down" times for the room's HVAC so that meeting rooms are brought to the proper temperature before a meeting begins, and set lighting behavior in the same manner.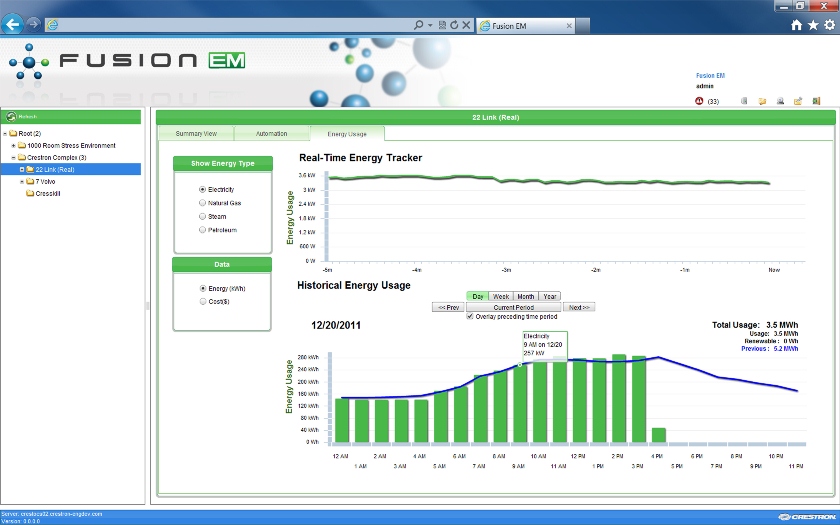 Lighting and shade control is an integral part of an AV system. Sunlight can wash out beautiful displays, different meetings require different lighting conditions, and energy management is now a requirement in most buildings. Crestron manages and controls daylight harvesting based on environmental conditions and room usage to provide an intelligent energy solution.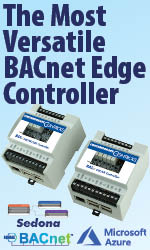 In the past, this type of customization would require extensive system programming. It was not uncommon to reprogram these types of controls, once some real world experience was gained on the room's HVAC system. Some rooms take longer than others to cool-down or heat-up. With Fusion EM, changing these parameters is a quick and simple process.

The amount of technology in commercial buildings continues to increase and so does the cost to monitor, manage and control all of it. To remain competitive, organizations need to integrate disparate systems throughout the enterprise so they work together intelligently and work all the time. The Crestron integrated network enables you to monitor, manage and control all building technology from a central dashboard to:
Anticipate office equipment problems before they happen and respond to issues immediately
Receive automatic, instant notifications on any web-enabled computer, smart device or touch screen
Reduce tech support cases and downtime
Track and manage energy consumption to reduce operational costs and carbon footprint
Automatically take actions based on room and equipment usage data

Crestron is changing the future of business automation, reducing costs, simplifying control and boosting productivity by consolidating all information and infrastructure systems on one platform.

For more information on Integrated by Design solutions, visit www.crestron.com/ibd.

---
About the Author
Sean Goldstein is the Vice President of Marketing at Crestron. Sean has a long track record of success as a senior executive, most recently at CA Technologies, where he has held numerous marketing, sales, and channel development roles for the $4.5 billion technology giant. Sean has extensive prior experience in business-to-business, business-to-consumer and partner marketing. For the last eight years, he served in a high-level capacity within CA Technologies, Inc., a Fortune 500 technology company. At Crestron, Sean's mission is to build on the success that Crestron has earned over the last few decades by aggressively generating new market demand.

---

[Click Banner To Learn More]
[Home Page] [The Automator] [About] [Subscribe ] [Contact Us]