---

EMAIL INTERVIEW – Jim O'Callaghan and Ken Sinclair
Jim O'Callaghan, President of EnOcean Inc. and member of the EnOcean Alliance Marketing Working Group North America
---
Can wireless building automation contribute to an IoT?
EnOcean has been active for more than 10 years in what is now popularly called the IoT.
Sinclair: Next year's Connection Community Collaboration meeting will discuss the Internet of Things. The IoT spans hundreds of different application fields, more than any other trend topic we've seen in the past years. Can wireless building automation contribute to an IoT?

O'Callaghan: Actually, EnOcean has been active for more than 10 years in what is now popularly called the IoT. Wires have always been a significant cost factor in building automation. The installation effort constrains a system's expandability and therefore limits its value. Switching to wireless solutions overcame these limits and ensured flexibility in system implementation. However, substituting wires with batteries created additional requirements for maintenance and proper disposal. Only sensors and switches freed from batteries finally solved this major challenge in building automation. The ultra-low power EnOcean standard combines maintenance-free sensor data transmission with high flexibility – a compelling requirement of an IoT.

Sinclair: So, IoT can learn from building automation?
O'Callaghan: Absolutely! I would even state that batteryless wireless building automation is a manifestation of IoT, just named differently. Sensors that collect and send the needed data for the IoT must be ultra-low power to be viable within a system. This means the IoT's sensor network cannot be based upon a power hungry wireless standard that requires AC power or very short battery life. Rather, the optimal system is a wireless standard supporting the low data rates required by sensors, but with sufficient range and energy efficiency to eliminate batteries and wires. Nevertheless, for intelligent processing and controlling of the collected data, there is the need for a WAN to connect to the Internet, GSM or a cloud service. The marriage is realized by receivers and gateways that transform the data from the energy efficient protocol to IP standards. There is an established field where this functionality is employed every day: building automation.
Sinclair: What are the primary characteristics of the IoT to reach a broad user acceptance?

O'Callaghan: IoT is projected to entail billions of sensors. Looking back at existing widespread communication networks provides some insight. Wired landline phones did not become ubiquitous over their 100 year deployment; however, wireless mobile phones achieved this ubiquity over 25 years. The same is likely to be true with the IoT, wireless devices will capture a large share of devices. In an ideal scenario, these wireless devices are installed and just operate like their wired predecessor, without requiring maintenance. Introducing a billion battery powered devices presents significant challenges in replacing and properly disposing of batteries. Wireless devices will be deployed throughout homes, offices and factories, and often moved as the building evolves. The first challenge is deciding when to change batteries, e.g. wait until failure, or prescriptively replace as is done with fluorescent light tubes. You can imagine the 'Easter egg hunts' in homes, factories, offices or even in the outdoors for these thousands of sensor nodes to change batteries. Assuming a 10-year life, this means 100 million batteries changed per year. A much more sustainable and cost effective approach is to power the sensors with energy harvesting, essential for widespread acceptance. The good news is: the technologies required to realize a self-powered IoT already exist, and are field proven. In addition, the building automation industry is familiar with these technologies, having gained confidence when using them. This is fundamental for a broad market adoption.

However, the most exciting applications that hold the most potential at the same time are applications that make our lives more comfortable, safer and energy-efficient. A successful IoT is not about connecting all things that can be connected, but about things that are useful to connect. This ensures a high user acceptance of IoT applications. Examples for applications with great potentials are smart home, ambient assisted living and health care or smart cities.

Sinclair: Billions of devices need to be initially installed and configured. Isn't this installation effort a significant hurdle of an IoT, even when using maintenance-free sensors?

O'Callaghan: Sure, ease of installation is essential. Comprehensive networking requires simplified and user-friendly processes for a broad acceptance. This is the case for building networks as well as for an interconnection that covers several areas as the IoT is supposed to do. For building automation networks, the EnOcean Alliance has defined a standardized process for remote commissioning of energy harvesting wireless devices. This enables installers and system integrators to remotely connect batteryless wireless devices using a central tool. This "over the air commissioning" with a simple tool is key for all kind of networking. Users can do even advanced settings via a remote commissioning interface, locate wireless devices throughout the network, create links, and configure settings via PC, tablet or smartphone without touching a single sensor.

Besides simplified remote commissioning, interoperability is a critical aspect. This entails not only the wireless communication. Data interoperability ensures that a device made by one OEM can understand the data from another manufacturer. This approach of seamless communication is a major task of the EnOcean Alliance. Its Technical Working Group continuously further develops this to meet the requirements of new devices, such as multifunction sensors, and of new applications. The latest developments in this field are Generic Profiles. They define grammatical rules for all options of data encoding for ultra-low power and energy harvesting radio communication. Due to this generic language, the same product can be mapped dynamically to different applications. Generic Profiles offer a standardized path for present and future applications.
The essence of an IoT is the combination of both, easy and remote network access together with an application-crossing communication.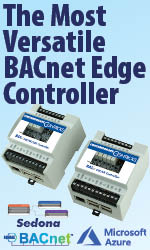 Sinclair: Sounds like the EnOcean Alliance is well positioned for the requirements of the IoT?

O'Callaghan: As said, all technologies for an IoT already exist today. The specifics of energy harvesting wireless building automation – consisting of maintenance-free, distributed devices, speaking the same language, networked to each other and a central control via a reliable high-performance wireless standard – are key points for a connected world. To answer your question: yes, the EnOcean ecosystem is well situated, and has a lot to contribute to the formation of the IoT.
Sinclair: Thank you very much, Jim. I'm looking forward to seeing you at Connection Community Collaboration meeting for further discussions on this exciting topic.

---
About the Speaker
Jim O'Callaghan has spent his career building brands, customers and value for a host of innovative technology companies, both public and private. He spent the first dozen years primarily in finance and accounting positions, culminating as CFO participating in two successful IPOs. For many years, Jim has worked almost exclusively in sales, marketing and management roles, both with technology and with RF ventures. He is best known as co-founder of Cirque Corporation, the originator of touchpad pointing devices common on virtually all notebook computers. In 2005 Jim joined EnOcean to establish a North American presence. Jim has a BBA in accounting and an MBA.

---


[Click Banner To Learn More]
[Home Page] [The Automator] [About] [Subscribe ] [Contact Us]