---
Data Analytics Is About More than FDD



Data analytics go beyond Fault detection analytics to address a range of financial and organizational needs.







John Petze




Partner and Co-Founder


SkyFoundry

In our fast-paced world, we often look for simple definitions of new technologies. Mention the term "analytics," and many people will immediately think – "Fault Detection – analytics is used to detect faulty operation of equipment systems." While FDD is an important use of analytics, it's not the only one. Organizations that embrace the full capabilities of true data analytics are able to address a range of financial and organizational needs faced in operating and maintaining facilities and equipment systems and move to data-driven facility management.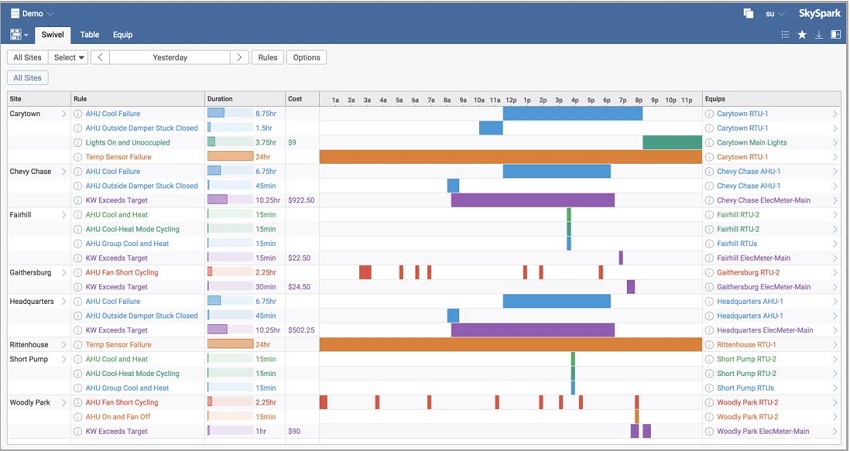 FDD is one subset of the overall capabilities provided by data analytics.
This image shows fault patterns as timelines
Automatically Tracking and Reporting Key Performance Indicators – KPI's

Data means different things to different people in an organization. Managers responsible for tracking and ensuring operational performance and meeting financial goals need to be able to quickly and easily see key performance indicators and their trends over time. Analytics provides continuous calculation of KPI's and presentation of KPI's data in a range of formats and report types. Examples of common KPI's include:

Energy use (and cost) per sq. ft. (or sq. meter), the unit of production, occupancy metric, revenue generation per facility, Power Usage Effectiveness (a valuable metric in data centers)

Delta KPI's that compare the above metrics to previous periods of time to show trends and deviations.

Run time summaries per equipment system

Number of faults per period of time, per site and per equipment type

With full programmability, KPI's can be defined to meet virtually any need and operational data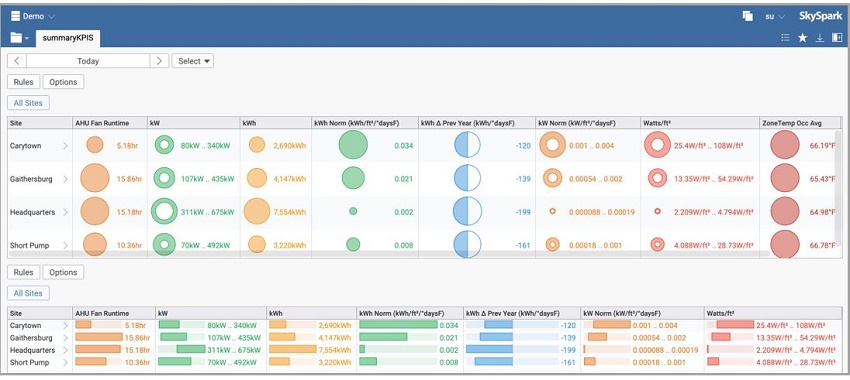 Image showing typical KPI's visualized as bubble charts and bar charts

Energy Analysis and Reporting

Energy data is commonly used with analytics software. The key to creating value, though is what you can do with it.

One common challenge is that energy data comes from many different sources and is stored in many different locations and formats. For example, you might have a smart meter provided by the utility, submeters connected to a Building Automation System, or years of historical energy data stored in files, along with tariff rate information on hardcopy paper. Once all of this energy data is brought together in a unified format, operators can easily view, compare and analyze energy performance, no matter what the original source or format of the data was.

Typical benefits include:

Benchmarking (comparing) buildings across a portfolio and/or with industry standards.

Normalizing energy data for factors such as weather, occupancy and site-specific production activity.

Combining energy usage data with tariff rate charges to calculate true energy costs. (See image).

Visualizing and understanding energy use profiles, demand peaks, usage history over time.

Reporting – bringing all of these tools together to provide reports to operators, energy managers and financial managers.
And, on the subject of reporting, many operators get benefit from automatically posting energy data to Energy Star Portfolio Manager, eliminating hours of manual effort that is required to meet regulations for energy reporting in many jurisdictions.


Image showing correlation of energy consumption and demand (line charts) with
tariff-based cost calculations (bar charts)

Confirming and Reporting Proper Operation
Analytics isn't just used to find things that are wrong. An important application of analytics is to confirm that systems are operating as expected, investments are achieving expected results, and reporting that information to the appropriate users in formats that meet their needs. Reporting could require export of analytic results and KPI's in a neutral format like Microsoft® Excel™, or automatically delivering formatted PDF documents that include informative graphics, charts, views presenting summaries of performance KPI's and analytic results.

Confirmation can take the form of simple reports that show KPIs and performance trends or can go to a more detailed level of full Monitoring & Verification using IPMVP processes and protocols. This document provides a detailed overview of the IPMVP and shows how analytic tools can be applied to meet those requirements: https://skyfoundry.com/file/337/Applying-SkySpark-for-MV-Using-the-Intl-Performance-MV-Protocol.pdf

Justifying Expenditures

One of the significant benefits facility managers realize from utilizing analytics is the ability to evaluate better to justify expenditure – both capital and operating. The key to achieving this goal is the ability to automatically calculate operating costs and the impact of detected issues AND creating reports that put that information into a format that speaks to financial analysts and managers. Bridging the gap in understanding between operations and financial staff is a key benefit provided by analytics.

Automated System Optimization (ASO)
The most advanced analytics solutions on the market provide two-way communication with control systems to modify setpoints and other operating parameters in response to analytic results in a concept known as enabling Automated System Optimization. Analytics software provides far deeper insights into performance and system operation than possible with typical control systems.

Meeting All of These Needs
To meet the requirements of these widely varying applications, you need analytics software that provides complete flexibility. You need to be able to work with multi-structured and semi-structured data in all different formats.

You need to be able to communicate with external systems to acquire data, whether its live data from control systems, meters, sensors, IoT devices, or provided via a web service or file-based data stored in another application or database.

And you need the ability to write analytic rules, functions and algorithms and define KPI calculations to meet the needs of your specific application – that means a fully programmable solution combining user programmability along with an extensive library of analytic functions from ready-to-go analytic rules to advanced math and machine learning.


---
About the Author
John Petze is a partner and Co-Founder of SkyFoundry, developers of SkySpark™, an analytics platform for building, energy and equipment data. John has over 50 years of experience in building automation, energy management and M2M, having served in senior-level positions for manufacturers of hardware and software products, including Tridium, Andover Controls, and Cisco Systems. At SkyFoundry he is working to bring the next generation of information analytics to the "Internet of Things."

More information on SkySpark® analytics is available at www.skyfoundry.com


---


[Click Banner To Learn More]
[Home Page] [The Automator] [About] [Subscribe ] [Contact Us]