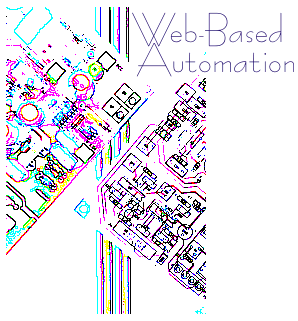 John J. "Jack" Mc Gowan, CEM
Energy Control Inc.
Contributing Editor
Access to real-time information anywhere, anytime through an Internet-enabled automation system is the real value of this technology.
Automatedbuildngs.com is a focal point for discussion of control technologies in general, and by extension related Internet technology due to the e-zine's unique vantage point on the industry. Having recently returned from the AHR show in Chicago it seems appropriate to address this juxtaposition of Automation and the Internet, as it seemed to be a significant factor every booth. "Native TCP/IP, Internet-Ready, IP enabled and Internet Control are among the related buzzwords that were used, along with a host of references to Web Browsers and other Internet based features. At the same time, many attendees were asking; what does it mean and how do you cut through the hype to see if it brings any value? The logical expansion of building automation has been to move from Heating Ventilation and Air Conditioning (HVAC) control to Direct Digital Control (DDC) and integration of fire and security, and potentially more. The next step for DDC was Internet access, but Web-based Automation or "Internet Control" goes beyond simple access. Internet control automates facilities, HVAC and processes, while expanding the scope of control to the enterprise level, thus using the Internet to convert a control system into a management information system.












It is worth exploring the development of Internet Control. The controls business has been evolving toward System Integration for more than two decades, as a result of the demand for Standard Communication and the desire for interoperability between systems. Professionals began combining legacy DDC systems together, or with new standard-based systems, for interface via a single front end and sometimes, limited control integration. This process of standardization and integration was a precursor to Internet control. Software and hardware based approaches, such as gateways, to leverage "drivers", are available to implement these systems. Some drivers were developed by companies that shared protocols, and others have been backward-engineered to achieve some level of integration. Integration usually means communication with multiple systems from one computer, but in some case sequences have integrated Fire / Life Safety or Security systems with HVAC control.
Data Communication Standards
Internet Control Terms
Driver: software to convert data from one protocol to another
Firewall: Network protection to protect against viruses, etc.
VPN: Virtual Private Network is basically a wide area network
TCP/IP: Language of the Internet Transmission Control Protocol/ Internet Protocol
IP Tunnel: Secure communication between two IP addresses.
Standardization of data communication for Direct Digital Control was instrumental to provide the foundation for Internet Control. Yet it is possible that TCP/IP could be the true standard for data communication, which may make BACnet™ and LON™ mute points. Of course, these standards will always be important for communication at lower levels of the building architecture. That background covers some common ground, but it still does not explain the term Internet Control. Internet Control automates facilities though an architecture of hard-wired and Web-enabled devices. The key is that digital control is still executed in a distributed processing fashion at equipment level by controllers. In the illustration below, typical control system architectures are shown that contain DDC controllers, which execute sequences and directly enable, disable, modulate and monitor equipment. An interesting semantic variation being used by some companies is "Infrastructure" to refer to the networking of cabling and devices that supports data communication. In addition to industry specific DDC devices, "Web Appliances" for HVAC control are also available that speak "native" TCP/IP, but the Internet would not control a VAV box. Web-based technologies make it possible for systems to integrate information from internal hardwired points and external sources, and that is the beginning of a definition for Internet Control. Yet there is much more in the illustration, and therefore Energy Managers will need to become Network Managers in the world of Internet Control. Ultimately the result is an Energy Information and Control system that introduces new types of data and the opportunity for real time sequences, providing an unparalleled management tool. Of course there are also risks that must be managed. The illustration introduces some components, like the firewall, that are necessary for security. Given that this expanded system is a combination of the energy and information systems, the firewall and other equipment are generally already in place. The key is working with Information Systems staff to accomplish the interface.
Infrastructure or Architecture by any other name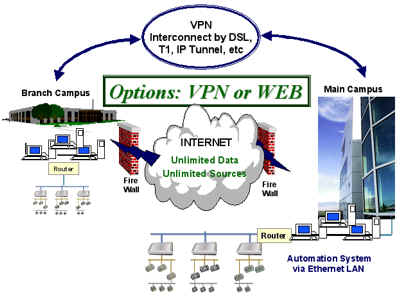 Internet Control requires the same devices as legacy system integration, and some more for expansion to the enterprise level. As the illustration shows, the lower level architecture remains in tact, and many of the companies showing devices at AHR depicted BACnet MS/TP (Master Slave Token Passing RS-485) or LON Talk at this level. The diagram shows a router connecting that level to a server or PC, but in most cases these functions were included with another port on the server. The ultimate potential for Internet Control is to allow full-scale integration of building systems including HVAC, Fire and Security for Access Control. Security via IP addressable cameras for Web-based video surveillance is also possible, though this requires larger scale integration. Without question this is clearly the future of Building Automation, but of course it will require further education. Courses in this area are available through the Association of Energy Engineers and www.automatedbuildings.com.
The Upshot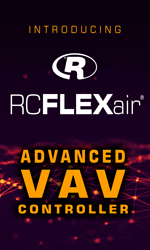 Internet Control may be a buzzword, but more to the point it is simply another indication of the convergence between Information Technology (IT) and Building Automation. Browsers and expanded integration open the door for true Energy Web Services that companies can offer to go far beyond traditional DDC and Building Automation. Access to real-time information anywhere, anytime through an Internet-enabled automation system is the real value of this technology. The key issue for integrators is finding the value proposition for these capabilities to offer building owners. There was a great deal of discussion at AHR about IT and Web-based devices, but it is not clear whether a "person on the street" in the controls business truly recognizes whether there is any real value in this technology for the owner. My business has spent a great deal of time developing a focused strategy to use this IT convergence as a differentiator and to bring customers new services. This will be the challenge for all businesses in the next few years. Customers will not buy technology for technology sake, so the question becomes; how can this save money, improve operational effectiveness, reduce losses or optimize customer satisfaction. The answers to these questions will determine whether Internet Control is something that a business should pursuer. Beware however, because the forward looking companies that are investing now in human and technological resources will be better positioned to compete in the next decade and most likely will be the leaders in their markets.
________________________________________________________________________
About the Author
Mc Gowan is an author and President of Energy Control Inc., an Energy Service Company and System Integrator. He has published 5 books including "Direct Digital Control" on Fairmont Press. The Association of Energy Engineers named him 1997 "International Energy Professional of the Year. Mc Gowan sits on the Energy User News Technical Advisory Board and is a Contributing Editor with WWW.Automatedbuildings.com.
---


[Click Banner To Learn More]
[Home Page] [The Automator] [About] [Subscribe ] [Contact Us]