---

Large numbers of older federal buildings with pneumatic controls can now be upgraded to Direct Digital Control (DDC) at 20% of the cost, and less than 20 minutes per zone.




Harry Sim, CEO
Cypress Envirosystems
In the current economy, many HVAC suppliers are struggling to obtain revenue as building owners and operators cut back on spending and delay planned projects. Many older buildings are foregoing modernization and "making do" with old equipment. That is why the planned Federal economic stimulus plan is welcome news. On January 7th, President Obama set an objective to "save taxpayers $2 billion a year by making 75% of federal buildings more energy efficient."











However, the majority of these older buildings use pneumatic HVAC controls, and cannot implement night setback, zone control, occupancy override, auto demand response, or other energy savings strategies requiring modern Direct Digital Control (DDC). Conventional retrofit of pneumatic controls to DDC typically costs over $2,500 per zone and causes significant disruption to building tenants. The long investment payback (usually four to seven years) and the need to wait for tenants to vacate premises means that most legacy buildings never upgrade, despite compelling energy and productivity savings.

A new patent pending product from Cypress Envirosystems, the Wireless Pneumatic Thermostat (WPT), accomplishes the same retrofit in less than 20 minutes, for less than 20% of the cost of conventional DDC. This means that retrofits can be performed right away, even while a building is fully occupied, and achieve payback periods of about one year. These are key advantages for stimulus funding eligibility.
Using the WPT, retrofit is easy as removing the old Honeywell, Johnson Controls, Robertshaw, or Siemens pneumatic thermostat, and connecting the new unit in its place. For buildings without a BAS, the WPT system provides a wireless receiver with a simple web-based user interface to control setpoints, set alarms and run diagnostics. For buildings with an existing BAS, the WPT system can integrate via BACnet/IP, so that the existing operator interface may be used, and no retraining of staff is required.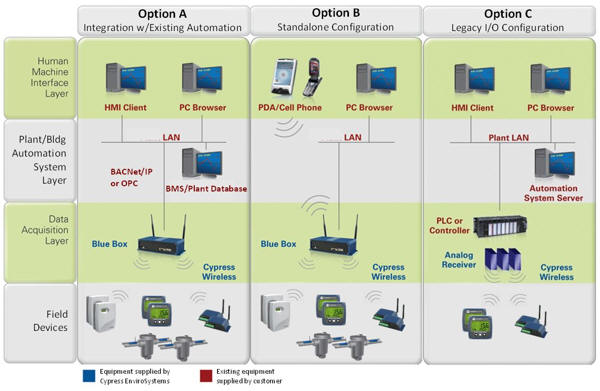 In addition, the system is compatible with utility Auto-Demand Response systems developed by Lawrence Berkeley National Laboratories and in use by many utilities to shed electrical load during peak consumption periods. Auto-Demand Response participants receive monetary incentives from utilities which further enhances the financial justification.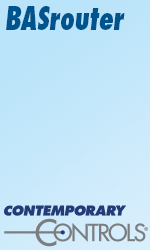 The WPT was developed by ex-Honeywell engineers and backed by technology from Cypress Semiconductor, a $1B company in Silicon Valley. Since its introduction in October 2008, it has been installed in colleges, commercial office buildings, and health care facilities. Numerous system integrators including Emcor, ACCO, Johnson Controls, and Siemens Building Technologies have received training to install and execute projects using the WPT.
In today's challenging business environment, this technology can be a big help to implement projects which would otherwise be economically unfeasible for customers. It also provides a compelling advantage to upgrade federal buildings under the planned economic stimulus program.
---
About The Author
Harry Sim is the CEO and founder of Cypress Envirosystems (www.CypressEnvirosystems.com), a subsidiary of Cypress Semiconductor. Its mission is to save energy and improve productivity in older plants and buildings, using state-of-the-art non-invasive and wireless technologies to minimize disruption and cost, and delivering payback of 12 months or less. Prior to Cypress Envirosystems, Harry was the Global Vice-President of Marketing for Honeywell's Industrial Process Control division. During his 15 years with Honeywell, he has held executive positions in General Management, Strategy, Mergers and Acquisitions, and Internet Startup founder.
---


[Click Banner To Learn More]
[Home Page] [The Automator] [About] [Subscribe ] [Contact Us]