---
We have been hearing about the BAS Labor Shortage for awhile now. It's here, it's real, and it's dire.
This article is just laying out the facts and the logic behind the projections. You can draw your own conclusions. BUT it's going to take all of us, working together, to solve the problem.
At BASI Solutions, we use an advanced AI search tool called Hiretual. The tool searches for resumes/profiles on 37 different sites such as Google, Bing, Facebook, LinkedIn, Indeed.com, and more. Through an iterative process, we "teach" the tool what an acceptable profile/resume looks like for a particular client's hiring need.

We ran the tool for Building Automation Controls Technicians, Controls Engineers, Programmers, and Project Managers along with synonyms for these titles (such as Systems Specialist, etc.) The tool found 35,909 professionals.

The Bureau of Labor Statistics does not have a separate category for BAS professionals. There are 367,900 HVAC/R technician jobs, according to the BLS. However, one will find building automation jobs listed under HVAC/R, Automation (which includes Industrial Automation), Building and Grounds, Computer Software, and others.
Within the BAS world, through the running of many well defined local searches (such as a city or metropolitan area), our experience has taught us that we can take the number of people Hiretual finds, increase that number by a magnitude of 1, and have a value fairly close to the actual number of BAS professionals in that area. Assuming that holds true at the national level, 35,909 increased by a magnitude of 1 gives us 72,000 BAS jobs. (See Note 1)
Hiretual can stratify the people found by years of experience, as shown below.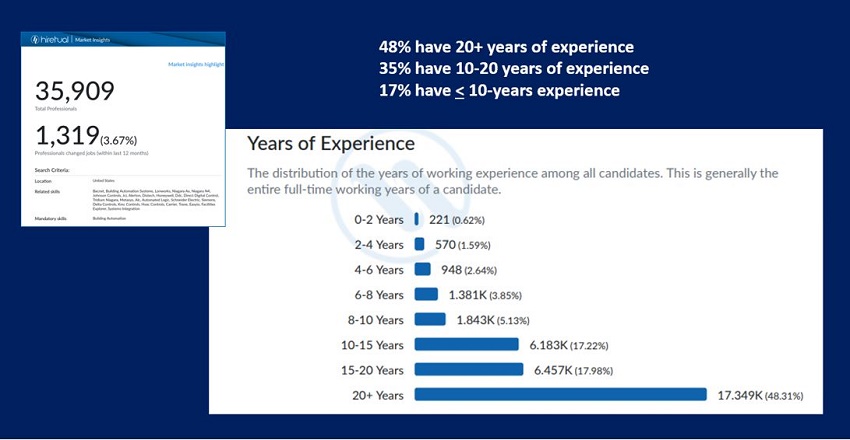 Based on the number of people retiring each year, according to the BAS, we estimate we will have 1200 people in the 20+ years category retire each year (assuming the retirement rate is linear.)
In parallel, 1200 people per year from the 10-20 years category will replace those retiring out of the 20+ year category (again assuming linearity.)
Beginning in 2030, the replacement rate for those retiring drops to 600 people per year.
The Association of Controls Professionals runs a program each week, counting the number of open BAS jobs on Indeed.com and LinkedIn.com. It's been averaging 20,000 open jobs/week. (Note 2)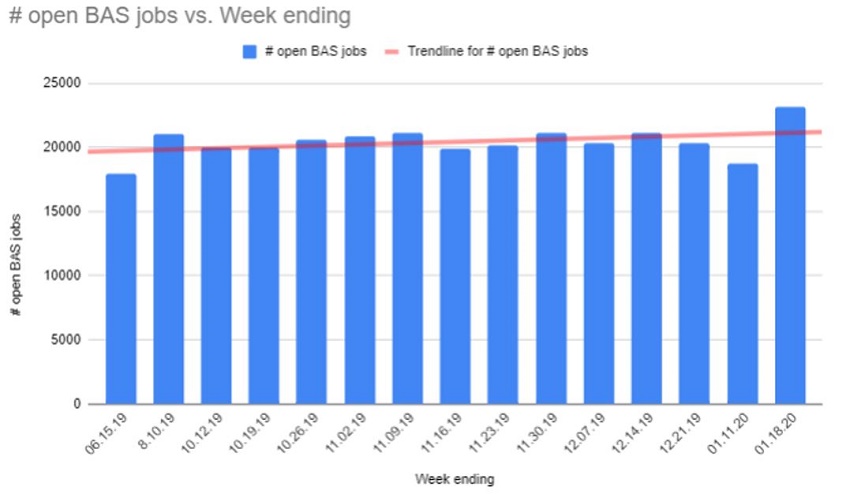 The 72,000 BAS professionals currently working plus the 20,000 open jobs give us a starting point of 92,000 total BAS jobs.
BLS estimates the growth rate for HVAC/R jobs will be 5% for years 2020-2030 and 3% for 2030-2040. As an approximation, let's also apply that growth rate to the BAS category. Using the mathematical estimates described above , here is what, in conservative terms, will be the BAS talent shortage outlook for the next 20-years if we don't do anything different as an industry to attract new talent.

At AHR Feb 3 – Feb 5, 2020, in Orlando, FL, there are several free sessions addressing the Labor Shortage:
Skilled Labor! Overcome the Shortage to Protect Your Business

presented by Women in HVACR (Speaker is Melissa Boutwell, Automation Strategy & Performance)

Pulling More Women into the Ranks of Smart Buildings Leadership

presented by AutomatedBuildings.com (Speakers are Erin DeFrieze, Lynxspring, and Gina Elliott, EasyIO (Johnson Controls))

Crafting Your Skillset for a New Career in Building Automation

presented by AutomatedBuildings.com (Speaker is Phil Zito, CEO of Building Automation Monthly)
---
Note 1: If anyone has additional data on the BAS Labor Market so that collectively we can refine this research for everyone, please share: skip.freeman@BASIsolutions.com
Note 2: Association for Controls Professionals: https://www.acp21.org

Skip Freeman is a Senior Technical Recruiter (Headhunter) at Building Automation & Smart Industry Solutions (BASI Solutions.)

As a graduate of the United States Military Academy at West Point with a BSME, Skip served 10-years in the U.S. Army Corps of Engineers before serving in Field Sales & Leadership roles in specialty chemicals, water treatment, HVAC, and industrial equipment.
Today, as a recruiter with BASI Solutions, Skip focuses on helping companies hire the best & helping the best get hired in:

Building Automation &

Smart Industry.

Connect with Skip and follow us at BASI Solutions to stay up-to-date on the latest jobs, career advice, and insight into employment and talent within the world of Building Automation.
Skip can be reached at Skip.Freeman@BASIsolutions.com and 706-986-0833.






---

[Click Banner To Learn More]
[Home Page] [The Automator] [About] [Subscribe ] [Contact Us]