---
Smart Workplace and the Power of Location

How Wayfinding and Location Data Influence the Smart Campus Workplace Experience



Leon Papkoff
CEO & Chief Strategist,
The CXApp

Mobile location data can revolutionize the modern workplace experience, but only if you do it right.
The traditional workplace blueprint is changing more every day, to coincide with the digital transformation of the business world. Everything is becoming more connected and more dynamic. Business leaders aim to implement new technologies that will explicitly remove the barriers between employee collaboration, productivity and overall output. The approach is to streamline business operations through internal culture, with the help of technology.

The more you know about your employees, your spaces, your buildings for example, the more equipped business' become to refine and craft on-site experiences with data, usage trends etc. A lot of this data can be sourced through integrated touchpoints, IoT devices, mobile apps, and location-aware technology. The modern workplace is either being built with this in mind or buildings are being retrofitted to enable smart applications and infrastructures.

According to Gallup, highly-engaged teams churn out 21% greater profitability. Another report from The Engagement Institute reveals that disengaged employees cost U.S. companies as much as $550 billion per year.

Engagement is a core component of the workplace experience, but it's a much broader topic of people engaging with people, people engaging with devices, devices engaging with physical touchpoints etc. Willis Towers Watson has demonstrated that 70% of employers were able to improve physical environments to foster healthy behaviors in their workforce. So we need to take into consideration physical surroundings in the office space and how employees are interacting with them as part of the overall 'engagement' equation.
What Does Location Have to Do with It?
Geographic, situational and proximity data — all of which relate to a user's location — do not just enable new experiences and opportunities. It also creates an optimized environment that businesses and employers can use to deliver the "best" general experience.

Location data, in context to a user's surroundings, helps provide information to mobile apps and connected devices, which operational teams can use to develop real-time experiences for their end-users. A wayfinding solution, for example, can shape the entire workplace experience through real-time connections and data-oriented tools. Imagine being able to reserve an office choosing from currently available workspaces… by time… by location… by size? Or, finding a new meeting room with turn-by-turn GPS directions from your current location?

Here's a quick list location-aware experiences can deliver:

Scheduling meetings and locating co-workers on property

Reserving office space or workstations by availability

Checking the daily cafeteria menu for an unfamiliar location

Receiving targeted notifications based on whereabouts (coffee station here)

Disperse emergency alerts to everyone on campus with explicit instructions

Welcome visitors and new employees through a digital tour
Location Services In the Real World
Just to offer some more in-depth ideas, here are a few ways that location data and proximity marketing initiatives have been applied in the real world:

Booking a Conference Room At any corporate campus, it's necessary to manage and adequately distribute space not just for routine workers but partners, vendors and visitors too. Mobile solutions allow those on-site to book rooms by time, the number of people, shape, amenities and more. The location data makes the process much more accurate and viable, and allows the system to find spaces that are closest to the user. This same principle can also be applied to hoteling or hotdesking.
Wayfinding Most corporate campuses are vast, with multiple floors, buildings and hubs. It's easy to get lost even if you spend every day at the facility. Bluedot technology can help everyone find their way via turn-by-turn navigation — even indoors.
Find a Friend Campuses are always busy which means people are always on the move. It can be tough locating a particular contact or co-worker when they're not at their desk or designated workstation. It's especially tough for flexible workplaces where employees are always working from new areas, buildings and more. Location data can help workers find each other and even find contacts from another department. Most importantly, it can help teams sync up no matter how dispersed the workers are.
Highly-Personalized Offers As you pass by specific kiosks or exhibits, embedded beacons can send out personalized alerts, offers and content. Imagine a coupon for the property's famous espresso bar? What about a notification that an employee wellness class you already registered for is about to kick-off? Another inspiring use is for on-property engagement walls, which encourage social interaction between workers, departments and more. And all of these solutions tie into the mobile location data of each user on the network.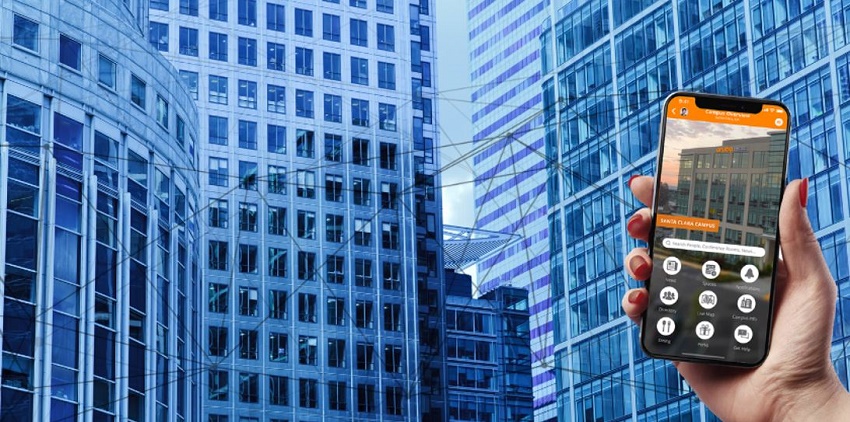 The Power of Mobile For Physical Spaces
Mobile apps not only have access to incredibly robust data sources, but they also provide some innovative opportunities, as well. Location services alone, for example, can be used for wayfinding, delivering targeted notifications and providing a more convenient experience, but are inherently dependent on a mobile interface.

When it comes to buildings, and physical infrastructures, mobile-led touchpoints can facilitate the relationship between person and physical spaces.

Essentially mobile empowers proximity marketing solutions. The technology behind beacons and proximity marketing is quite simple, and it's been around for a long time now. Beacons simply transmit wireless data to a device or phone via Bluetooth or Wi-Fi, or some combination thereof. A mobile app can sync up with those beacons and collect and transmit data back.

And when it comes to software for buildings, campuses, and large public venues, scalability is a huge factor in any decision journey, which is why its important to keep in mind the power of mobile apps for operations:

They can be scaled appropriately to match any workplace size.

They provide real-time and on-the-go experiences and communications.

They bring everyday usage patterns into the professional space, utilizing tools and services we are familiar with.

Most importantly mobile apps are always on and they can communicate with beacons near-instantly — when in proximity, of course.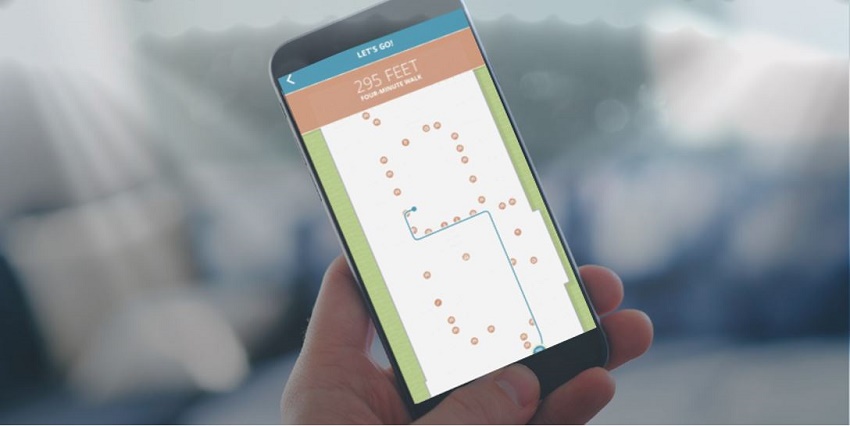 Creating A Smart Workplace
Because of how powerful a positive workplace experience can be, there is a huge demand to have a smart digital workplace. Before we know it, a mobile-led workplace experience solution will be the standard and both customers and employees will expect that you're going to have this mobile experience available and ready-to-go.

Across multiple vertical markets, companies are using mobile app technology to provide relevant, customized experiences for the customers within their space and across all hardscaping. Positive workplace experiences are the new standard, and mobile apps are how you get there across floors, buildings, and locations.
---
About the Author
As CEO and Chief Strategist for The CXApp, I have worked with Fortune 500 companies to build programs that deliver personalized, interactive experiences for enhanced business operations across events, meetings, communities and the workplace.


---


[Click Banner To Learn More]
[Home Page] [The Automator] [About] [Subscribe ] [Contact Us]