---
As with all technology industries the meanings for terms in the Building Automation business seem to be in continual flux. System integration is one such term because it can be defined in two very distinct ways based upon whether the focus is on control or interface communication. The basic definition for System Integration has traditionally been the process of achieving control interaction between the sequences for fire, security and DDC for HVAC. Yet today many integrators are not changing fundamental sequences at the equipment level, rather the focus is on communication. In either case, communication must be addressed first, that is accomplishing some form of data interchange between existing or "legacy" systems. This requires "drivers" or specialized software packages that translate between languages to allow communication between legacy and new open systems from one point of interface. This may be the most common type of System Integration occurring today, and can also be called interoperability, which allows for seamless communication, or interface interoperability, between systems. One of the most significant trends in integration today is to use existing corporate Local Area Networks (LAN) or Wide Area Networks (WAN) to provide the communication backbone, and through the interface accessing the World Wide Web. This saves money on communication cable and more importantly can make this information available to more people within the organization via Web Browsers.
As evidenced, it is now possible to Internet-enable everything from electric meters to data loggers, and expand System Integration to new horizons.










In general manufacturers are interfacing to LANs through a Router. Routers are common in data communication networks to allow for a transition between networks. It may make sense to clarify the role of this device compared to other network components that are often referenced in the control industry, particularly servers and gateways. Servers offer the highest of functionality, and are computer-based devices, which are concerned with everything from control and even office applications to managing access to the network. Gateways are implemented when two devices on a network must communicate but do not speak the same language or protocol. The device discussed here is a Router that is used to allow two dissimilar networks, i.e. BACnet™ and Ethernet, to be connected. At this point the only concern is the transportation of data via a network of devices, but converting to an Ethernet network provides the added benefit of making data available in TCP/IP, the Internet protocol. Other benefits are cabling savings due to a shared communication backbone and allowing the data to be accessed by a server. For readers who want to learn more, the Association of Energy Engineers offers two seminars that cover these topics in detail: Real-time Energy System Integration and Web-Enabled Energy Services. Visit www.aeecenter.org for more information.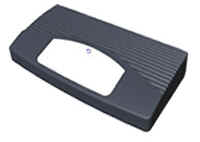 As noted there are a host of router type devices offered by control manufacturers, however integration is now possible with a variety of other devices. An exciting line of products is available from Precidia and others that allows any piece of equipment with a serial port to be integrated with an Ethernet LAN and interfaced to the World Wide Web. Consider how Randy Haines, Energy manager for Jefferson Health System is already putting this technology to work. Thomas Jefferson University and the Jefferson Health System (JHS) make up the largest healthcare group in the Delaware Valley (Philadelphia) region comprising more than 10 million square feet of clinical, research, teaching and housing property. JHS has an electrical peak demand of 50 megawatts and consumes more than 300,000,000 KWH per year, and spends about $45 million a year for all of our utilities. Three years ago, JHS aggregated all loads and purchased electricity for the entire health system. JHS received a great rate due to the size of its organization and early participation in the deregulated Pennsylvania electric market.
A walk through of all buildings was performed to locate all meters and data racks, and identify location of data loggers. After installing a few pilot phone modems, it was determined that the University Ethernet system should be utilized. JHS also decided to use a web-based client because of so many users at so many different locations, and to save money. At each meter location, the following equipment was installed: customer contacts for kWh and KQ (for power factor)-installed by the utility company; isolation contacts, data logger/recorder; terminal server (Precidia) and data jack. Cabling (CAT5ETR) was installed between each meter and the data logger. In the computer center, a data server application server, and web server were purchased and installed. Stark software was installed on both the application server and the manager's personal computer. A metering configuration was then set up, allowing reports to be automatically sent out via e-mail.
Every ten minutes, the application server, via the Ethernet, goes out to each data logger, collects the information, and stores it on the data server. All users can access the information via their own PCs using the web server. The initial results of this project are encouraging because this energy management and measurement data is a valuable management tool. JHS sees real advantages to gathering real time energy data on one screen in terms of block purchasing and awareness of system problems as they happen.
Examples of benefits such as those achieved at JHS are exciting, and future options are limitless. As evidenced, it is now possible to Internet-enable everything from electric meters to data loggers, and expand System Integration to new horizons. Integration requires expertise in both energy systems and information technology. With the right skills it is possible to integrate a host of systems within the building from vertical transport to utility revenue meters, along with the full breadth of information available from the Web.
About the Author
John J. "Jack" Mc Gowan, CEM is author and Vice President of Energy Control Inc., an Energy Service Company and System Integrator. Mc Gowan has worked on numerous multi-million dollar projects in every capacity from design through financing as an end user and ESCO. He has published 5 books including "Direct Digital Control" on Fairmont Press. The Association of Energy Engineers named him 1997 "International Energy Professional of the Year", and he is listed in Who's Who in Science and Engineering, Millennium edition, Marquis Press. Mc Gowan sits on the Energy User News Technical Advisory Board and is a Contributing Editor with www.automatedbuildings.com.
---


[Click Banner To Learn More]
[Home Page] [The Automator] [About] [Subscribe ] [Contact Us]