Editorial Comments
January / February 2002 AHR Expo Issue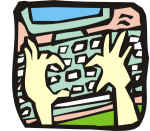 The AHR Expo was a great event exceeding all expectations by attracting 28,513 visitors from around the world. See my review of this event in this issue.
Last month's most requested article Information Model: The Key to Integration and most requested Interview "Open" Building Control Systems plus feedback and encouragement at the AHR Expo spurred us to create our Online Forum for an Industry Web Services Information Model.
At the AHR Expo this year there was a lot of interest in the application of evolving web services as a higher level of communication integration for our industry. We have created a first cut at an online forum to help inform the industry, and speed evolution of a Industry Web Services Information Model. Please review our first cut which includes Guidelines, Probable Industry Applications, an Industry Call to Action, plus valuable links to Known Resources. http://www.automatedbuildings.com/webservices.htm Please provide your input, both positive and negative.

What are Web Services?

IBM says, "Web services are self-contained, modular applications that can be described, published, located, and invoked over a network, generally, the World Wide Web."
Microsoft's description is more succinct, "a Web service is programmable application logic, accessible using standard Internet protocols,"
Others define Web services as a business logic or information made available using the XML (Extensible Mark-up Language)-based SOAP (Simple Object Access Protocol).










This AHR Expo issue has many other great articles and interviews for which we thank the industry.
We are pleased to have Jim Henry, National Marketing Manager for Electromation Australia join us as one of our contributing editors. Jim is also chairman of the BACnet Interest Group - AustralAsia (BIG-AA). We look forward to Jim providing a down and under look at our industry while helping us service our magazine's global reach. Jim has already provided interviews and articles. Please look them over.
More information about our readers
Early statistics on January would indicate readership is up 25% and the amount of information transferred is up 50%. Thank you.
From our December interactive feedback poll Where and how quickly do you get to see AutomatedBuildings.com?
We found that approximately 73% of our readers view our site from both work and home. The majority of our readers have high speed access with only 33% still using modem, 85% using Microsoft Internet Explorer and 82% using version 5.x.
Windows 98 is the most used platform with NT following with a large increase in 2000 and ME now occurring.
David J. Branson and I presented on behalf of AHR Expo Five Free Show Sponsored Sessions on Building Automation in Atlantic City, Jan 14-16, 2002. Take a quick look at the preview and feedback your comments.
---

[Click Banner To Learn More]
[Home Page] [The Automator] [About] [Subscribe ] [Contact Us]