---
If you thought the trend of building technology systems evolving to the use of IP and data network infrastructure had subsided or had some limits, think again. This trend is steady and sustained as it provides lower capital and operating costs and improves functionally.











Clocks, paging and messaging systems in a building may be thought of as secondary systems. However, often times systems such as paging and messaging are part of life safety and the technology used in these systems has an implication for primary building systems such as nurse call systems in hospitals. These systems may be overlooked in many projects and in integrated building systems in general, but their evolution provides some of the best industry evidence of how and why the IP trend is long term and durable. Here are a couple examples of building technology systems that have embraced the move to IP infrastructure:
Networked LED Clocks
Clock systems are integral to education and healthcare environments, and to a lesser extent manufacturing and corporate settings. Clocking systems are used to move students from one class to another, schedule patient medications, and improve employee productivity by adhering to set schedules.
Clock systems typically have a master controller connected to the building clocks. The master controller, usually a proprietary device, provides the time over low voltage wiring connections. Some of these components can interface with other building system that require simple on/off commands over set time durations. Other clock systems are based on a wireless GPS. These systems use a wireless transmitter (usually UHF or VHF) to synchronize all of the clocks. Other clock "systems" are just stand-alone atomic clocks, offering synchronization but no management features.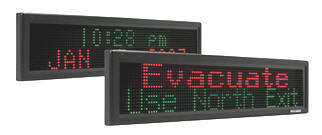 Current clock systems use LED displays that connect to the data network and receive time and date information from a local or remote server. These clocks are automatically updated via the network. Power to the clock is provided via Power-Over-Ethernet (POE), thus eliminating the need for separate power supplies. The clocks are managed from a workstation on the network or a web browser, and status updates, alarms and management reports can be produced.
The IP network manages and controls clocks through two methods: (1) the Network Time Protocol (NTP) which sends the time to the clock from a local or remote NTP time server. The clock obtains the time and is sophisticated enough to compensate for daylight savings time or other offsets, and (2) the Universal Datagram Protocol (UDP) which is used to synchronize, control and configure the clocks.
The clocks are "plug and play"; it is connected to the network, then obtains an IP address and searches for a time server. Some models have a list of Internet NTP time servers on board that can the clock can query.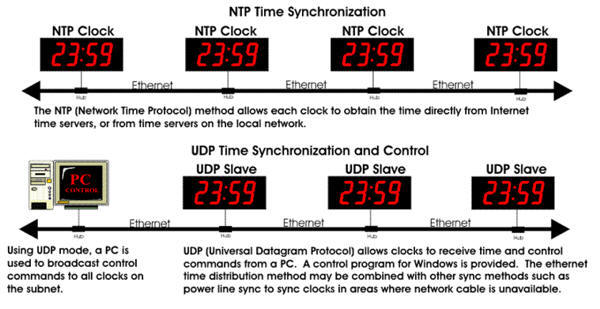 What are the benefits of the IP networked clocks?
Consolidating building cabling to a standard cabling infrastructure and the opportunity to reduce the labor cost cable installation

Centralized and backed-up power to the system

Elimination of power supplies and high voltage power to support the system

Functional and flexible management of the system
The IP networked clocks are easier and more cost effective to install and operate. If that doesn't sound like a better way to install clocks in buildings - read on.
IP Paging System
Paging is also used in many educational and large healthcare, corporate and government buildings, such as airports, convention centers, etc. Legacy paging systems were typically a separate piece of equipment connected to a PBX. Speakers were daisy chained together in a paging "zone" and connected back to the paging amplifier. Access to the paging systems was through a microphone or through a special call group in the telephone system.
Current systems are built on VOIP-type technology and IP end devices, including IP speakers. The network connectivity allows authorized users to send and broadcast audio simultaneously to speakers and IP telephones. Some systems have the capability to concurrently send a multicast audio stream and text messages that can be delivered to not only paging speakers and IP telephones, but also PCs and non-VOIP telephones.
Authorized users can create paging groups, something like the legacy paging zones, but with much more functionality thus allowing the users to select particular end devices for the group. Users can control broadcasts from a PC or a web browser on an IP phone and send a live, recorded, or scheduled broadcast to one or more paging groups.
The paging system uses IP-addressable speakers, with the average speaker utilizing Power-Over-Ethernet (POE), thus eliminating the need for local power. (Paging horns, which require something in the range of 20 watts, will need POE Plus). All the speakers can be centrally controlled and managed via the network.
Some manufactures of the IP paging systems have integrated their products into contact closure devices, generally associated with an access control system to monitor which doors are open or closed. The contact closure at a door is integrated with the paging system so that an open contact can trigger a page. Another basic capability is to have a night doorbell played through the paging system.
Emergency Notification and Messaging
The digital or IP clock is basically an LED display connected to the network with software to display the time and date. However, the network LED display can be used for other functions or purposes, such as messaging and notification.
Some messages could be information on weather conditions or event reminders for organizations. More importantly, the messaging and notification can be use for emergency and crisis situations. The notification capability of the system can provide real-time communications within a building or across a campus regarding an emergency situation thus significantly improving life safety and security.
The message or notification can be sent from any authorized administrator via a network workstation or web browser. After the message display, the LED can revert back to the clock. Messages can be scheduled to run at preset times or on a recurring basis. Users can configure the duration of the message and choose to play it multiple times if desired.
The messaging and notification function of an IP clock system simply requires additional messaging software since all the hardware is already in place.
All-In-One Systems: Clock, Messaging and Paging Systems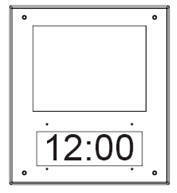 Here's convergence on top of converenge. Some products now in the marketplace combine clock, messaging and paging functions. Atlas Sound and others manufacture IP addressable speakers with a speaker baffle option that includes a built-in LED for clock and messaging functions and an optional microphone for communication back through the paging system. These products maximize the capital and operating savings related to wiring, power and centralized administration.
There are benefits for those with multiple buildings and networks. These systems can provide services anywhere building owner has the IP network. For example, a school superintendent can message all the schools at the same time with the same message; a CEO could do the likewise to all their offices throughout their wide area network. Management of these systems can be consolidated across facilities providing further savings and improved capabilities.
It is crystal clear that there is great value in this trend for building owners, tenants, facility managers, architects and design engineers as exemplified by these building technology systems. The small price paid by changing a design process or type of contractor will bring the real ROI: the return on innovation.
For more information about smart buildings, technology design or to schedule a Continuing Education program, email me at jsinopoli@smart-buildings.com.
---

[Click Banner To Learn More]
[Home Page] [The Automator] [About] [Subscribe ] [Contact Us]