---

EMAIL INTERVIEW Andrey Golovin & Ken Sinclair
Andrey Golovin
Executive Director BIG-RU (BACnet Interest Group Russia)
Executive Director KNX Russia Association
Editor "Building Automation in Russia"
golovin@bacnet.ru
---
Russia is Open to Open Protocols
Like everywhere in the world open protocols are dominating in Russia.











Sinclair: Andrey please explain your past and present roles in bringing open protocols to Russia?
Golovin: I started with BACnet in 2005 when the BIG-RU (BACnet Interest Group Russia) association was founded. Before then I was familiar with the BACnet movement in the US. In my opinion, the Russian market is more similar to the USA market, than the European. The main idea was to bring the latest achievements in open standards to the Russian market and BACnet was the best choice. During the last 2 years the BIG-RU has familiarized an estimated 80% of building owners in Russia with BACnet benefits.

In 2007 the KNX Association (ex-EIB protocol) invited me to manage their association in Russia while working with BIG-RU. It is a great experience, because we can say that BACnet grew from HVAC systems, and EIB/KNX grew from lighting and low-voltage systems. Both protocols are relative and part of ISO standard 16484-5. We can now support our customers with a wider field of open building standards applications. Let's say that the joining of BACnet and KNX promotion work is a process of globalization of the market of open standards in Russia.
Sinclair: How is the Russian BAS market looking today? Any market data available?
Golovin: The building automation market in Russia is closely tied with the whole construction industry which is on the rise. Buildings construction in Russia is increasing about 25% annually. This trend is keeping stable because the investment in real estate is one of the most profitable ways right now in Russia to invest money. There are a lot of oil-dollars in the construction industry. Prices for the sale and rent of office buildings and residential buildings in Moscow are incredible. I don't want to shock our readers with the real prices. Nobody will believe me…

Because of high prices building owners want to have the newest technologies in their buildings giving them the maximum of comfort, safety and decreasing facility management expenses. In other words, building owners are ready to spend their money for BAS systems. There is no need to explain them why; the benefits are obvious. We are trying to put them on the way to using open standards systems.

Concerning marketing research; BIG-RU is now finishing a market study report about building automation for only the HVAC segment. The survey will cover HVAC controllers, sensors, actuators and valves. The collected data will show the market situation as of the fall of 2007. The report will be bilingual (in Russian and English). We hope that it will be ready the 1st quarter of 2008.
Sinclair: What is the penetration of open protocols in Russia (in comparison with proprietary)?
Golovin: Like everywhere in the world open protocols are dominating in Russia. Nobody wants to be locked into a single brand system. The situation is that every open protocol should be implemented where it is practical. Traditionally BACnet is more suitable for integration of large systems, multi-vendor projects and systems which could be expanded in the future. LonWorks is more often applicable in the field level (for products integration) and in middle sized projects. Very often both protocols exist in the same project: BACnet at the management level and automation level, and LonWorks on the field level. A good example of such a system is the "Federation" Tower project in Moscow (it will be the highest building in Europe).

Proprietary systems, of course still exist, and are very often implemented in projects, but building owners are becoming more educated and ask for open technology to have future options. I think that the role of proprietary systems will decrease, but it will maintain a significant market share for the next few years.
Sinclair: Which BAS manufacturers are now present in the Russian market?
Golovin: Most world BAS companies are present in the Russian market. I would especially like to point out the following companies: AutomatedLogic, CAREL, Cimetrics, Delta Controls, Johnson Controls, Kieback&Peter, Sauter. These companies are playing a significant role in BIG-RU activities. They support BIG-RU greatly with open protocol promotion.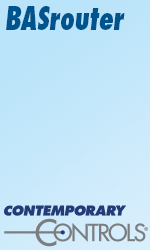 Sinclair: How do they organize their businesses in Russia?
Golovin: Every company has its own way. It could be the official representative working with local distributors and dealers. Sometimes a company has only one strong partner to work with in the market or it could be a franchise sold to someone. If a company wants to enter the Russian market I would recommend, first of all, dealing with a couple of strong system integrators, teach them and complete a few projects with them. After some time the company could open its own representative responsible for the brand promotion and partners network development. In my opinion this is the most reliable way to start a business in the Russian market. Besides, one of the benefits of BIG-RU membership is help with the local partners search.
Sinclair: Any US market trends of interest to Russia? Green Buildings? GridWise?
Golovin: I would not say so. Not today. The main stream of modern buildings is not green or super energy efficient. It's like we have a rush in Russia with new buildings construction. Developing companies are taking care of modern engineering inside the building, but they want to do it quickly and go on to another project. Utility company prices are still low, but increasing every year. Salaries for large staffs and the quality of their work is another argument for installing modern BAS systems. I think that Green Buildings and GridWise will be real for Russia in the next 5 years.

We are almost following the American market, but a few years behind. Do you remember, when the top interest in US was open protocols? Then what? – Wireless systems, Green Buildings, GridWise, Demand Response. We will see all these trends in Russia also, but not for a few years and maybe in different forms.
Sinclair: Are you going to participate in the ASHRAE Winter Meeting and AHR Expo?
Golovin: I have visited the ASHRAE Winter Meetings and AHR Expo since 2000. For me it is a great experience to see the changes in the American market. I will not miss the chance to be in New York in January, 2008.
---
About Andrey Golovin
Andrey Golovin graduated as a HVAC engineer from Moscow Civil Engineering University in 1997. He worked in the Russian HVAC society until 2005, where one of his targets was communication with manufacturing and design companies (association members). In 2000 he began to develop the direction of building automation in Russia. Between 2000 and 2005 he organized more than 10 conferences and workshops about "intelligent buildings".
In the fall of 2005 the BIG-RU association (BACnet Interest Group Russia) was created by Golovin. The special feature of the Russian BACnet Group is that building owners and construction companies can be members of the association in order to communicate with hardware manufacturers and installing companies.
In 2006 Andrey began publishing the bulletin "Building Automation in Russia" – the only Russian magazine about building automation. The full color bulletin is published 10 times a year, with a circulation of 10 000 and distributed throughout the entire Russian Federation territory.
In August 2007, Andrey Golovin was invited by KNX Russia Association to become the Executive Director of the association in order to promote the open European standard – KNX/EIB.
---


[Click Banner To Learn More]
[Home Page] [The Automator] [About] [Subscribe ] [Contact Us]