---

EMAIL INTERVIEW – Lindsay Baker and Ken Sinclair
Lindsay Baker is the VP for Research and Marketing at Building Robotics, Inc, a new venture-backed software startup. She is responsible for client relationships and occupant experience at BR, as well as leading marketing efforts for the new software, Comfy. A former consultant to Google's Green Real Estate Team, and the initial team that developed the LEED Rating System, she has extensive experience in implementing and evaluating energy efficiency programs. Lindsay is a LEED AP and a Ph.D. candidate at Berkeley's Center for the Built Environment, a leader in occupant comfort and behavior research.
---
"Control by the People For the People"

a software layer that incorporates occupants as sensors for the building, saving energy and improving comfort at the same time.

Sinclair: You are a new company in the intelligent buildings marketplace, what is Building Robotics?
Baker
: We are a software company, a venture-backed startup, working on radically new approaches to the software that runs buildings. We've started off with a piece of software called Comfy, which is the world's first intelligent software for personalized control in the workplace. A lot of people think of it as a 'Nest' for commercial buildings- there are some similarities there. Essentially, we've carefully designed a way for occupants to have a real, satisfying, efficient relationship with the heating and cooling in their workplace.
Comfy is a piece of cloud software that plugs into existing Building Management Systems, which we do via BACnet. We're very focused on making these connections clean and simple, which has been a chronic problem for the BMS world up to this point. In fact, in terms of what we've spent our development time on, Comfy is almost the icing on the cake- most of our work has gone into the underlying architecture to tie into these software systems, making everything perform cleanly and reliably.
Sinclair: How did you get interested in this issue?

Baker
: Andrew and Steve, our two co-founders, were doing PhD research in Computer Science, looking at ways that advanced computer science can help address energy issues today, through their research group at UC Berkeley,
LoCal
. They decided on building automation systems, because of the enormous unmet potential of high-performing computing that exists- so many sensors and actuators, so little being done. Part of their work led to the development of an open-source protocol called
sMAP (Simple Measurement and Actuation Profile)
, which is being widely used now.
But then we started looking for how to use this core technical capability towards something that's really needed in buildings. Comfy was born out of conversations with researchers from the
Center for the Built Environment at UC Berkeley
, as well as colleagues from
VITAL Environments
, who saw the opportunity to use artificial intelligence and clean user experience design to optimize zone temperatures in commercial buildings.
Sinclair: So how exactly does Comfy work?
Baker
: Comfy is a software layer that incorporates occupants as sensors for the building, saving energy and improving comfort at the same time. We provide an interface for occupants that they can access via a web browser or mobile app, giving them 3 simple choices: Warm my Space, Cool my Space, and I'm Comfortable. When they click the warm or cool button, we actually provide 10 minutes of warm or cool air to their space, immediately. But then after that 10 minutes, the zone floats back to the original setpoint- the occupant hasn't changed the set point directly.
But this is just the beginning- we are really using people as sensors. Comfy has a machine learning algorithm that incorporates the patterns and preferences of people in various spaces over time, while reducing conditioning where it isn't needed. Empty conference rooms, or areas where employees don't come in until 10am, these are big opportunities for energy savings. And, we're helping to tackle the issue of over-conditioning in office spaces, which is not only freezing employees, it's also a huge energy waste. Now that occupants are providing feedback to the system, zone temperatures in many areas can be closer to the outside air temperature and improve comfort at the same time.
Sinclair: Why are you working on such a difficult aspect of building automation? A lot of people would say that occupants can never be happy, that this not a problem we can solve.
Baker
: At BR, we think these are the kinds of problems we need to be solving, and they can be solved. Internet companies are making this happen every day, in many different industries. You have to incorporate behavioral psychology, user experience design, and other disciplines, to design really well for people.
Comfy reveals who shares a thermal zone with you, and what changes others have made. This is critical for the psychology of how Comfy works. We're taking a lot of things that used to be confusing and opaque, and making them transparent. We also have systems in place for larger shared zones. Comfy prevents wide temperature fluctuations, while giving occupants tools to facilitate cooperation with their neighbors.
Sinclair: Where are you seeing the most interest in Comfy?
Baker
: We're seeing this really resonate with two groups of customers. The first are companies who are genuinely invested in their employees, where they want to do things to make people more comfortable and productive at work. Tech companies here in the Bay Area are a great example- they are competing for talent, and so great office environments mean a lot to them.
But since Comfy is also saving energy and saving facilities team resources and time, we're also getting a lot of interest from innovative building owners and facility managers, who are committed to creating comfortable and innovative spaces for their tenants while saving money.
Sinclair: When will Comfy be available to a larger market, and how will it be sold?
Baker: We're currently demonstrating the technology with a select set of innovative early customers, encompassing a wide range of buildings, occupants and climate zones. We're working very closely with these clients and are already seeing significant energy savings and comfort improvements. At the end of this phase we will begin to offer Comfy more widely.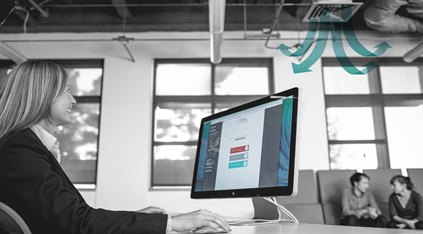 Comfy is a service, keeping occupants comfortable and saving energy dynamically over time. We're adding new features continuously, and providing ongoing support to occupants and building management. Comfy will be offered on a subscription basis and is priced by the size of the space being serviced. We're also working with channel partners for Comfy, and will be pursuing this further in the coming months.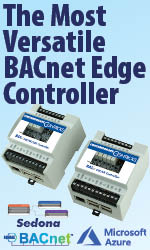 Sinclair: What are you most excited to work on, in the future?
Baker: We envision a near-future where buildings are able to join the connected world, and the pace of change will radically shift to a new level of intelligence and efficiency. One of the key challenges has been dealing with the diversity inherent in buildings, including physical, mechanical and control system differences. Over the last four years we've developed new systems to deal with these differences, so that software services can be deployable across a global portfolio of buildings with the click of a button, no manual integration or custom work needed. This paradigm shift has the potential to unlock energy savings on a global scale.

A lot of folks have gotten excited about using the Comfy system as a platform for other features, like occupant Indoor Environmental Quality (lighting, acoustics) satisfaction feedback, lighting control, and a number of other ideas. We're also excited about tailoring Comfy to other space types, such as healthcare facilities, where temperature can be a real health issue.

It's all exciting work, really, because it has a great potential to make so many buildings run better for people and the environment. We agree with a lot of analysts who are saying that the next fove years will be a huge growth phase for the building automation market, as scalable and cost-effective solutions like ours emerge. It's a really interesting time to be in the building automation community.

---


[Click Banner To Learn More]
[Home Page] [The Automator] [About] [Subscribe ] [Contact Us]