---
EMAIL INTERVIEW – Jack Leonello and Ken Sinclair
Jack Leonello, Business Development Manager, Optergy

---
An Enterprise Management System

That provides a web based, real time, scalable solution.


Sinclair: Automated Buildings and its readers aren't familiar with Optergy, who are Optergy and what do they do?
Leonello: Optergy is a technology company based in Australia. Over the past 10 years we have been developing and supplying software dedicated to the business of managing buildings and enterprises to improve efficiency, performance and processes, whilst providing key stakeholders with the information and reporting to make informed decisions.
Our software is named Aurora and can be described as an enterprise management system that provides a web based, real time, scalable solution.

Aurora utilizes industry standard open protocols such as BACnet and Modbus to bring multiple systems together.

Sinclair: What sets Aurora apart from all the other web based integration tools on the market?

Leonello: Aurora's power comes from unifying five key operations of facilities and enterprises:

Integration of SCADA and BAS Systems
Automated Energy Management
Facility Performance
People Management
Data, Diagnostics and Analytics
Amalgamating these key elements not only provides all operations in real time over the web on any device they choose to use, it also combines what would normally be disparaged systems into a single powerful reporting and analytics package.
For a long time standard building automation systems could not perform to an adequate standard for energy. Basic energy logs were not enough and a simple but flexible reporting was demanded by those stakeholders who wanted to know how their buildings and facilities were performing. Over the years we have listened to our clients and partners and to create a flexible reporting system that allows the simple creation of stunning custom reports with multiple output options such as Web, PDF, CSV, and even automatically emailed at predetermined intervals.

Sinclair: What advantages and benefits does Aurora provide?
Leonello: Optergy has been developing software for the past 10 years and has learnt a great deal in this time, with the software installed in thousands of facilities we have built a platform that end users love to use. But in this competitive world that is not enough, especially for our partners. Our partners use our software because it provides their clients market leading functionality and the ability to engineer projects quickly and efficiently giving them lower implementation costs.
For example the software itself takes the mundane task of setting up metering and makes this process simple by creating display pages automatically, with all the parameters made available as BACnet points and automatically logging all those points as well. Those that have set up metering before will know how time consuming this can be.
However the system is still flexible enough to allow displays to be fully customized, this flexibility can be used in creating displays for HVAC and lighting to dashboards and public displays, all utilizing real time data and reporting.
Sinclair: How scalable is Aurora?
Leonello: Aurora is as scalable as your project needs to be. With Aurora you only licence the functionality you need, and there are no ongoing fees. If your project scope changes then the current licence for the project can be upgraded as well. Gone are the days when you have to buy a whole new licence just because the project has changed.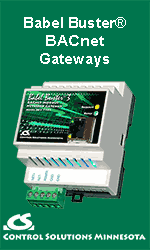 Sinclair: What are Optergy's plans for the North American Market?
Leonello: Optergy is now launching in North America and are looking for system integrators who can utilise our software to further enhance their own businesses. Our current partners know that they have a great product that their customers love to use and they themselves enjoy engineering with.

Sinclair: How can interested parties find out more about Aurora and the opportunity to become a solution partner?
Leonello: For those interested in finding out more they can visit our website at www.optergy.com or contact us on info@optergy.com or +61 3 9918 7788.

We will also be in the building automation and controls showcase at the
2015 AHREXPO
in Chicago Booth Number #3464, January 26th to the 28th 2015.
---

[Click Banner To Learn More]
[Home Page] [The Automator] [About] [Subscribe ] [Contact Us]